SMART-E®

SMART-E®
SMART-E
is rated out of
5
by
10
.
E-POWER 90-370 °C | For 4-6 People | Precise Temperature Control | Cleaning Function
An authentic BBQ experience at the touch of a button. The new SMART-E®
Award-winning: The SMART-E electric barbecue, with its innovative technology and aesthetic sophistication, is a winner of the Red Dot Design Awards 2023. The SMART-E® is the future of the electric BBQ, offering maximum heat up to 370 °C using fully electric E-POWER – no gas or coal. Thanks to its innovative TRU-Infrared™ Technology, barbecued food is juicier than ever. The unique emitter plate transfers the heat so that nothing dries out and the entire stainless steel grate remains uniformly hot. Its technology also makes it more economical in terms of its energy consumption. SMART PRECISION gives you total control. Using the dial, you can set the temperature between 90 °C and 370 °C and control it via the digital display. Precise preheating and temperature maintenance are managed in an instant. And cleaning the SMART-E® is also easier than ever. After your BBQ, start up AUTO CLEAN. Any residue will be removed from the grill by means of pyrolysis. Once done, the grill will turn itself off automatically. The side shelves of this stylish, black BBQ are foldable and, where you'd otherwise have to find room for a gas bottle, the SMART-E has storage space for utensils. With MADE2MATCH, you can customise how you configure your BBQ and upgrade it. And if the SMART-E needs moving, you can shift it easily from A to B on its four heavy duty castors.
Read More
Read Less
---
1.
Barbecue juicier than ever with TRU-Infrared™ Technology
The core element of the patented TRU-Infrared™ Technology is the unique emitter plate. It distributes the heat evenly across the entire grate, ensuring that your barbecued food is up to 50 % juicier. The efficient technology also reduces energy consumption, and its special construction makes the emitter plate, grate and firebox really easy to clean.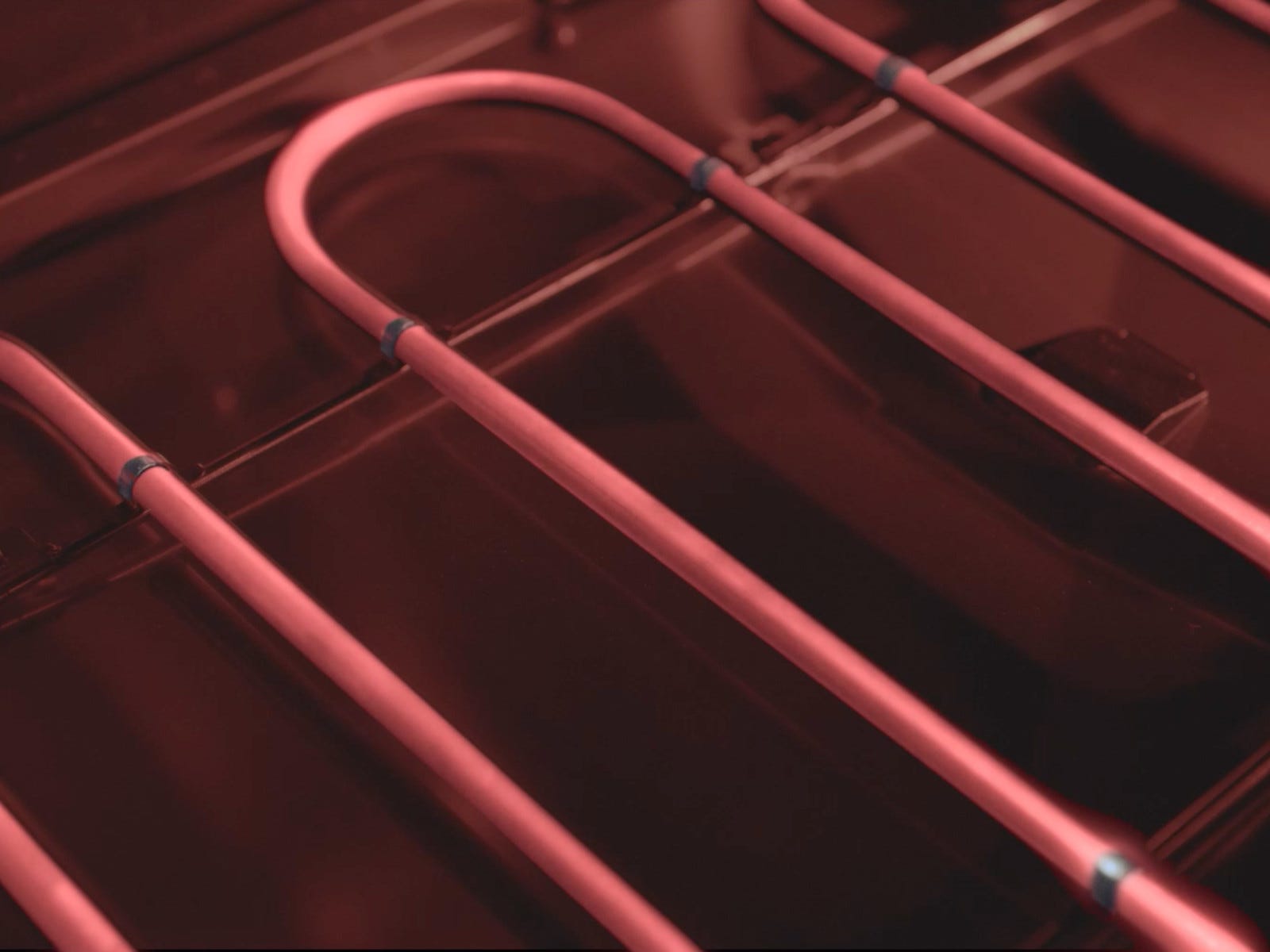 2.
E-POWER for a new electric BBQ experience
The SMART-E® guarantees maximum heat – without the use of coal or gas. So no need to lug a gas bottle around and no ashes to dispose of either. Just an authentic BBQ experience at the touch of a button.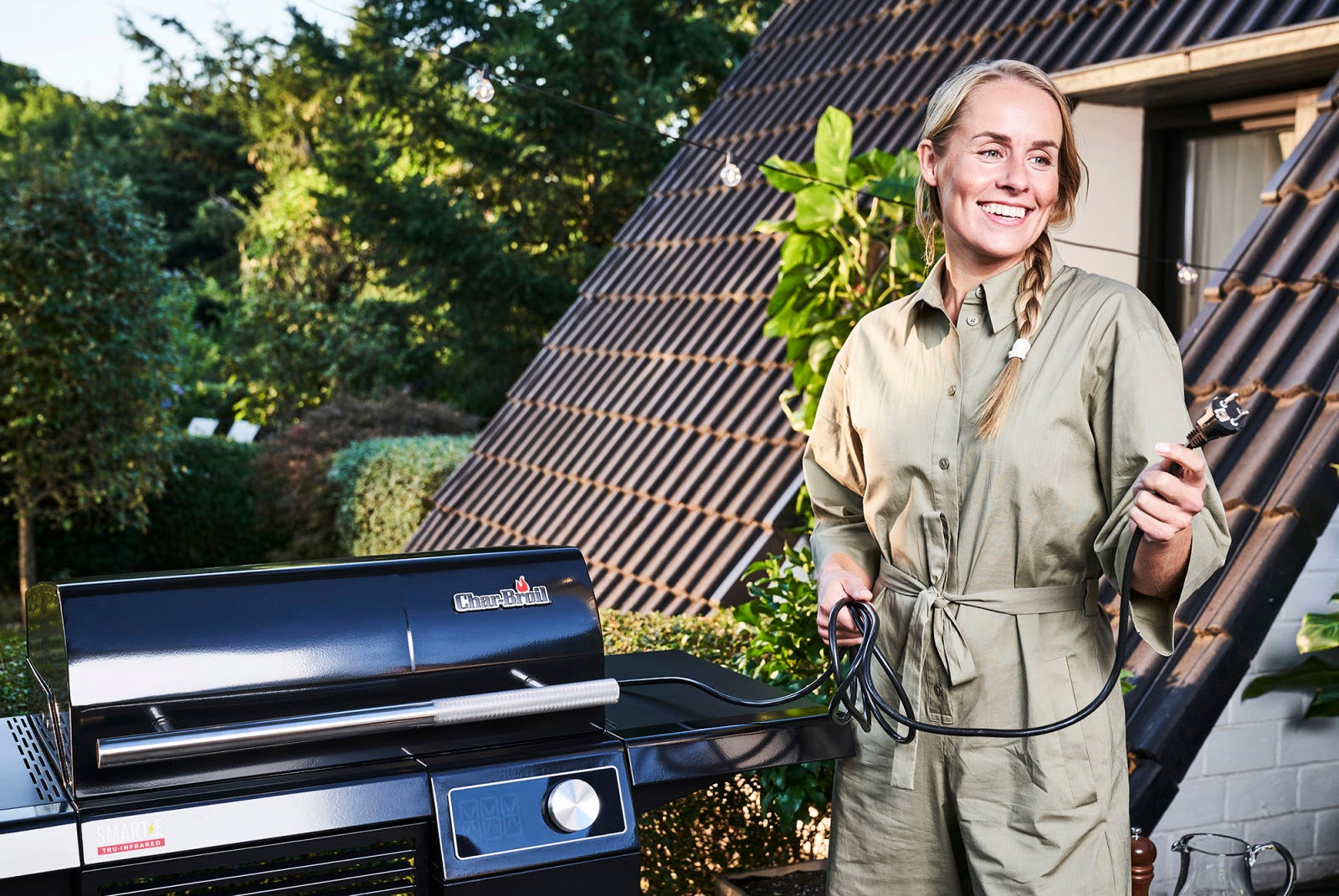 3.
Full control with SMART PRECISION
Use the dial to adjust the SMART-E® temperature between 90 °C and 370 °C more precise than ever before. Easy to control via the digital display. For the perfect BBQ experience every time.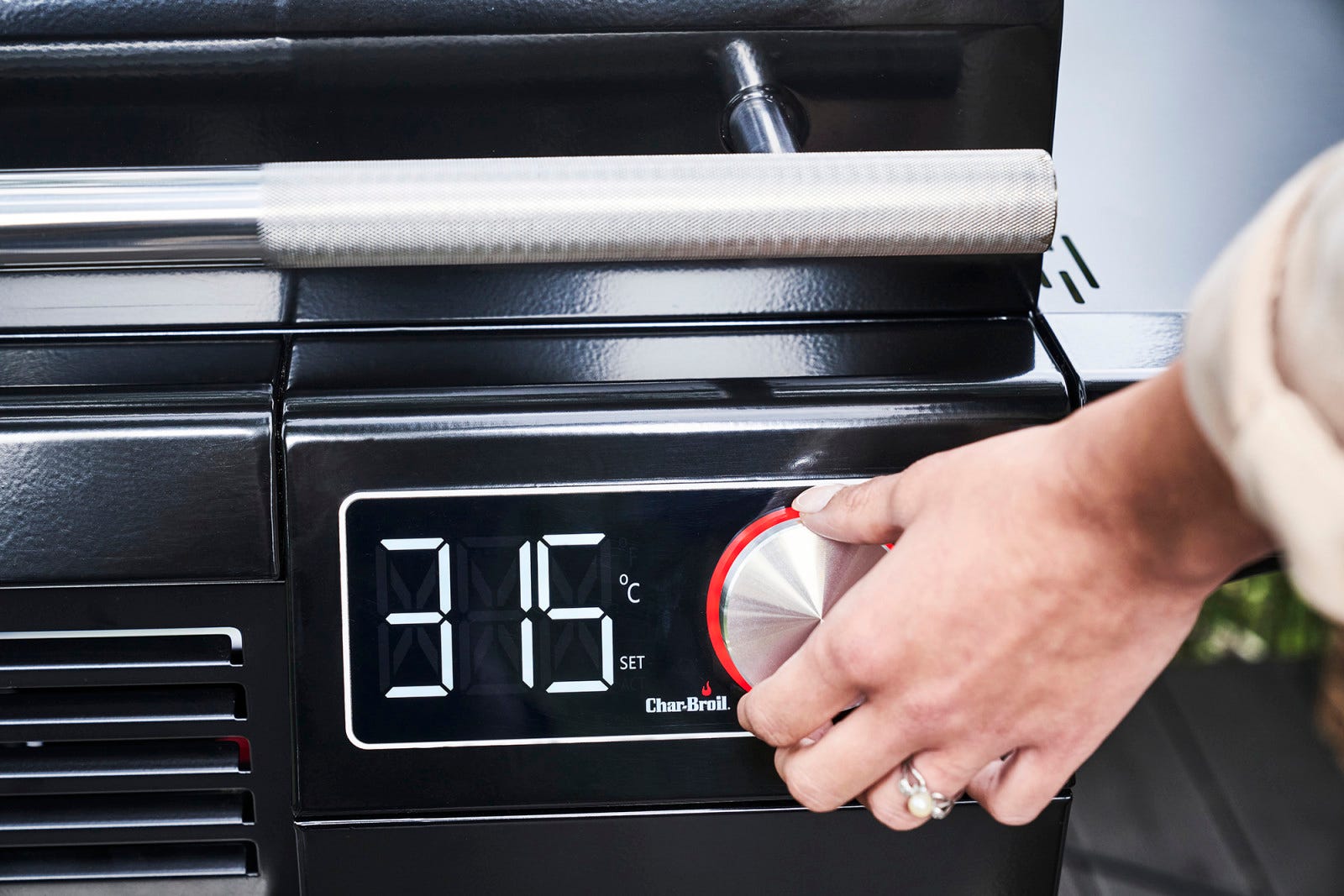 4.
AUTO CLEAN – perfect cleaning with minimal effort
Less work, more time – AUTO CLEAN makes cleaning child's play. The system simply burns off the residues so all you have to do is brush down the cooking grates and your SMART-E® is ready for you to use again.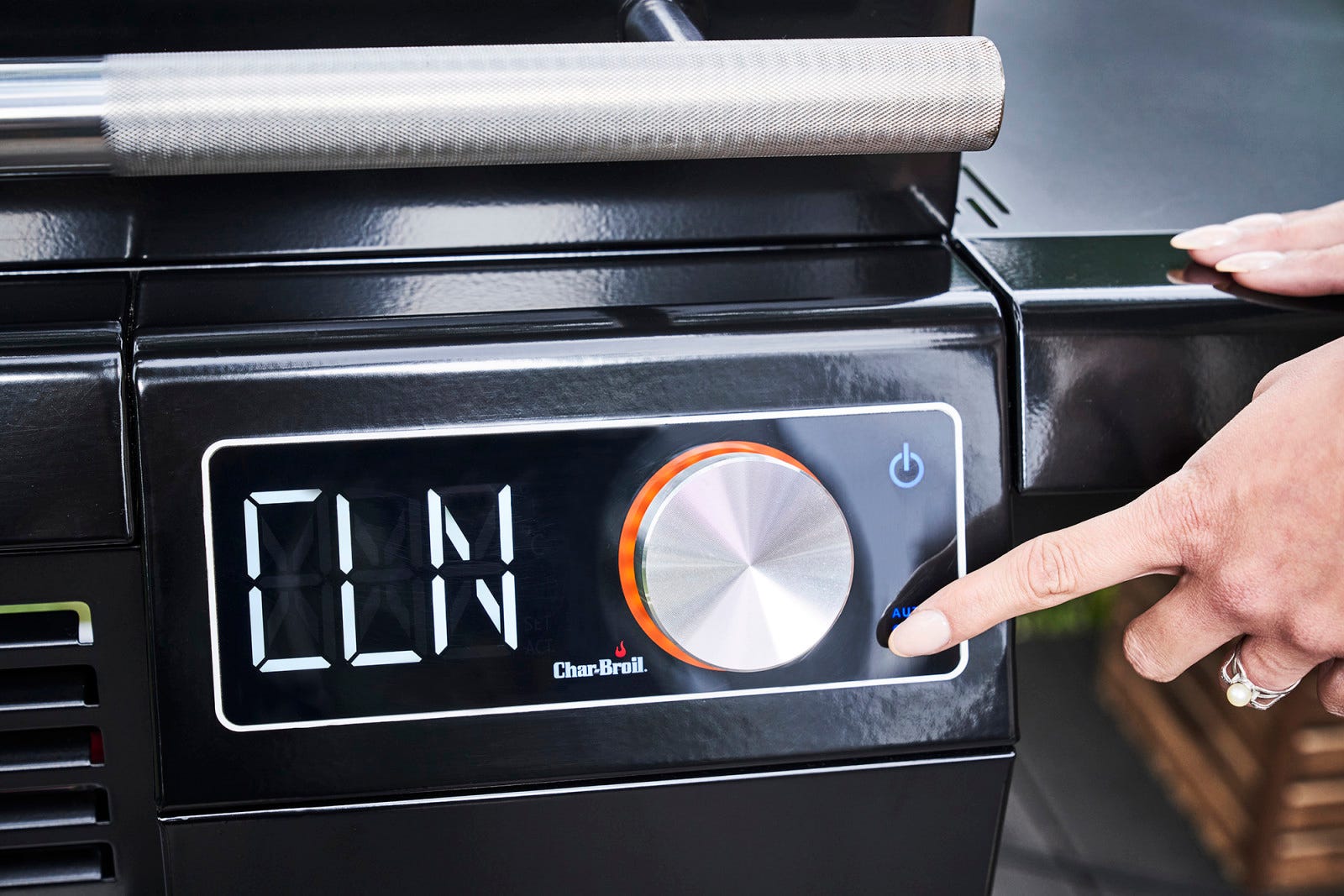 5.
Stainless steel grate system for hot BBQs
The two-part stainless steel grate system works to perfectly distribute and efficiently retain the heat, and create those perfect char lines. Both the grate and the emitter plate below it are extremely durable and easy to clean.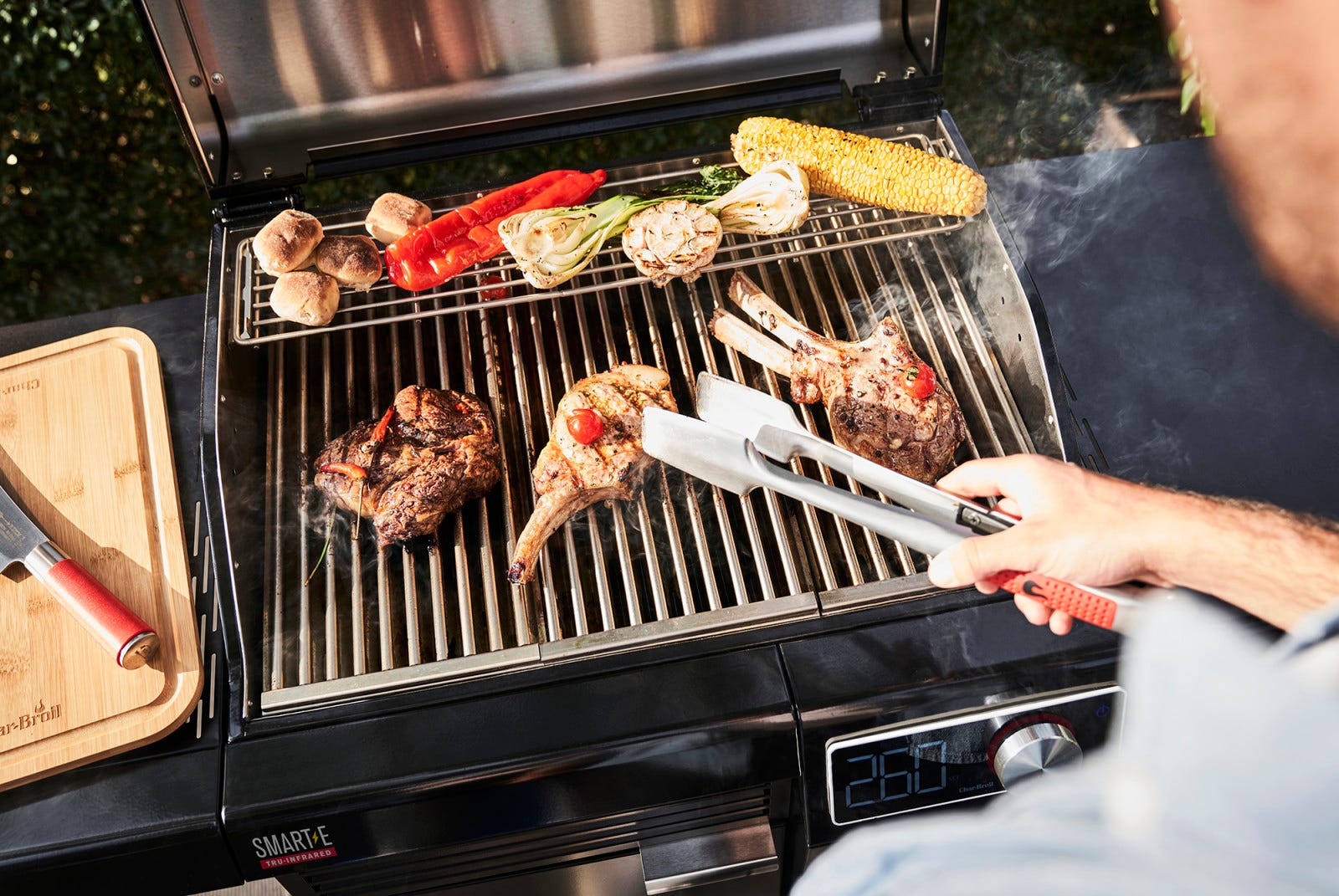 6.
WARMING RACK
stainless steel, for indirect grilling.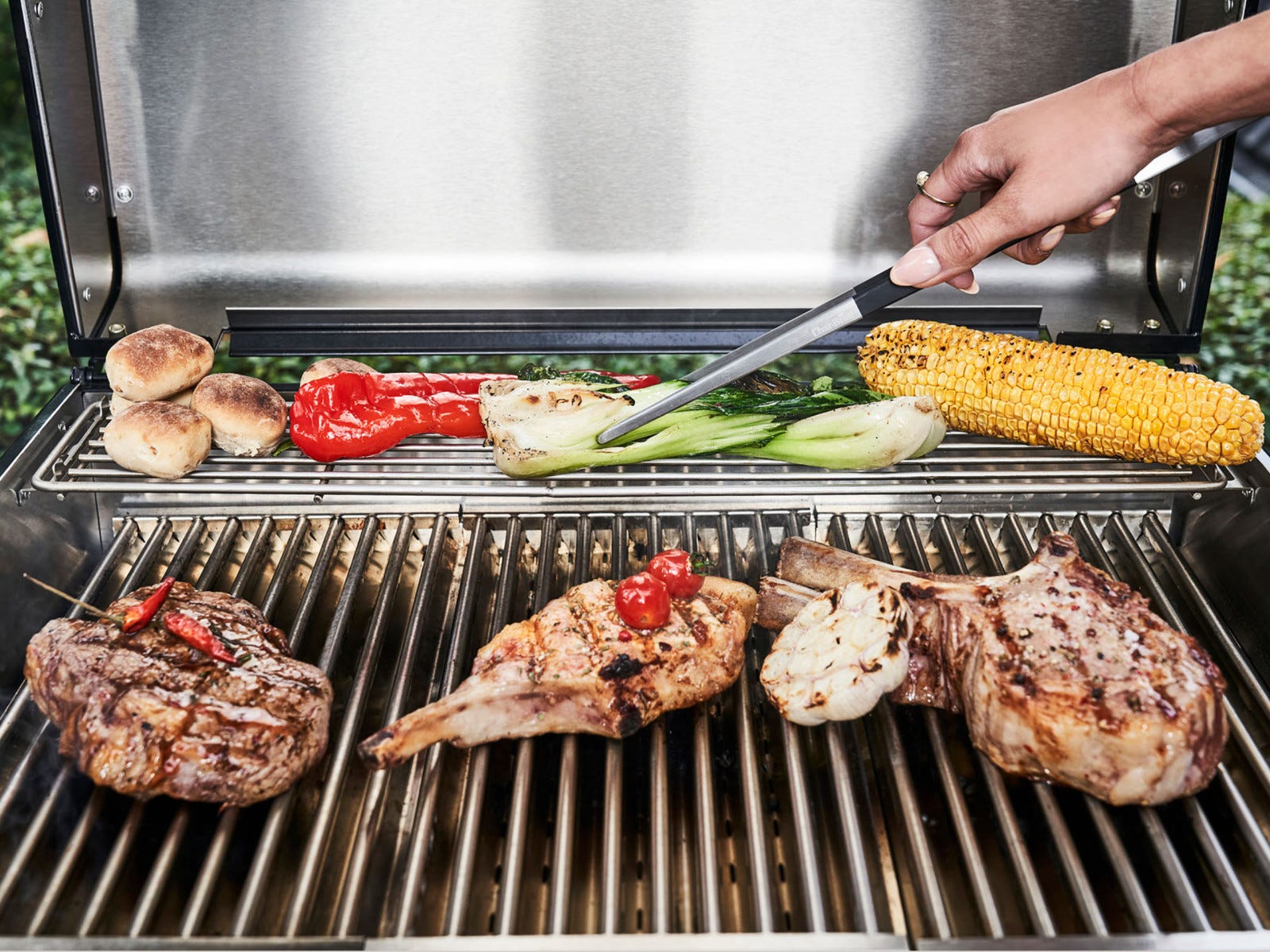 7.
More storage for more possibilities
The SMART-E® has a generous cupboard with an internal shelf, allowing plenty of space for accessories.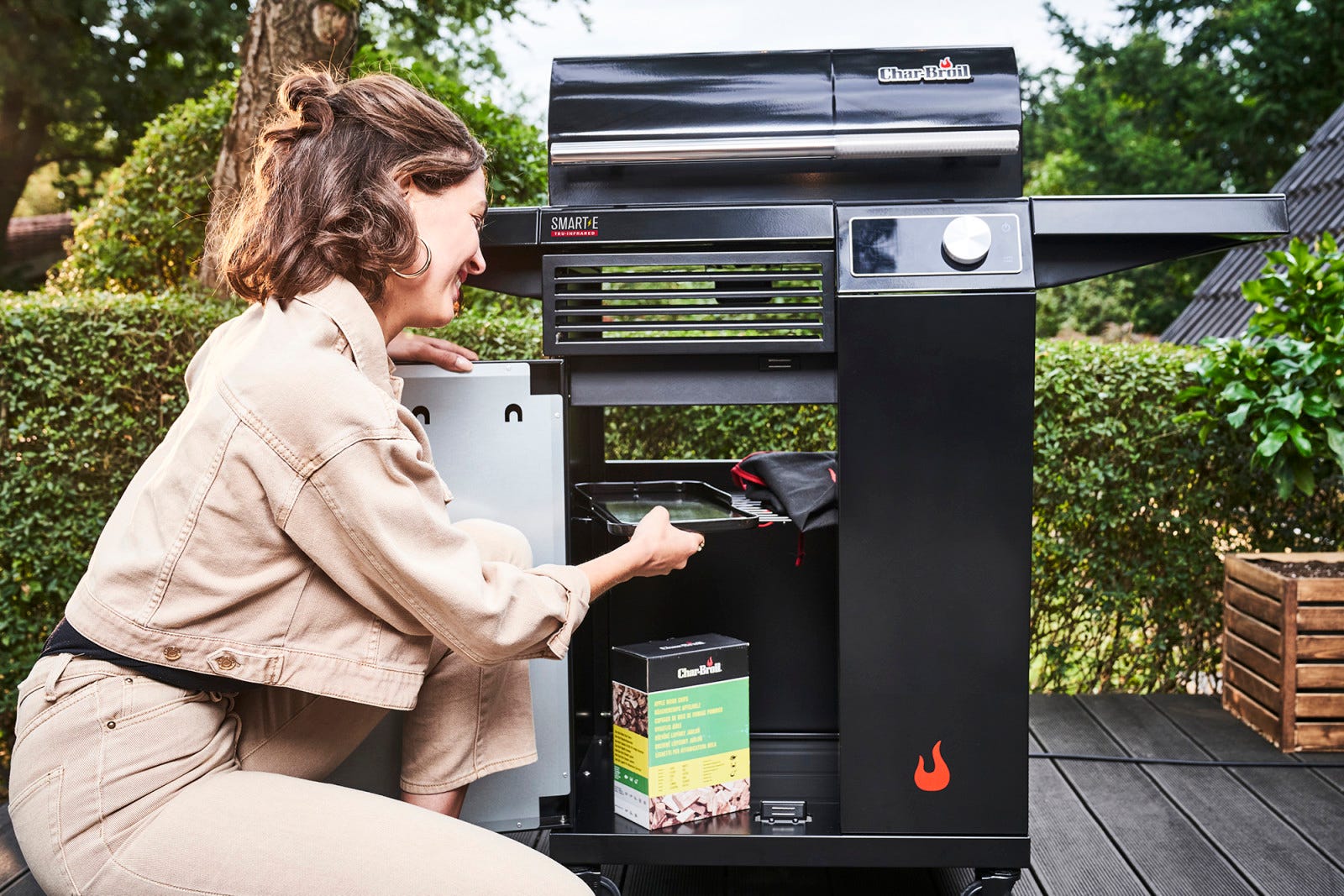 8.
The space-saving solution with two foldable side shelves
Do you want plenty of space for the meat, plates, skewers and more? And do you want to save space when the BBQ isn't in use? Then you'll love the foldable side shelves for space how you need it.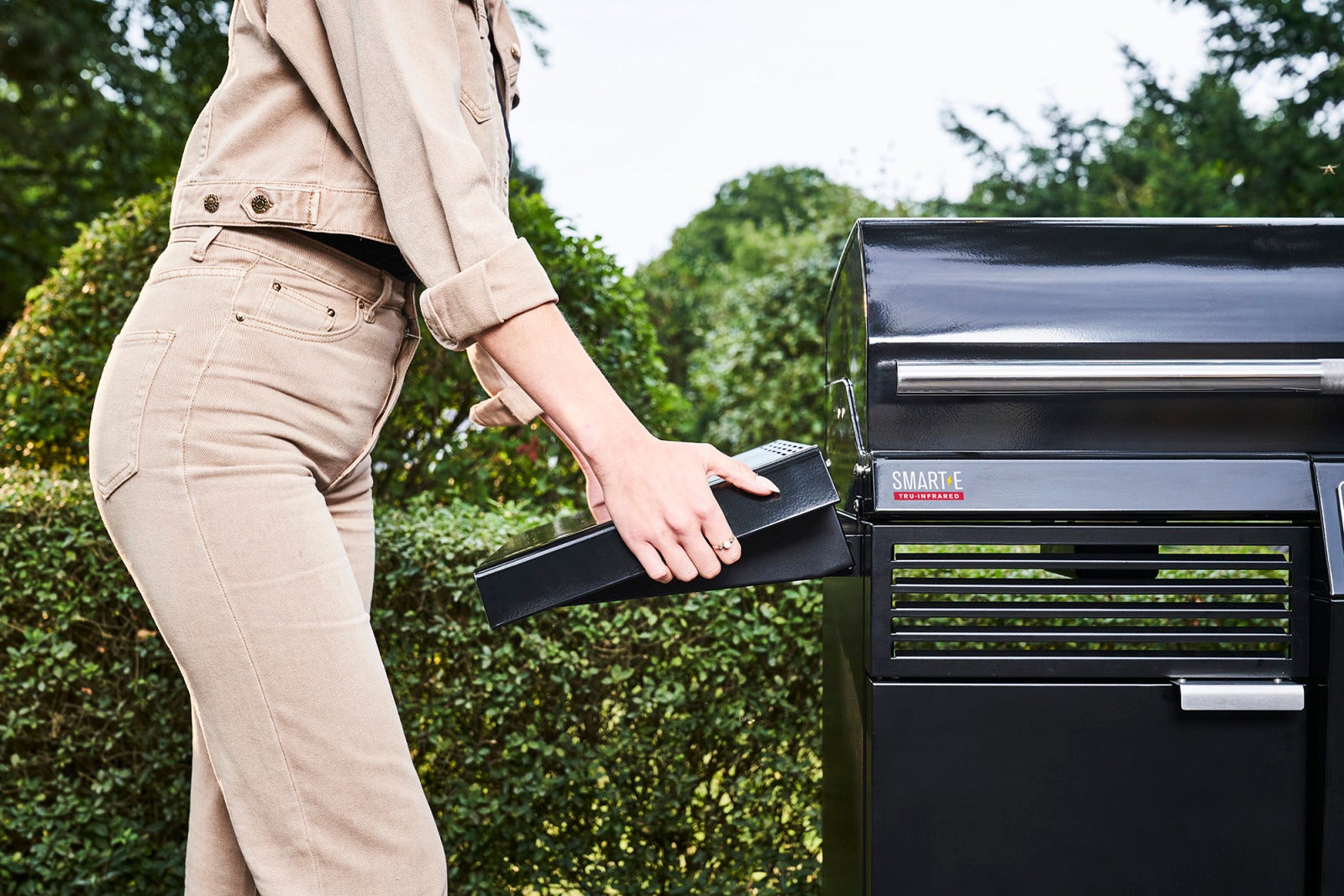 Warranty
Burner-Warranty Term (Years)
5
Grates-Warranty Term (Years)
3
Lid/Firebox-Warranty Term (Years)
2
Additional Specifications
Cooking system
TRU-Infrared™ Technology
Materials
Burner Material
Stainless steel
Grate Material
Stainless steel grate system
Rated

5

out of

5
by
Js00
from
Great for BBQs
Amazing BBQ grill and fantastic features and functions. It's perfect for grilling everything together and has a rack on top to keep food warm. Absolutely loved using this for a family BBQs now that it is warmer weather. Highly recommend this Smart BBQ grill.
Date published: 2023-06-04
Rated

5

out of

5
by
Zebulondon
from
OMG love it
So… I didn't know what to expect from an electric BBQ, but let me tell you, I was pleasantly surprised and impressed. The good thing about this is that the food turns out amazing! You get the same BBQ taste which I didn't think would be possible. You just plug it in, give it about 20 minutes to heat up then you're ready to go. The self cleaning function is just great. I mean, you still have to wipe it down and stuff but it makes it so much easier. It has lovely storage space underneath and four casters that make it easy to move about. I didn't think I'd want to give up my gas bbq but I think again. Nothing I would want to improve on the bbq but as I'm not the best at DIY, numbering the parts and having the contents page at the front of the book would have helped me a lot. I also like that the two side shelves fold down making it easier to store.
Date published: 2023-06-03
Rated

5

out of

5
by
HayShuttle86
from
The best BBQ by far
This BBQ comes needing to be set up and put together. The instructions were fairly easy to understand and actually much simpler than the book looked. We also found details in the box of going online and downloading an app to help put it together. This made the construction really handy and helpful. First use was the easiest a BBQ could be. Amazing food and it all cooked really well and stayed moist, including the chicken! Sausages tastes amazing on this too everyone was happy. Fun to use and made using this BBQ a delight, especially to host. The sides come up and down easy for storage and use. Inside there's a rack handy for storing things or the food once cooked. Once finished there's a self clean mode to get most of the residue off from cooking. What an absolute game changer. Really easy to work, use and made cooking a BBQ a breeze! Food tastes amazing and we are having lots of fun in the garden with the new BBQ. 10/10 for us. Doesn't come with tools, but we already had some, does come with a handy cleaning brush.
Date published: 2023-06-03
Rated

5

out of

5
by
Zoh123
from
Outstanding results!
I've just had the most juiciest bbq! Thanks to this Charbroil Smart E grill. The best part is that it is electric and no fiddling with gas mains at all. Very easy and straightforward to operate. The temperature is well maintained which ensures my bbq is cooked to perfection every single time! The bbq is huge and perfect to cater for a family of five. It is seriously a next level appliance and the best part is the cleaning which is super easy and it even comes with space to put my sauces in. A very well organized product which will make sure I enjoy my summer barbecues to perfection every time! I cannot highly recommend this!
Date published: 2023-05-30
Rated

5

out of

5
by
Iain80
from
Amazing
I've used the tradition gas bbqs all my life but have found it increasingly difficult and expensive trying to find the gas bottle I need, I've been reading a lot about electric bbqs lately and thought I would bite the bullet and give it a go and I'm so glad I chose this one, th unit is well made and sturdy and took a while to put together but once I did I started to use it straight away, it has a temperature control on the front and I have to say it cooks food perfectly.
Date published: 2023-05-30
Rated

5

out of

5
by
Amzh
from
The new easy way to bbq
This bbq is next level bbqing. It is literally soo easy to use. No gas or coal required it's all electric, mac temp of 370c, it has a warming rack, temperature gauge, self cleans, makes cooking a bbq so easy, food cooke all evenly and perfect. And it's nice and big so can cook lots of food at once, It look so slick and stylish, a gorgeous edition to any garden this summer, as a big family this is a absolute god send. We can all eat and cook together so easy to use, It is pricey but in my opinion it is definitely worth it and because its so easy to use,clean and store away you Will definitely get your moneys worth,
Date published: 2023-06-09
Rated

5

out of

5
by
RossiBird46
from
Game Changer !
This fully electric bbq/grill is incredible. It's an absolute beast and has transformed our outdoor cooking experience. It was the perfect addition to our garden following a recent renovation. It is literally like having a fully controlled oven/grill in your garden. It has a very handy long cable so you don't have to be too close to your house when cooking, and being fully electric means you require no charcoal or gas at all. I had concerns about running costs, but we have found this to be no more expensive than our conventional oven in our kitchen. The unit is on handy heavy duty castors that means you can move it around at ease, as it is large and heavy. We also purchased the cover from the website which is custom fit and well worth the investment. You can heat it up to a precise heat, which makes cooking incredibly easy. I'm looking forward to a long summer with friends and family, with my hubby showing off his cookery skills. And the best bit of all.. IT ACTUALLY CLEANS ITSELF! I can't recommend the Smart-E bbq/grill enough.
Date published: 2023-06-06
Rated

4

out of

5
by
Bearnison
from
Great features
We got this recently as we're on the lookout for a new bbq and it did not disappoint. It arrived on a pallet and even from just opening the box it felt and looked like a premium product. We had to build the bbq and it comes with instructions in the box but we actually found a step by step photo guide which was fab as it really helped to show what we should be doing etc. The bbq was very easy to use and cooked the food really nicely. The button on the front which lights up and can be seen even in the brightest of sun was also really helpful. It's almost like something from the future. Very cool I also really like the auto clean setting as it's usually me that ends up with the dirty grills at the end. But we put it on and left it and when it was done most of the food had been burnt off and then just required a quick going over with a brush. If you are looking for a premium product to not only look nice but give you great tasting food then this is for you
Date published: 2023-06-01
Is the fuse already inserted and one that came with the parts a spare.
Hi Tommy, Yes, that is correct. It comes with a spare fuse. Regards, Your Char- Broil Team UK
Date published: 2023-10-31
Are you considering a model that can double as a pizza oven?  The present maximum temperature doesn't appear hot enough.
Hello Acp63, You can contact us via this link : https://www.charbroil.co.uk/contact-us/ Best regards, Your Char-Broil Team
Date published: 2023-10-01
After assembling the Smart-E Grill, item "D" (the fuse) from the "Hardware Pack" has remained unused. Have I made a mistake during assembly and should I have used it somewhere? Or is the fuse a spare part that I should simply keep for if something breaks?
Hello there, Yes, this is correct. You should keep it as a spare. Kind regards, Your Char- Broil Team UK
Date published: 2023-09-16
the reflector plate is full of burnt grease and difficult to get to because of the heating element, are there any instructions available to remove safely to clean?
Hello Obi G, Please contact us via this link : https://www.charbroil.co.uk/contact-us/. Best regards, Your Char-Broil Team
Date published: 2023-09-03
Hi, what type of ventilation is required for this? We are thinking of building this into a kitchen island. Thanks Ayla 
Hi Ayla, We do not recommend using our grills for outdoor kitchens build by oneself. You'll loose the warranty of the product and we can not take the risk. It would be yours. The BBQ's are designed and constructed to be an outdoor BBQ. Kind regards, Your Char- Broil Team UK
Date published: 2023-08-28
What are the power requirements for this 
Dear James, This grill works with the power outage in your home. So, it comes with the plug which suits your country. Kind regards, Your Char- Broil Team UK
Date published: 2023-08-28
Does this have a UK 3 pin plug and is it 240 volt?
Hi LHRORK. The SMART-E grill is supplied in the UK with the appropriate plug. Many greetings Your Char-Broil Team
Date published: 2023-08-19
Can you do two zone cooking ie one side of grill on and the other side off.
Hello Cowboy, The SMART-E grill has only one zone, accordingly only the whole grill surface can be used. Many greetings Your Char-Broil Team
Date published: 2023-08-15