Professional CORE B 2

Professional CORE B 2
Professional CORE B 2
is rated out of
5
by
2
.
2-Burner | For 2-4 People | TRU-Infrared™ Technology | Red LED-Control Knobs
The allrounder gas grill for maximum versatility and convenience
Your premium gas grill, which offers plenty of space and convenience, so you can become a pro BBQ chef. Do you expect a lot from your grill and value space and convenience? Then the Professional CORE is the perfect choice for you! Fire away: Two fuel-efficient, high-performance stainless-steel burners heat up the cast-iron grates and our unique TRU-Infrared™ cooking technology distributes the heat evenly so your food is up to 50% juicier and more tender. The solid lid with lid thermometer is extra high so that you can use a range of cooking methods. You can use the side burner to prepare homemade sauces or side dishes. With its elegant all-black look, the Professional CORE is a real eye-catcher. The red LED lights on the chrome-plated control knobs add a special touch and make the grill safer to use. You can see exactly which burner is currently on when a light is on. The high-quality grill construction offers plenty of space inside. The Professional CORE is packaged in FSC-certified environmentally friendly cardboard, without any polystyrene. Our MADE2MATCH system increases grill enjoyment even more: You can personalise your grill according to your needs by, for example, turning it into a charcoal grill with the MADE2MATCH charcoal tray made from stainless steel or adding a smoker function with the MADE2MATCH smoker box!
Read More
Read Less
---
1.
TRU-Infrared™ Technology
Our unique grill system with success guaranteed. Five key benefits (up to 50% juicier food, 100% even heat distribution, no flare-ups, easy cleaning, up to 30% more economical consumption) to ensure maximum grilling fun.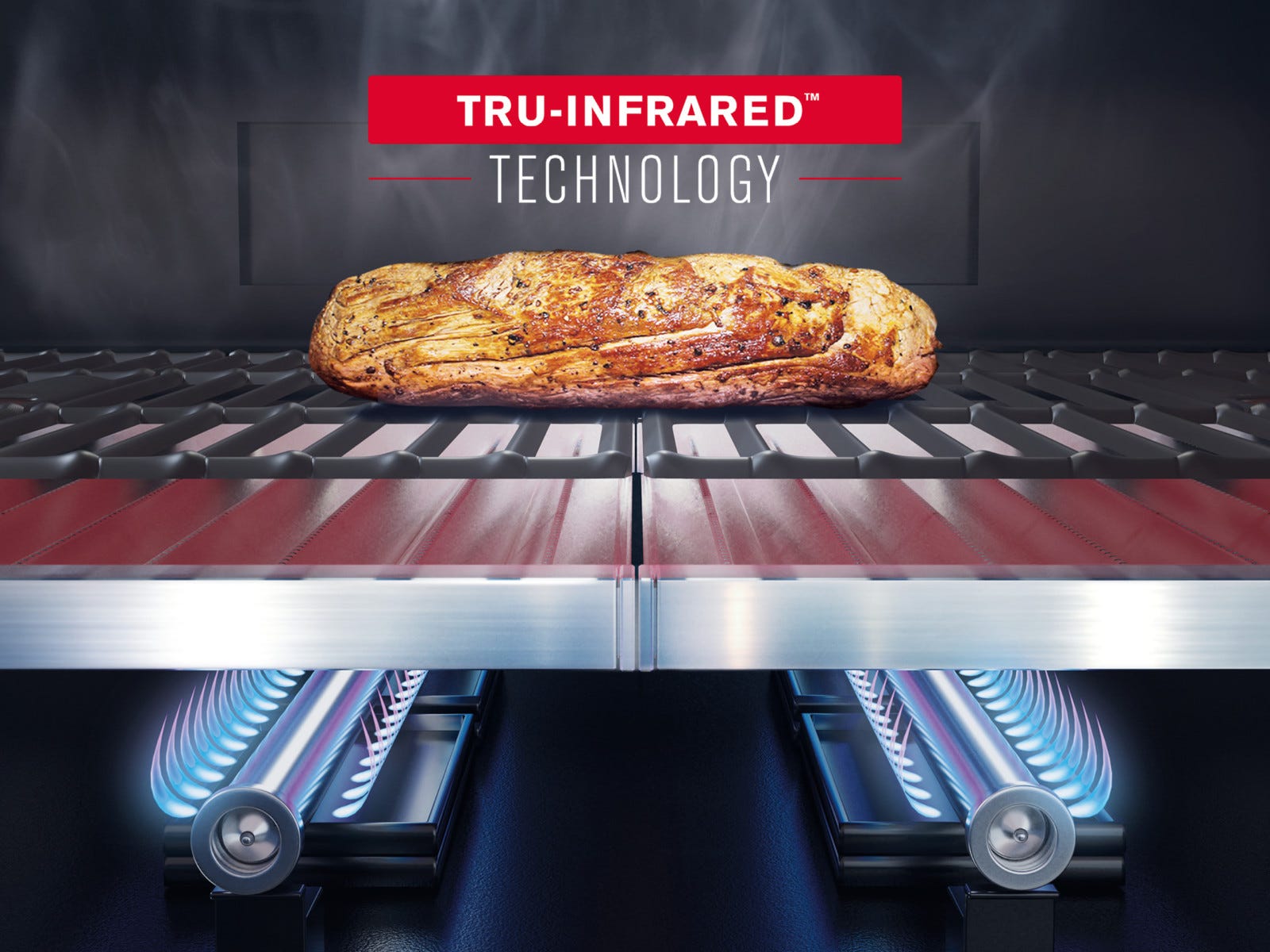 2.
Cast iron grates
Coated cast iron grates for greater heat retention and perfect sear strip marks. The grates are durable, rust-resistant and easy to clean.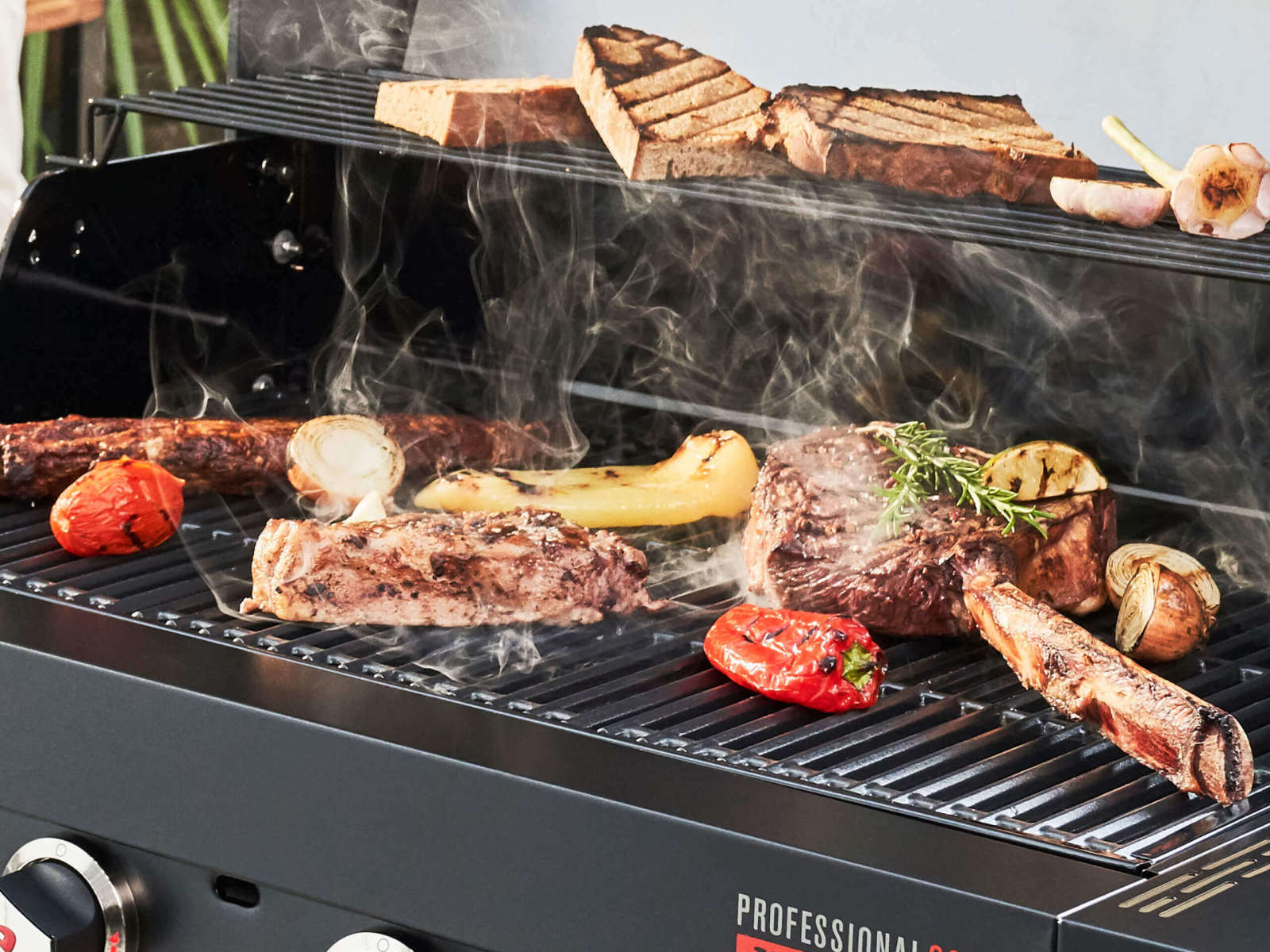 3.
Stainless steel burners
Two fuel-efficient, high-performance burners made of stainless steel for maximum heat with low gas consumption. The burners are heat-resistant and particularly durable.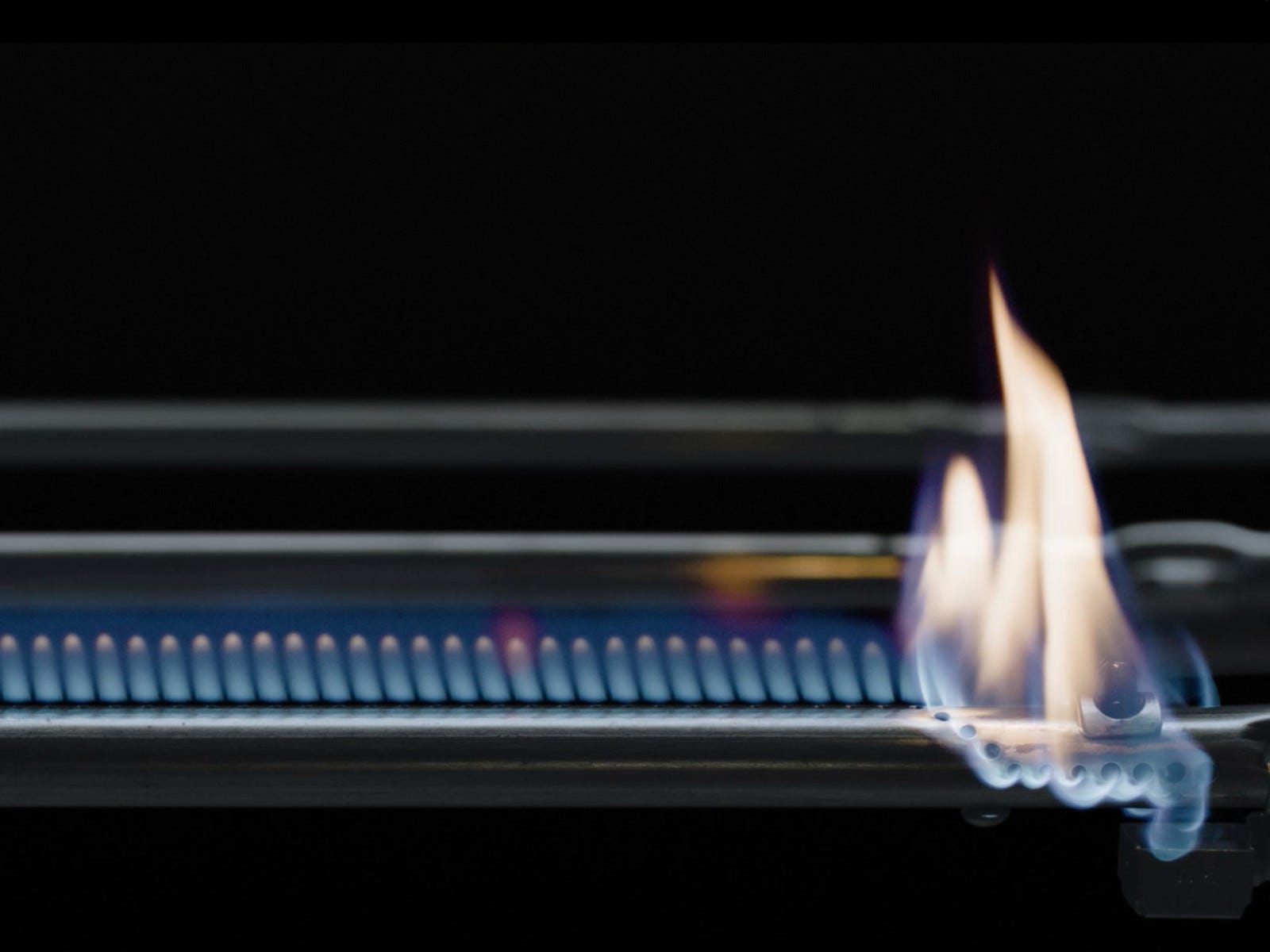 4.
LED illumination
A red LED illumination on the temperature controllers underscores the grill's modern look and helps to improve gas flow control.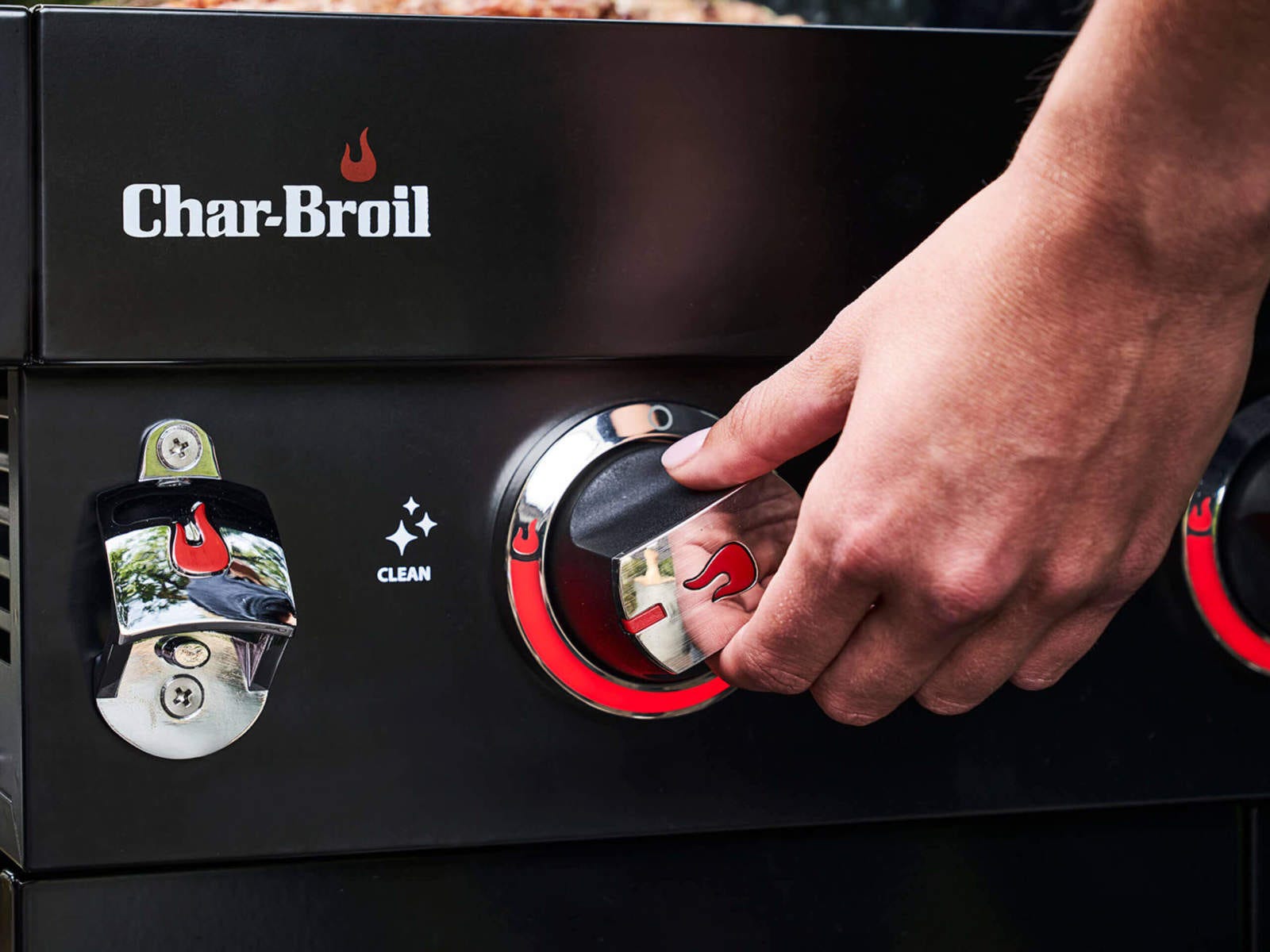 5.
11 kg gas bottle holder
The built-in, large, stable holder ensures the easy positioning of gas bottles weighing up to 11 kg.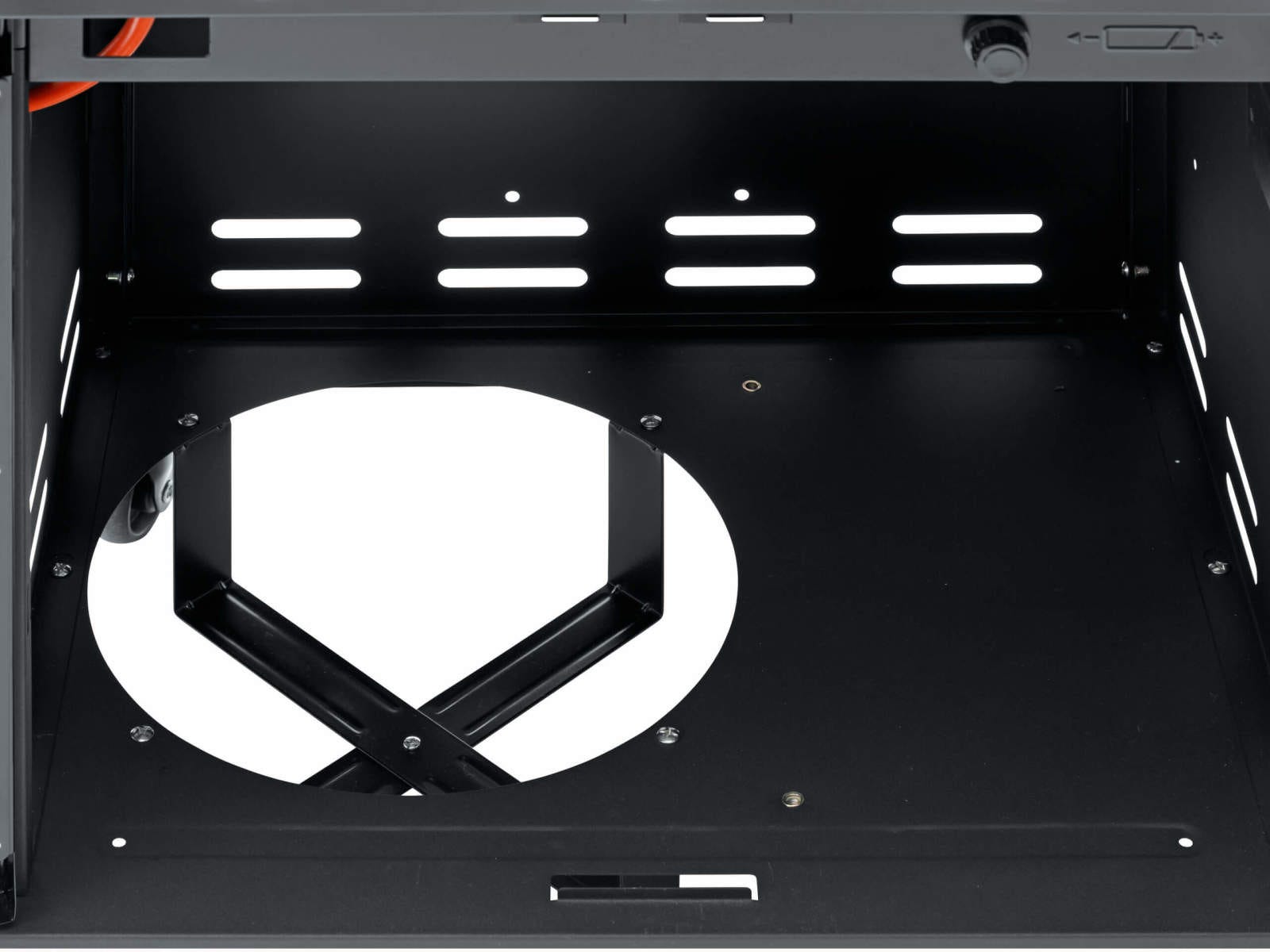 6.
Integrated bottle opener
An integrated die-cast zinc bottle opener with embossed logo is always to hand.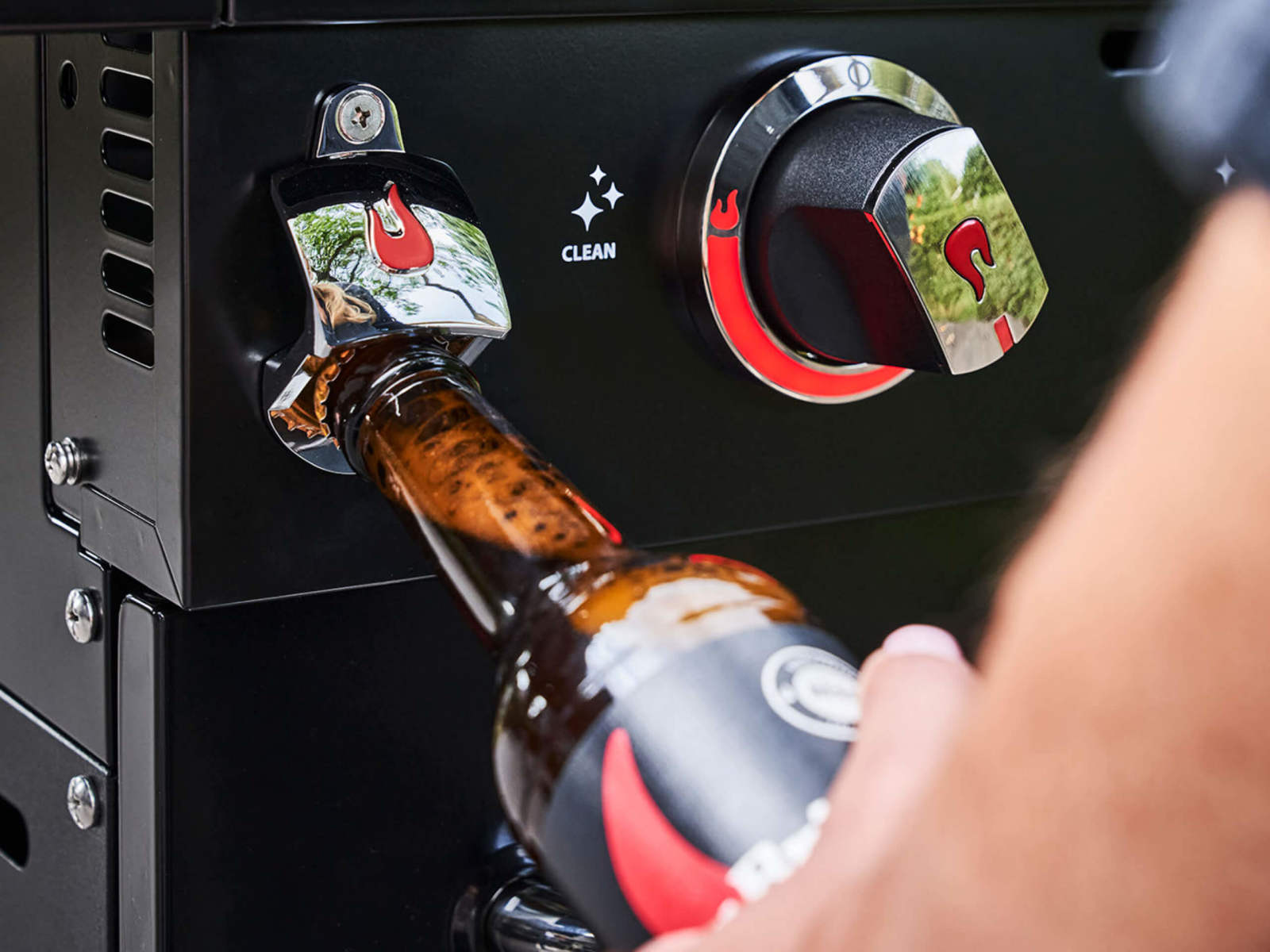 7.
4 wheels with 2 wheel stops
Two of the four wheels are lockable. This feature makes the grill mobile, on the one hand, but also ensures that it stands firmly in place when in use.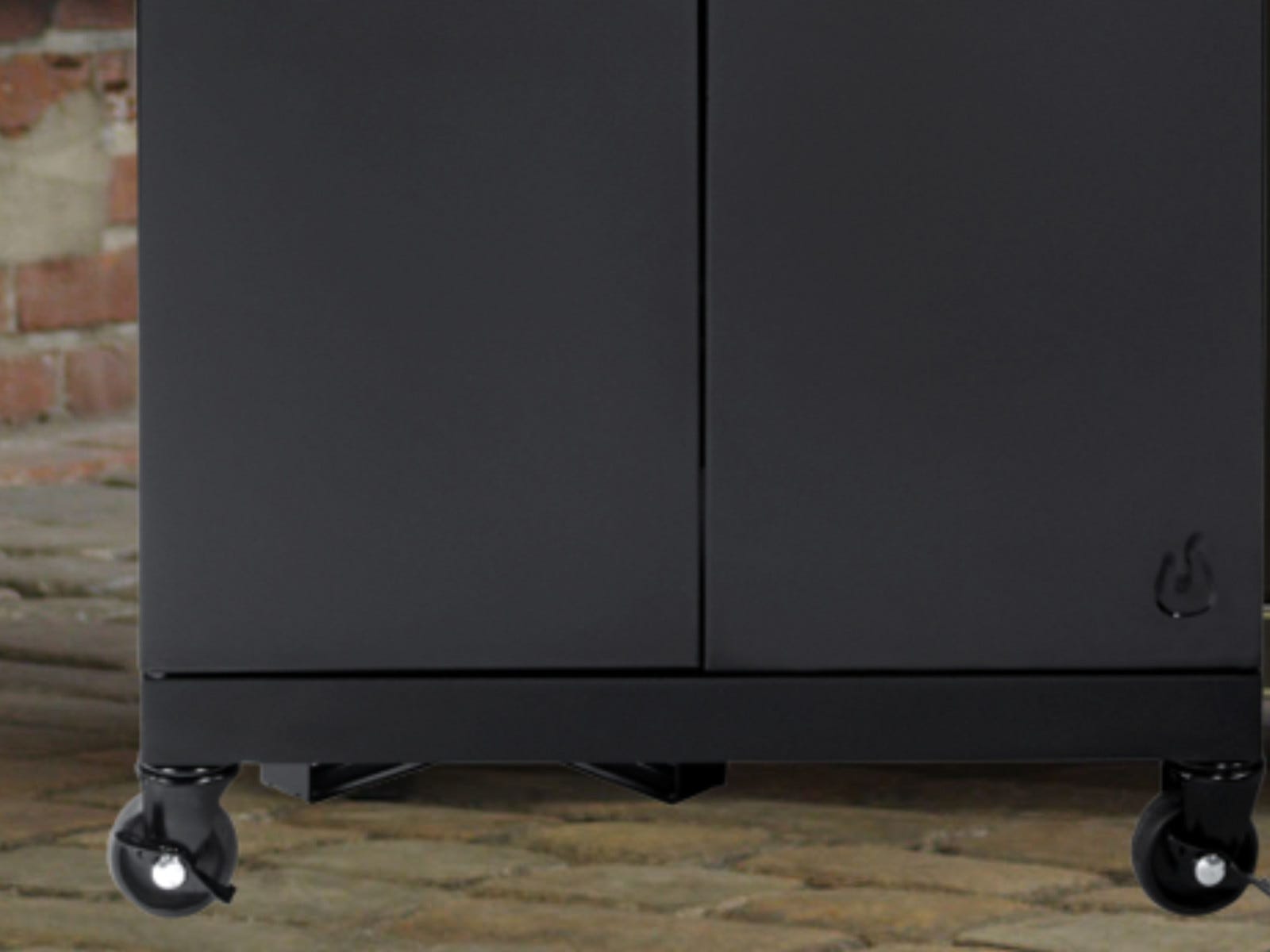 8.
MADE2MATCH compatibility
The grill can be extended with our MADE2MATCH storage system.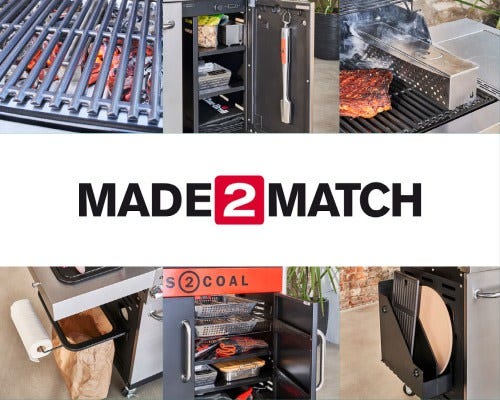 Warranty
Burner-Warranty Term (Years)
10
Grates-Warranty Term (Years)
3
Lid/Firebox-Warranty Term (Years)
2
Additional Specifications
Cooking system
TRU-Infrared™ Technology
Materials
Burner Material
Stainless Steel
Lid Material
Black Porcelain Coated Steel
Side Shelf Material
Black Painted Steel
Grate Material
Porcelain Coated Cast Iron
Rated

5

out of

5
by
Craigo71
from
Best BBQ experience
On arrival the package was reassuringly heavy yet somewhat intimidating with so many components to assemble. However, the provided instructions were excellent and even for someone with no discernible DIY skills the process was straightforward and completed in around 90 mins. The unit was supplied with a propane regulator but due to my enthusiasm, I swapped this for a butane attachment & bottle to which I already had access. This was again very easy and I have noticed no difference in performance. To test the setup I switched on both burners with the lid down and left for around 15 mins. I was pleasantly surprised to see the temperature reach around 350°C/662°F. With the addition of a stone this could easily double up as a Pizza oven. I added a cheap cut of steak to the grill and the searing was impressive, far superior to what I have come to expect from a standard BBQ. I then transferred the steak to the raised second shelf and allowed it to slowly reach my preferred internal temp. When cooking fattier cuts of meat, the infrared technology ensures that there are no wild flames to worry about, yet an element of smokey flavour is still detectable. I would recommend that the maximum setting only be used when searing is required. I made the mistake of not paying full attention after adding some burgers on full heat to find that they overcooked very quickly. For most standard BBQ items, a low-to-mid heat setting should be more than enough, which is great for gas consumption. I purchased the Char-Broil utensils which included a cleaning tool. So far this has proven to be very effective and much easier than cleaning a regular BBQ, the grill can simply be scraped clean with fat dripping down into a detachable tray. To a BBQ purist, I would expect that this would be more comparable to cooking on a hot plate than over hot coals which is true to a certain extent. However, the Char-Broil grill allows for woodchips to be placed directly on the grill and has excellent temperature control. Although I have not attempted it as yet, I am confident that slow cooking/smoking will be a success. Overall, I would wholeheartedly recommend this fantastic product. It is quick to fire up and quick to clean afterwards. The temperature remains consistent across the entire cooking surface over a wide range of temperatures which will make this a year-round cooking tool rather than just a BBQ which I would only use occasionally during the summer.
Date published: 2021-06-03
Rated

5

out of

5
by
Scottie90
from
A fine example of modern bbq
After what was a little bit of a tricky assembly job (mainly that gas pipe and some hard to follow pictures), I have used this bbq almost daily! I absolutely love it. Easy to use and effective in its job. The clean up job is also super simple. There are so many specs in this bbq that are just great (temp gauge, bottle opener, spark ignition and handy pull out shelves).
Date published: 2021-07-17
Hello - can you tell me the grilling area (cm x cm) on this bbq?And is a butane regulator included with the pack? Many thanks.
Dear Robin, All our grills (except X200 und Patio Bistro) are supplied with a clip-on regulator, that only works with Patio Gas. The measurement of the main cooking area is 47,8cm x 44,5cm. Kind regards, Your Char-Broil Team UK
Date published: 2023-06-13
I am thinking about buying the CHAR-BROIL GASSGRILL PROFESSIONAL CORE 2 burners. But I need to find the measurement for the unit. With and without the side flaps up. Thanks for the help!
Dear Nella, Both side tables folded down width is 80,5cm. Both side tables up 120cm and one down 100cm. Kind regards, Your Char-Broil Team UK
Date published: 2023-05-29
I have the 4400 grill and have just purchased the 1/3 solid grill plate.  Does this sit on top of the emitter plate or do I remove it and put the grill plate directly over the flavor bars?
Hello Wesley, You can remove your emitter plate and put it directly over the flavor bars. Best regards, Your Char-Broil Team
Date published: 2022-07-09
Hiya Just bought this, do I need to season the porcelain enamelled cast iron grates before use like the normal cast iron grates?
Hello. The cast iron grids should be oiled again and again. The stainless steel emitter plates can also be cleaned in the dishwasher if necessary. Your Char-Broil team
Date published: 2021-11-03
Hi I have just bought thisProfessional CORE B 2, what cover is suitable for this BBQ?
Hello. The weather protection hood # 140 384 is the right one for the Char-Broil Professional CORE model. Your Char-Broil team
Date published: 2021-11-03