Gas2Coal 2.0 210

Gas2Coal 2.0 210
Gas2Coal 2.0 210
is rated out of
5
by
1
.
2-Burner Hybrid Grill | For 2-4 People | Patented Charcoal Tray | Integrated Bottle Opener
Gas or Charcoal? Enjoy both with our Gas2Coal® hybrid grill
For those who cannot choose between the simplicity of gas and the taste of charcoal: Welcome to the Gas2Coal hybrid grill. In less than 60 seconds, it can be converted from a gas barbecue to a charcoal barbecue without the use of any tools. The charcoal is simply poured into our patented charcoal tray and ignited by the stainless steel gas burners... there's no need for a barbecue lighter. The charcoal tray's design ensures an even heat distribution. This, along with the cast iron grates, can be easily handled with the grate lifter that comes with your grill. The inside of our popular new edition offers space for a gas bottle, which can be easily connected and disconnected via the access flap. With its two heavy-duty wheels, the grill can easily be moved to the desired location. And its integrated bottle opener made of die-cast zinc ensures that your favourite chilled drink won't stay sealed for long. If required, the grill can be extended to include storage elements from our MADE2MATCH system.
Read More
Read Less
---
1.
Cast iron grates
Coated cast iron grates for greater heat retention and perfect sear strip marks. The grates are durable, rust-resistant and easy to clean.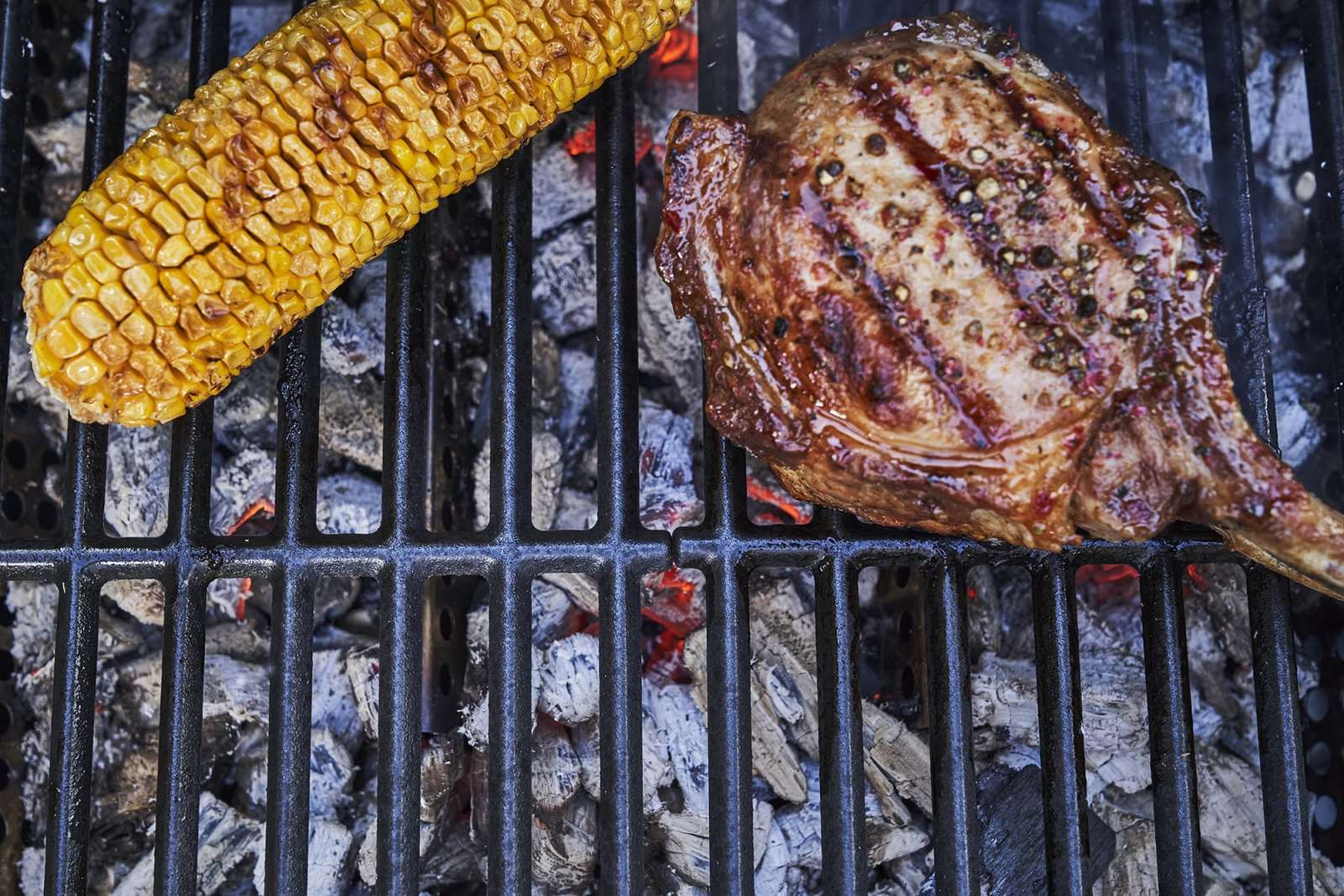 2.
Stainless steel burners
Two fuel-efficient, high-performance burners made of stainless steel for maximum heat with low gas consumption. The burners are heat-resistant and particularly durable.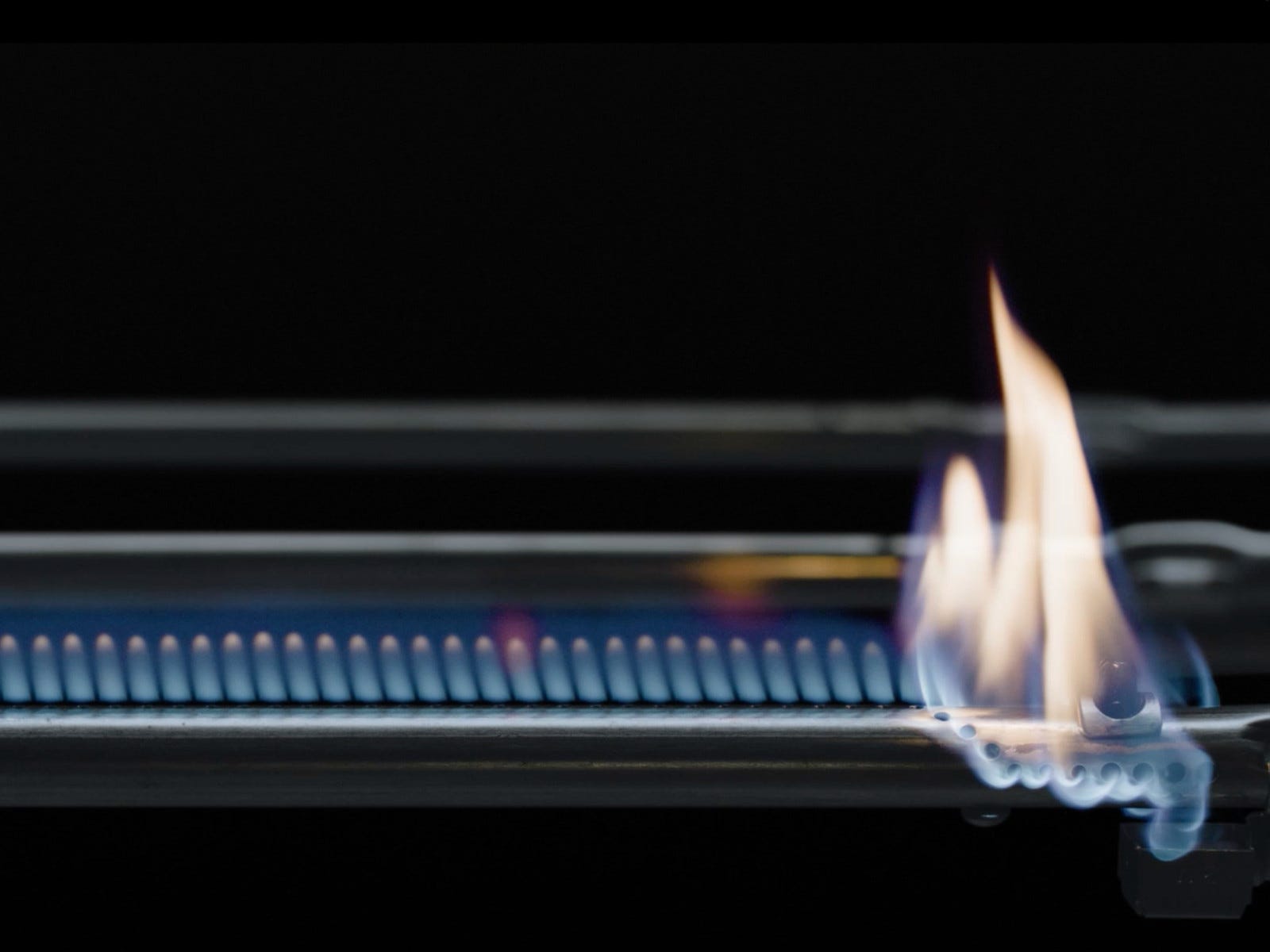 3.
Patented charcoal tray
The patented charcoal tray made of stainless steel ensures even heat distribution and prevents flare-ups.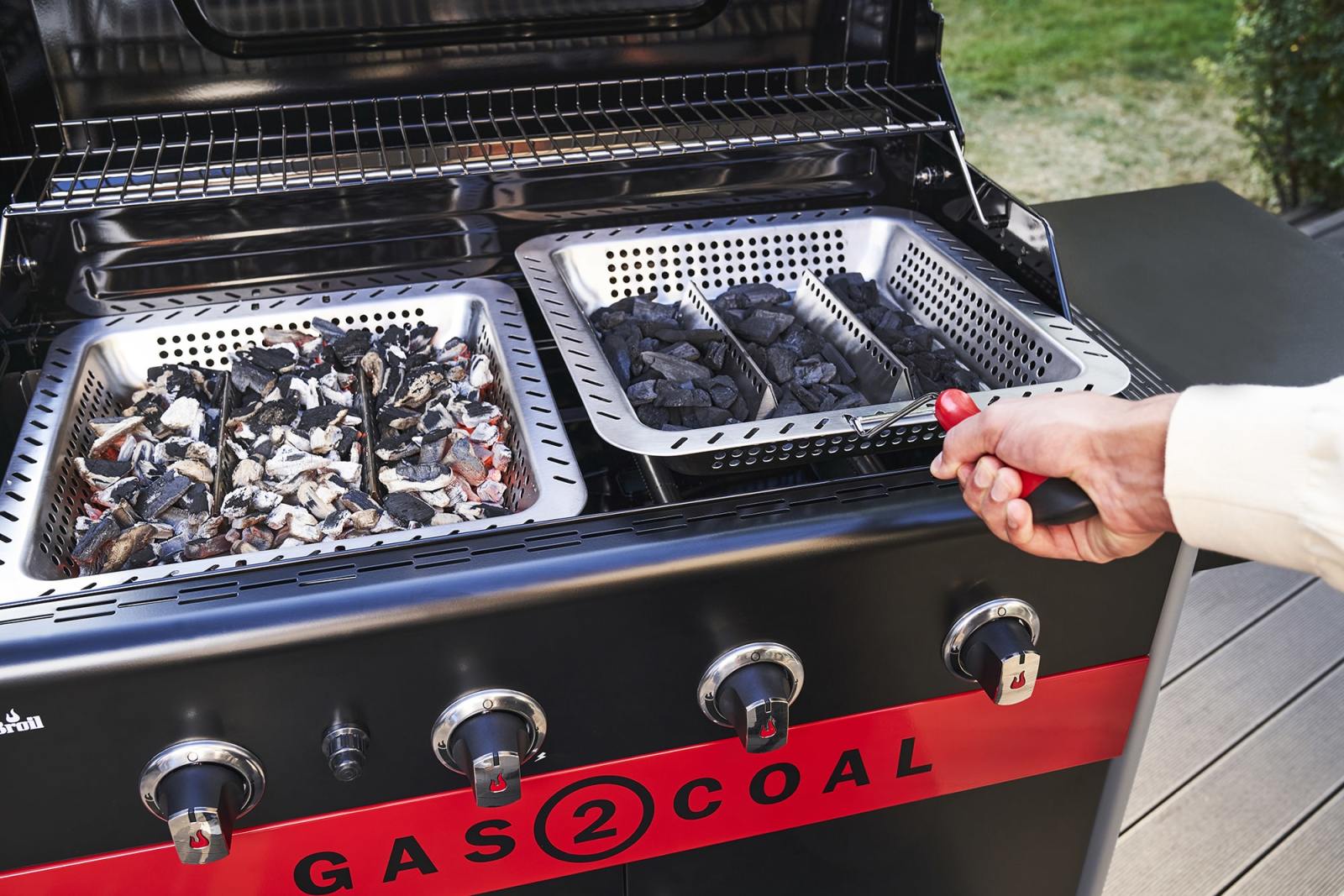 4.
Storage
The large access flap allows easy access to the gas bottle.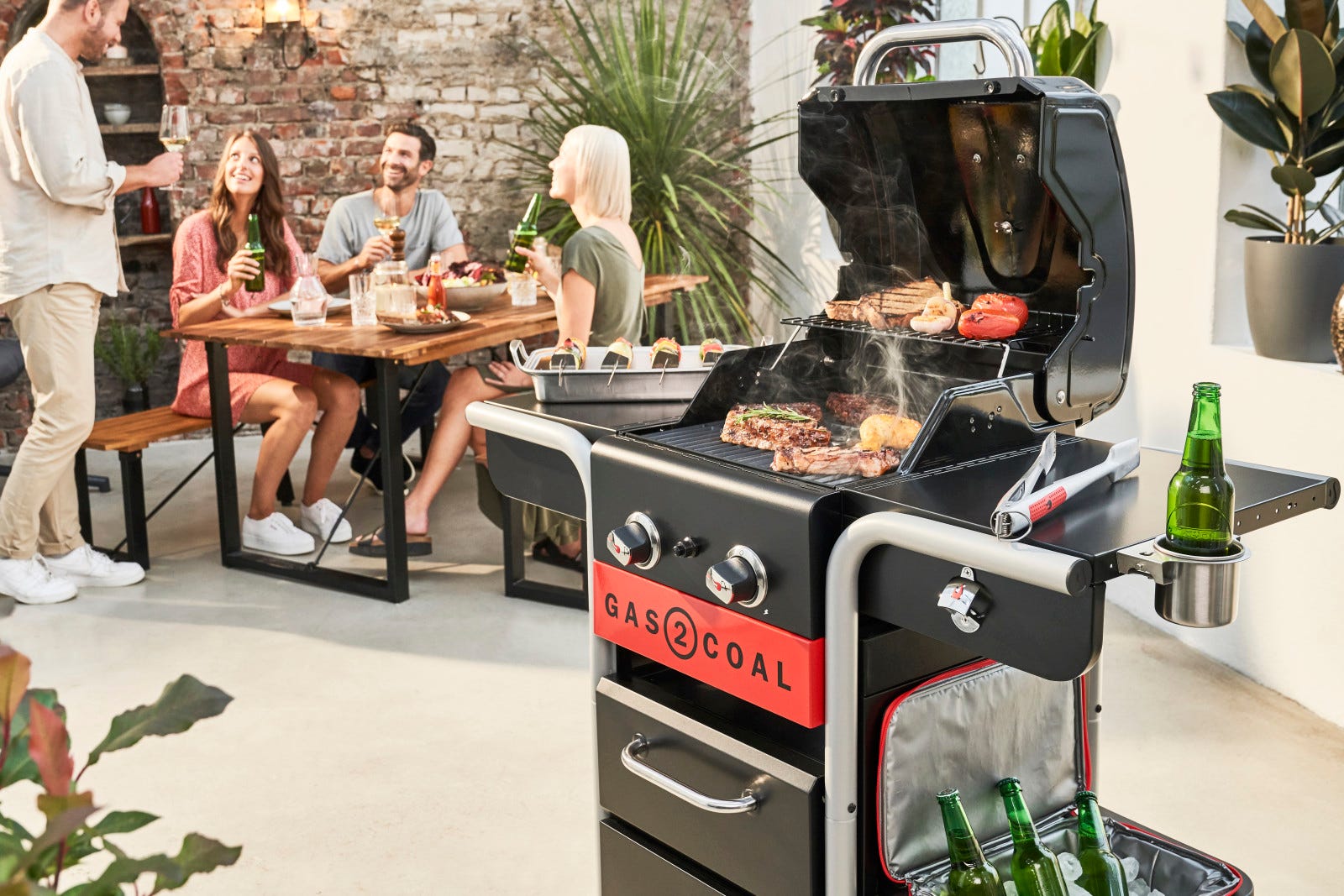 5.
MADE2MATCH compatibility
The grill can be extended with our MADE2MATCH storage system.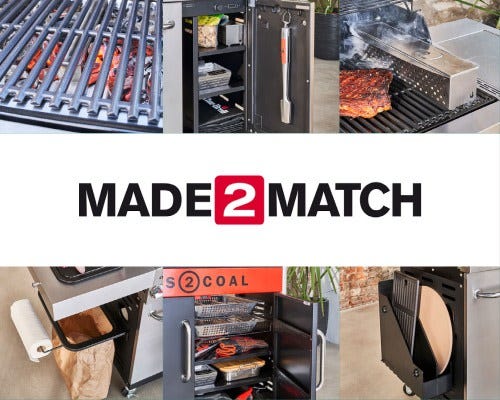 6.
2 wheels
2 stable, large wheels provide enhanced mobility and optimum stability.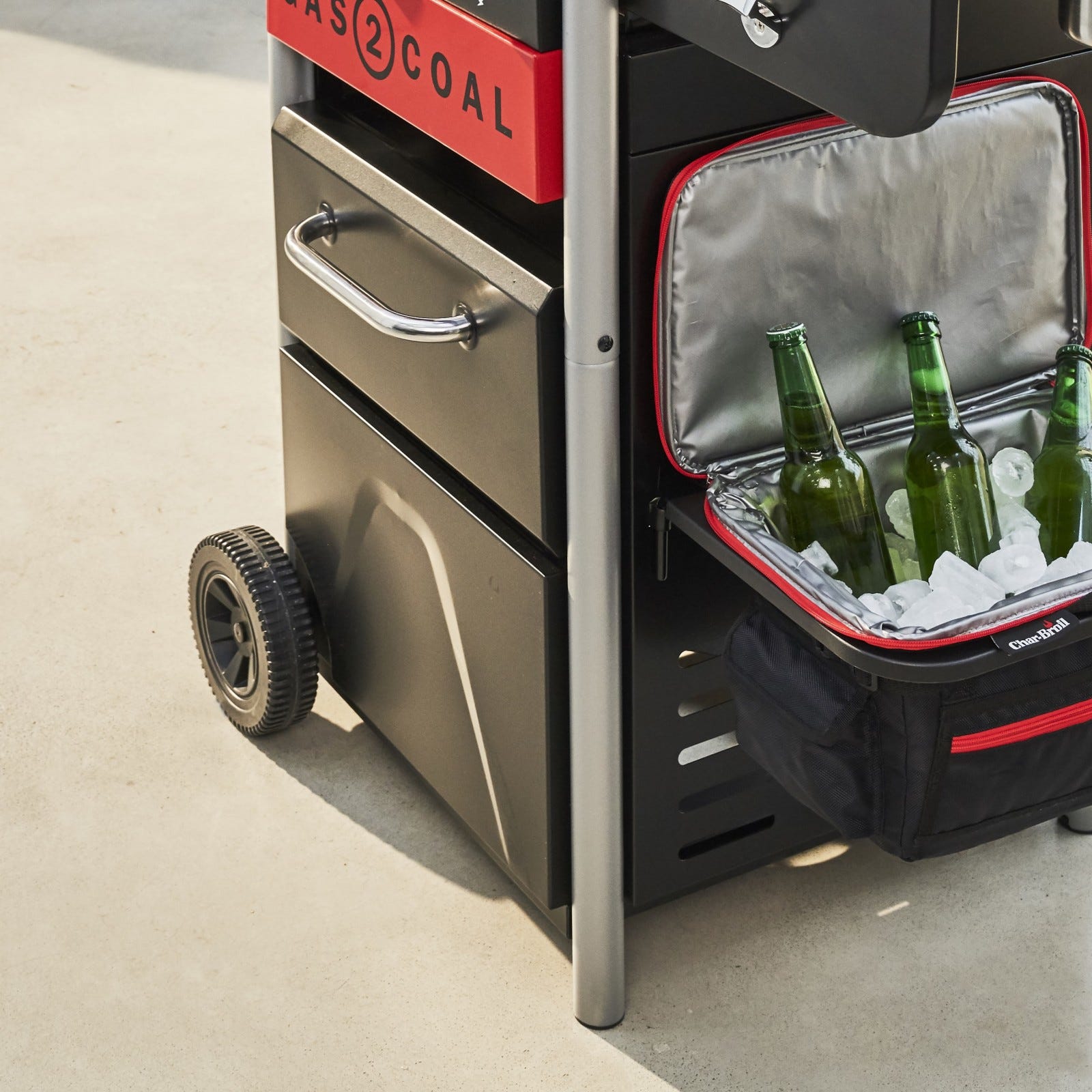 7.
Integrated bottle opener
An integrated die-cast zinc bottle opener with embossed logo is always to hand.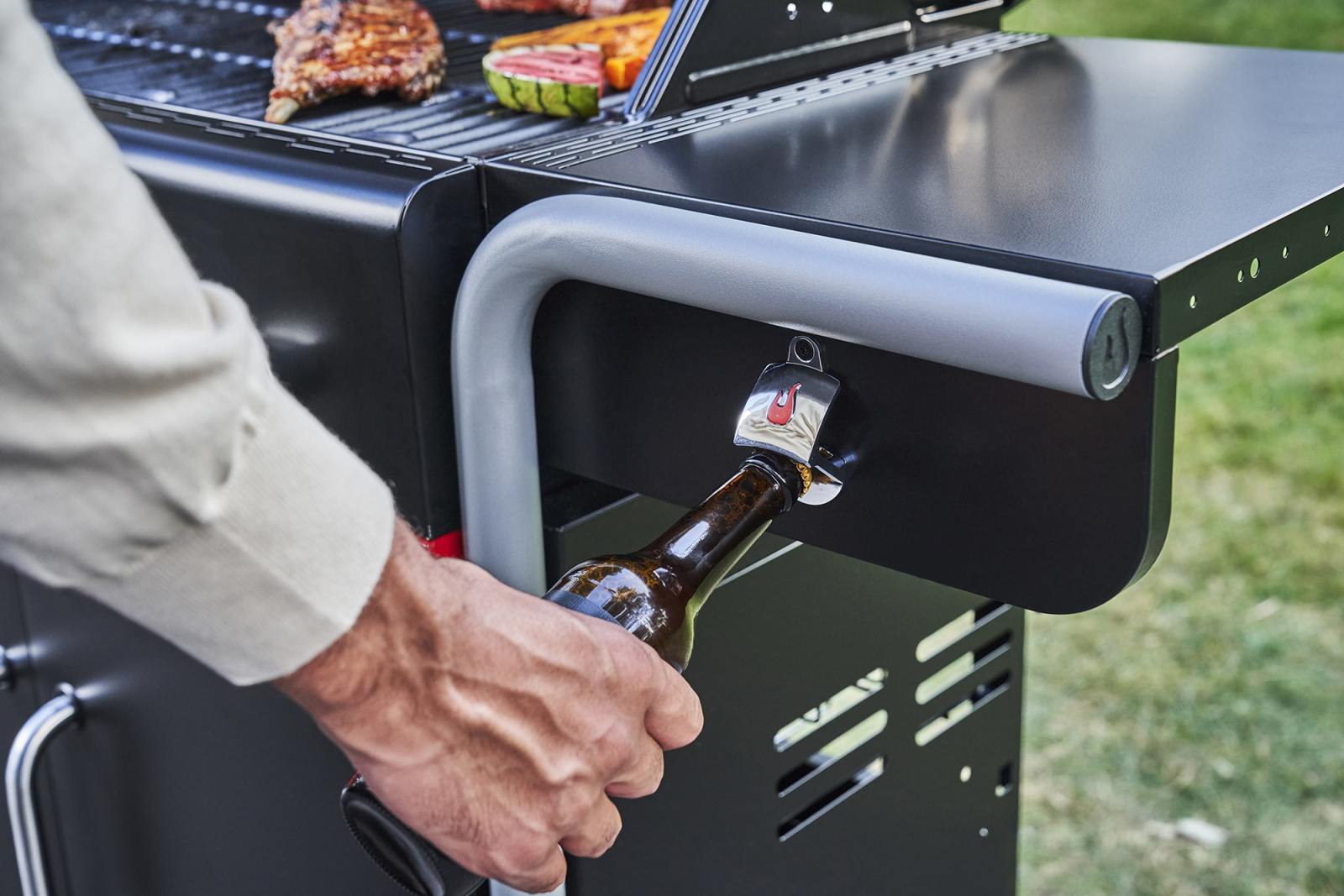 8.
Grate lifter
The grate lifter with holder on the grill is used to conveniently move the grill grates and charcoal tray.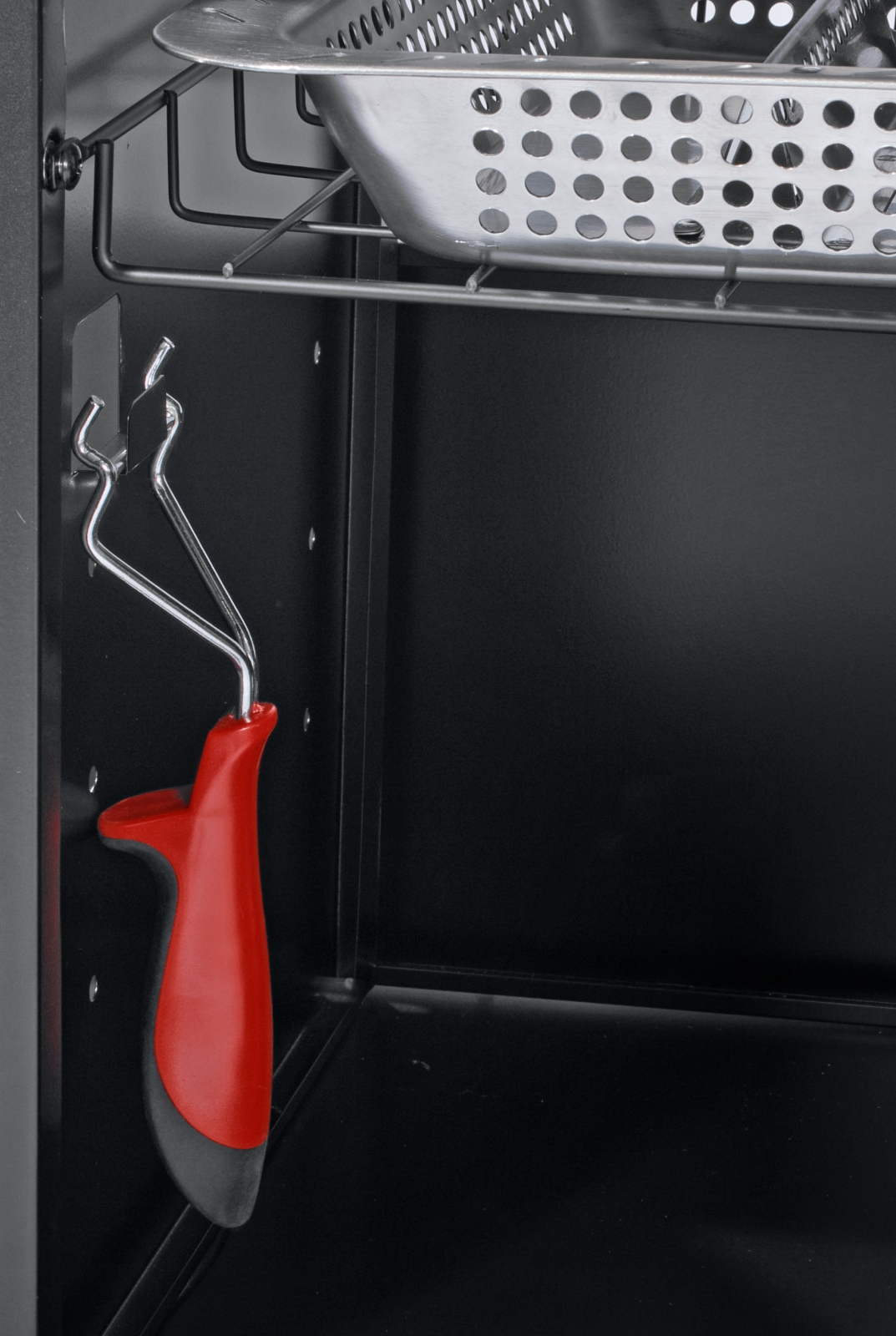 Warranty
Burner-Warranty Term (Years)
5
Grates-Warranty Term (Years)
2
Lid/Firebox-Warranty Term (Years)
2
Additional Specifications
Materials
Burner Material
Stainless Steel
Heat Tent Material
Stainless Steel
Lid Material
Black Porcelain Coated Steel
Grate Material
Porcelain Coated Cast Iron
Rated

5

out of

5
by
Anonymous
from
The best of both worlds!
Firstly assembling the BBQ is no mean feat. It took two of us over 2 hours and lots of swearing so be prepared, give yourself plenty of time and read the instructions! I didn't find the app for installation very useful. That having been said it was totally worth it, the BBQ is substantial and good quality, it even has 2 wheels so it can be easily moved around. You have the ability to choose to cook with gas or charcoal or gas and then charcoal to finish food off with the traditional bbq - the ultimate choice and this is what makes the grill so special. This grill only has 2 burners so cooking area is slightly limited so it's best suited to smaller families. All in all it's a great piece of kit and will get plenty of use!
Date published: 2021-06-01
Hello, Can I light up the charcoal without using the gas function? That means can I light up the charcoal with firelighters and / or matches and paper? Thank you!
Hi Enim, the coal can be lit here e.g. also with match, paper. But no methylated spirits, etc. should be used. Many greetings Your Char-Broil Team
Date published: 2023-10-24
what regulator does the bbq range come with? blue gas bottle or green gas bottle?
Hello Mickyoung, Patio Gas is more commonly used for outdoor purposes and more specifically for barbecues and patio heaters. These bottles are compatible with a 27mm clip-on regulator. Patio gas can be either propane or butane and supplied in a patio gas bottle or patio gas cylinders. Both works equally as well, although propane is preferred in cold weather". Best regards, Your Char-Broil Team
Date published: 2023-08-21
On the 3 burner model - what is the dimensions of the unit (excluding the side "wings") . Also i have a 10kg gas bottle - how long is the hose/ connection to the gas bottle - would it reach to store the gas bottle when in use under the non hot plate side?
Hello stacker, The Gas2Coal 2.0 210 model cannot be mounted without the side shelves, as they are connected to the side braces of the grill, which make the stability of the grill. In the bottom cabinet of the barbecue can be placed a gas bottle not higher than 43 cm including the pressure reducer. Many greetings Your Char-Broil Team
Date published: 2023-08-15
How wide is the cooking grill for the 2 burner model and 3 burner model? Thanks
Hello ClayB, The width is 44 cm for the 2 burner and 64 cm for the 3 burner model. Best regards, Your Char-Broil Team
Date published: 2023-07-19
Can this BBQ be used for smoking meats?
Hello ModernMan. The Gas2Coal 2.0 210 #140924 model can also be used for smoking. Here, for example, our CAST IRON SMOKER BOX #140551 or STAINLESS STEEL SMOKER BOX #140552 or also our MADE2MATCH SMOKER BOX #140071 can be used. Best regards Your Char-Broil Team
Date published: 2022-10-19
Can you tell me what is the height with the lid open and lid closed? Thanks
Hello Nebs, The height with the lid open is 54 cm, and with the lid closed is ca. 14- 24 cm. Best regards, Your Char-Broil Team
Date published: 2022-09-24
Am confused to buy the right gas cylinder to my BBQ (char broil_ gas 2coal 2.0 210) so can u please help me. Thanks
Hello Makeda, You can use a propane or butane gas. Cylinder of 6 kg or less may be placed on the ground under the side shelf or inside the appliance in place provided. Larger cylinders are to be placed under side shelf or behind the barbecue only. Cylinders placed in the appliance shall have a maximum diameter of 345mm and maximum height of 430mm. Cylinders placed on the ground shall not be placed under the hot plate. Best regards, Your Char-Broil Team
Date published: 2022-09-13
Can you use the 10kg patio gas if you just keep it to the side of the BBQ? Just wonder if the 5kg was recommended due to it fitting within the unit or if there is more to it than that.
Hello, Larger cylinders are to be placed under side shelf or behind the barbecue only. Cylinders placed on the ground shall not be placed under the hot plate. Best regards, Your Char-Broil Team
Date published: 2022-08-09