Professional PRO S 2

Professional PRO S 2
Professional PRO S 2
is rated out of
5
by
5
.
2+1-Burner | For 2-4 People | TRU-Infrared™ Technology | 900 °C Sear Burner
Your premium professional gas grill with a 900° high-performance sear burner and special features will take your barbecuing to the next level
Do you want the full grilling package? Then the Professional PRO is the perfect grill for you! Extra hot, extra convenient, extra versatile... this grill has it all. When grilling, two fuel-efficient high-performance burners made of stainless steel provide maximum heat. Our innovative TRU-Infrared™ Technology evenly distributes this to keep your food up to 50% juicier. Are you looking for even more power? This is provided by the ceramic high-performance sear burner on the side, which can reach temperatures of up to 900°! This is where you perfect the crust and make it beautifully crispy with professional grill stripes. The Professional PRO is solid and made from high-quality stainless steel. The high quality of the materials means that it is resistant to rust and weathering. The spacious interior of the grill can hold an 11 kg gas bottle. For added safety and a great design touch, the LED lights on the temperature controllers glow red when the corresponding burner is switched on. A collapsible side table and the attached Gear Trax tool hooks provide an additional convenience factor when grilling by giving you more space for preparing food and ensuring that your tools are always to hand. The grill is packaged without polystyrene and in FSC-certified, environmentally friendly cardboard packaging. The charcoal tray and smoker box from our practical MADE2MATCH system can be used to easily convert the Professional PRO into a charcoal grill or to add a smoker function.
Read More
Read Less
---
1.
TRU-Infrared™ Technology
Our unique grill system with success guaranteed. Five key benefits (up to 50% juicier food, 100% even heat distribution, no flare-ups, easy cleaning, up to 30% more economical consumption) to ensure maximum grilling fun.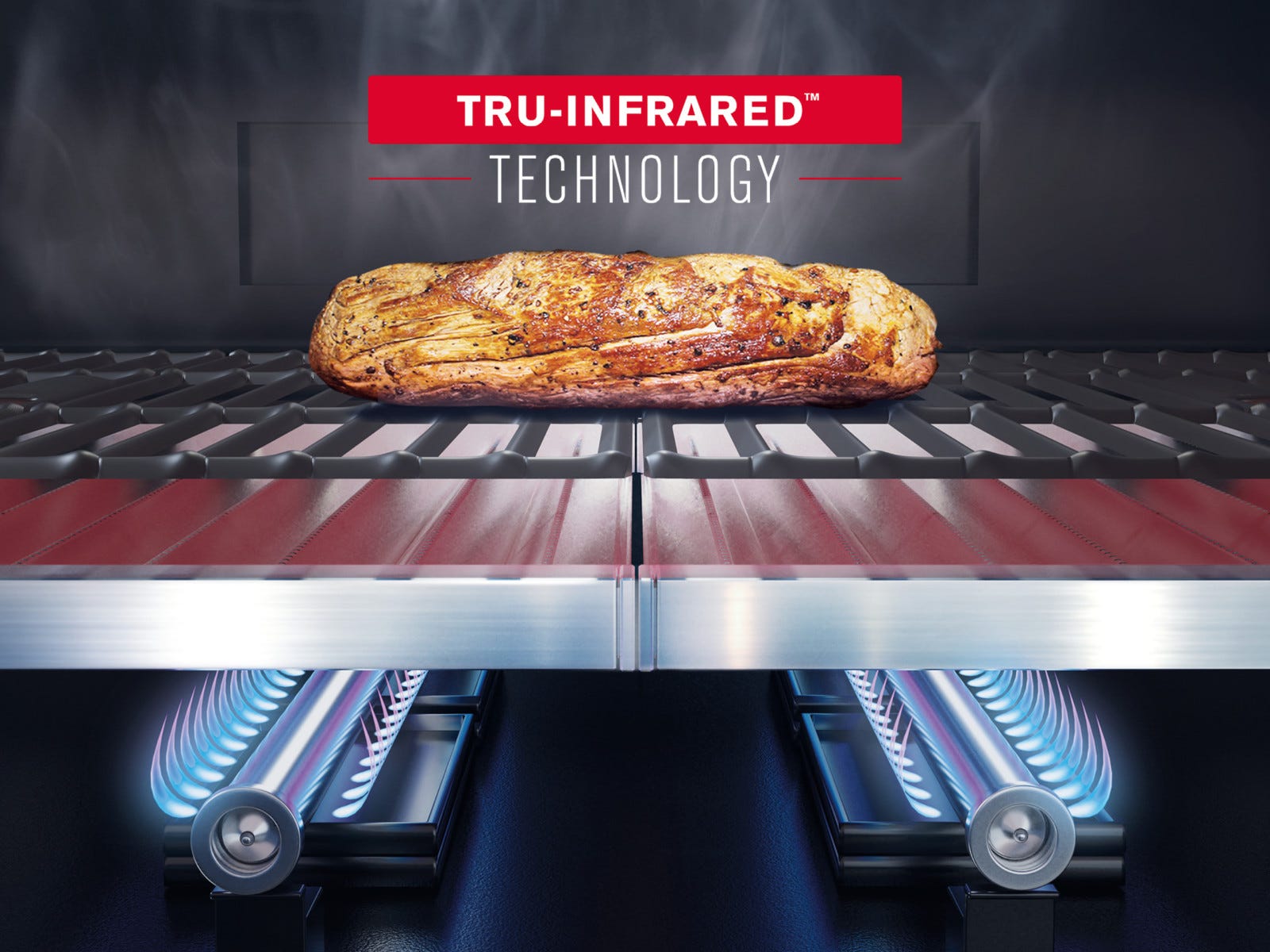 2.
Cast iron grates
Coated cast iron grates for greater heat retention and perfect sear strip marks. The grates are durable, rust-resistant and easy to clean.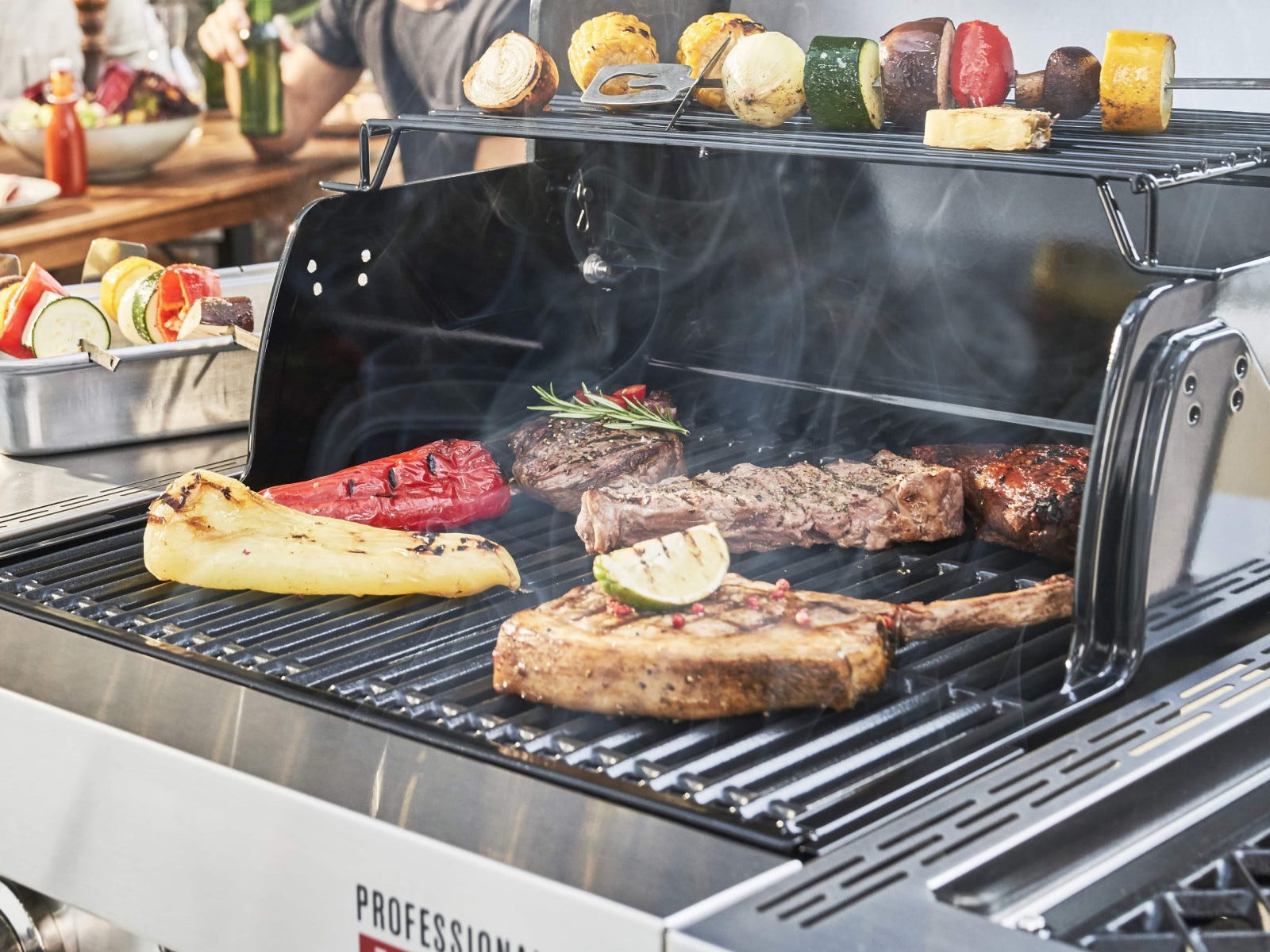 3.
Stainless steel burners
Two fuel-efficient, high-performance burners made of stainless steel for maximum heat with low gas consumption. The burners are heat-resistant and particularly durable.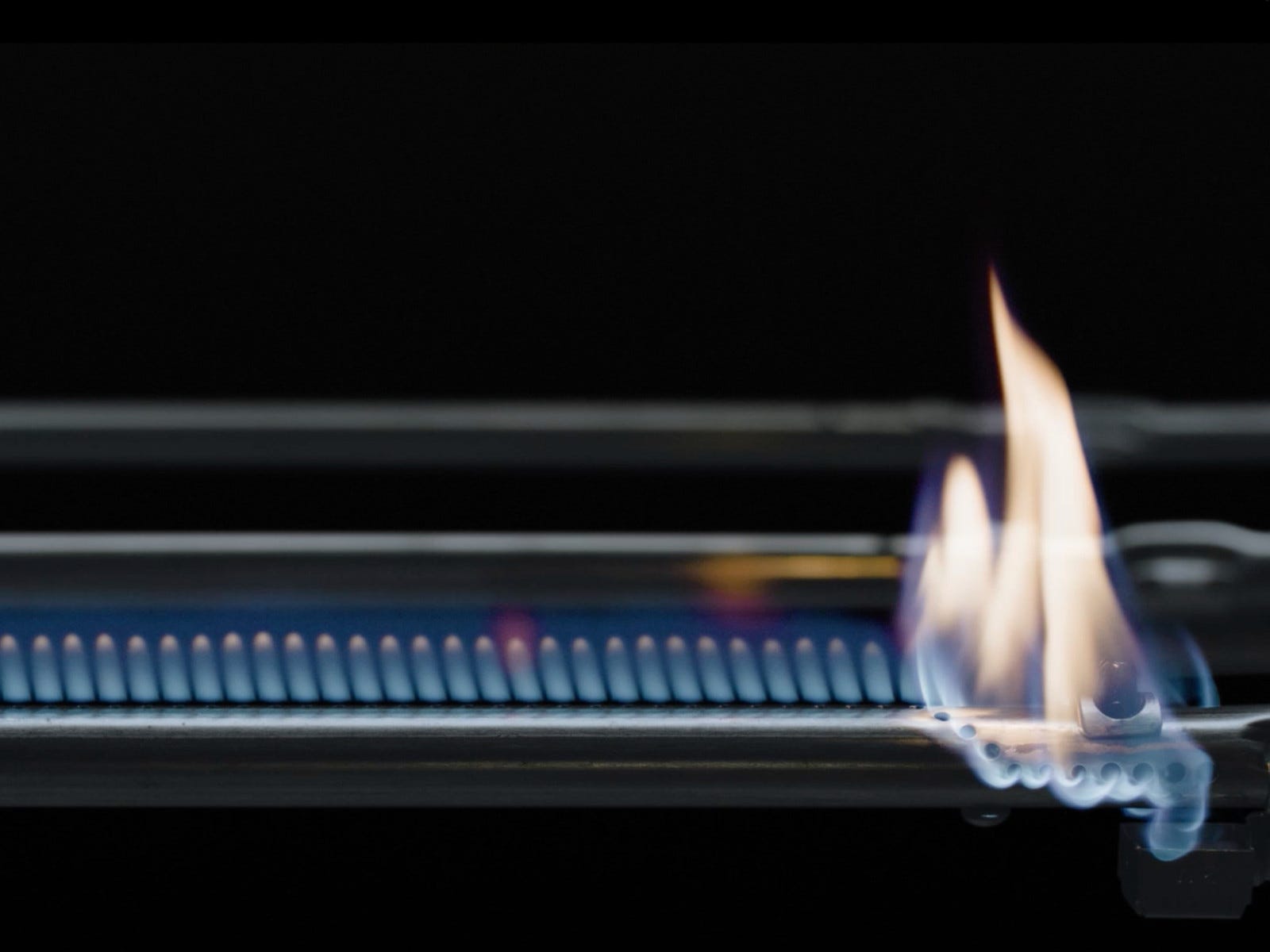 4.
High-performance sear burner
With the high-performance heat system, which reaches temperatures of up to 900° on the burner, a crispy crust and that perfect barbecue flavour are achieved. The solid cast iron grill grate ensures the optimal transfer of heat and helps to create those mouth-watering, professional grill stripes.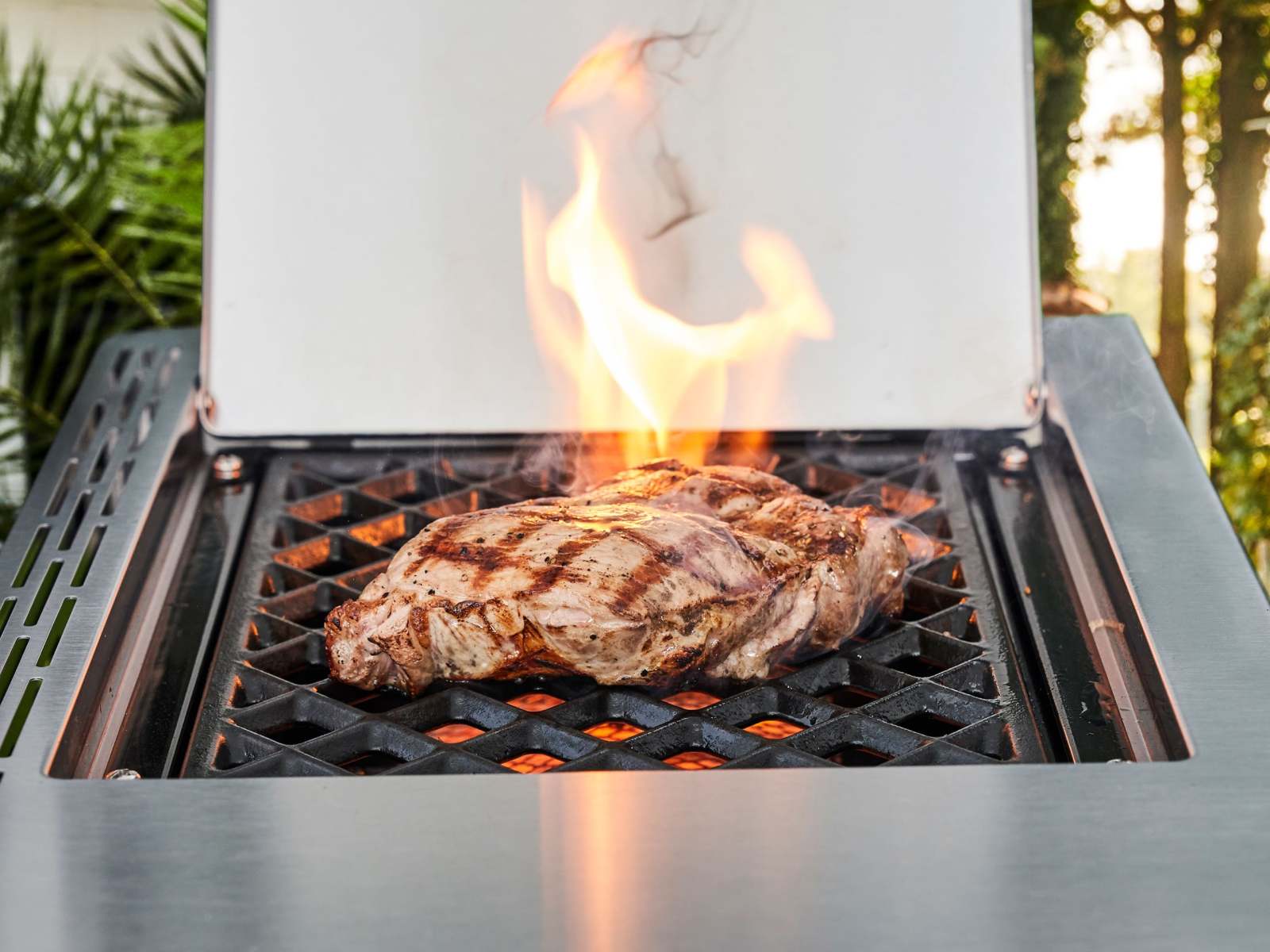 5.
LED illumination
A red LED illumination on the temperature controllers underscores the grill's modern look and helps to improve gas flow control.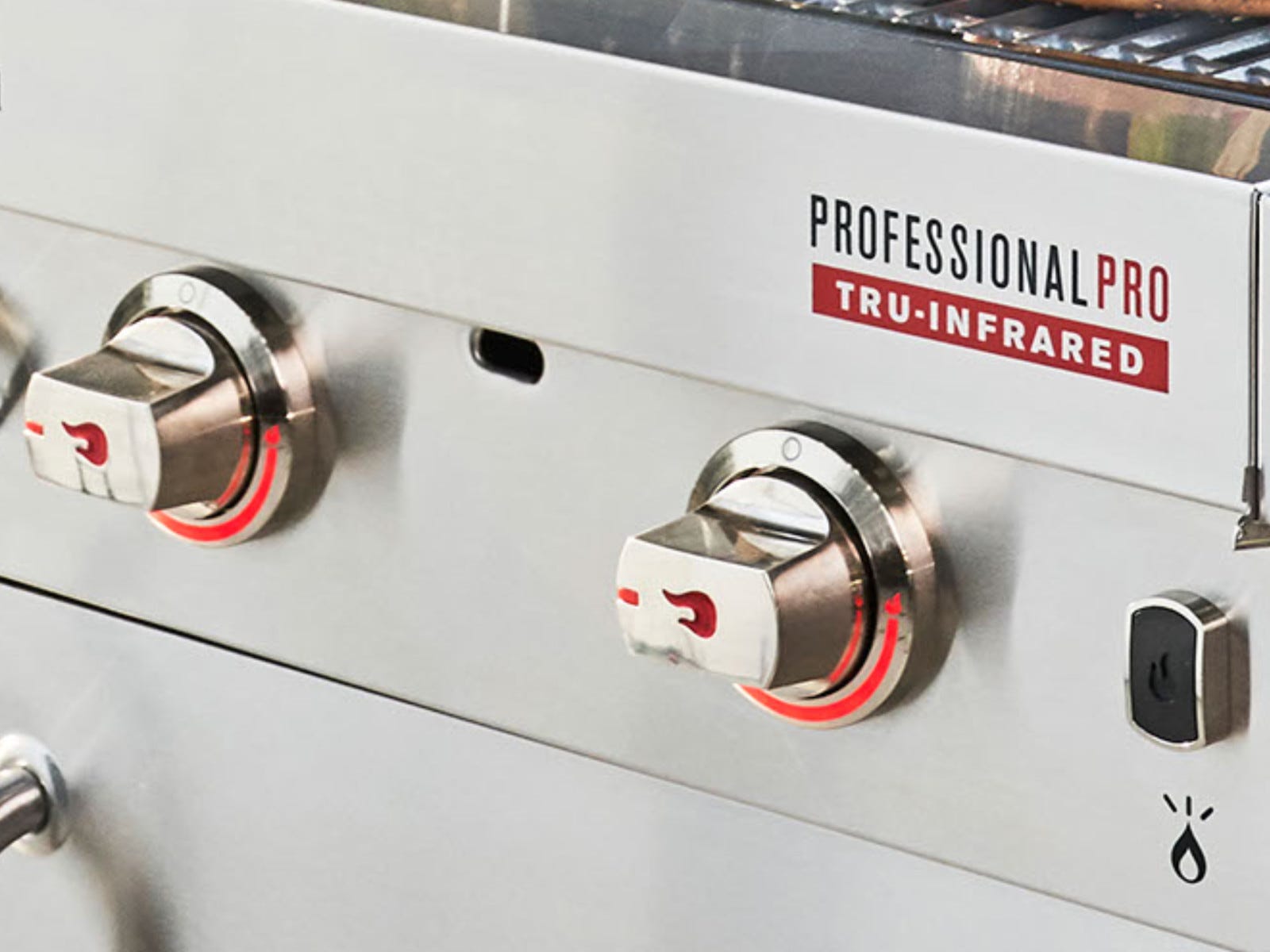 6.
11 kg gas bottle holder
The built-in, large, stable holder ensures the easy positioning of gas bottles weighing up to 11 kg.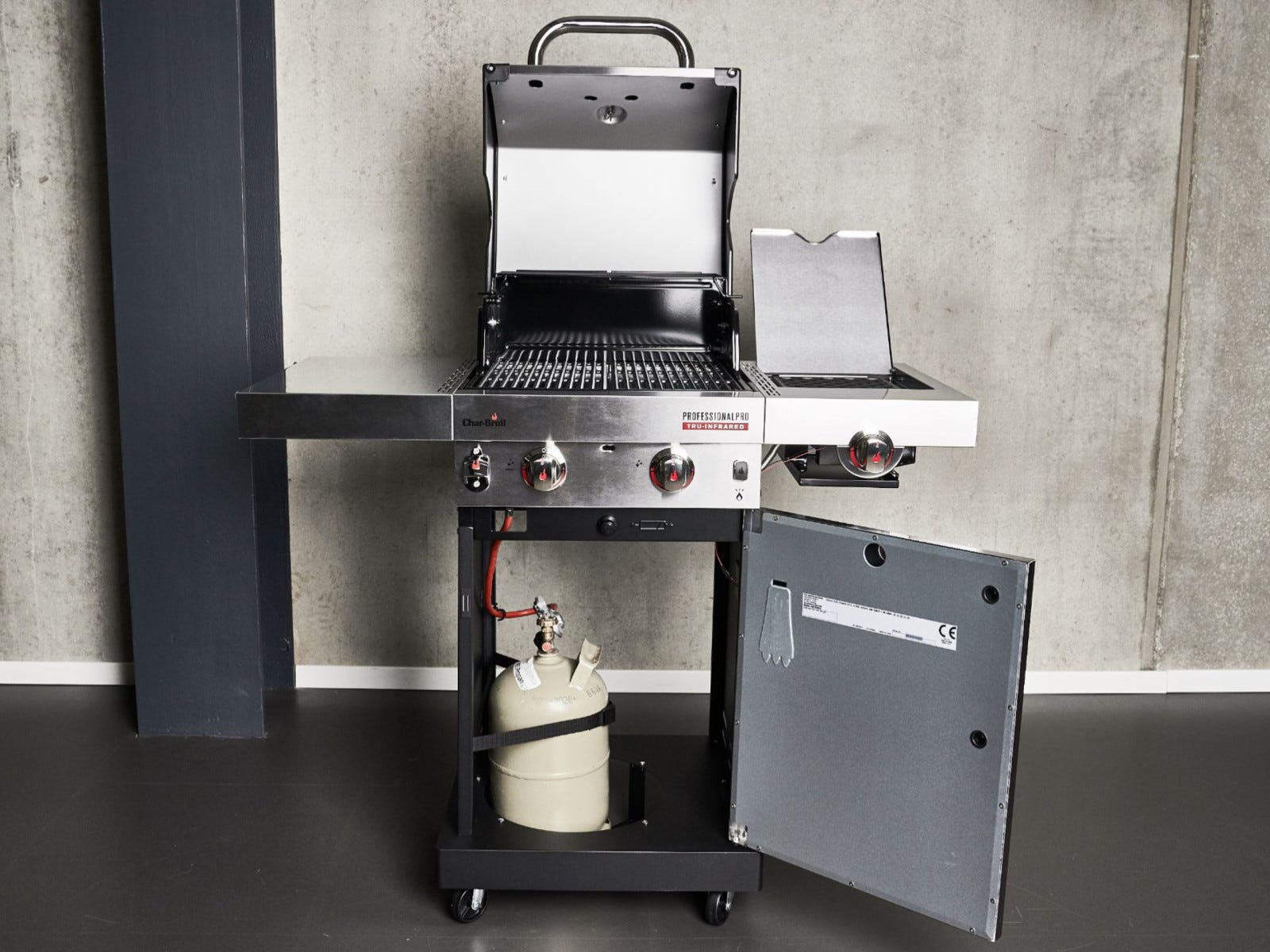 7.
Folding side shelf
A large, stainless steel side shelf provides an additional work surface and can be folded down for space-saving storage.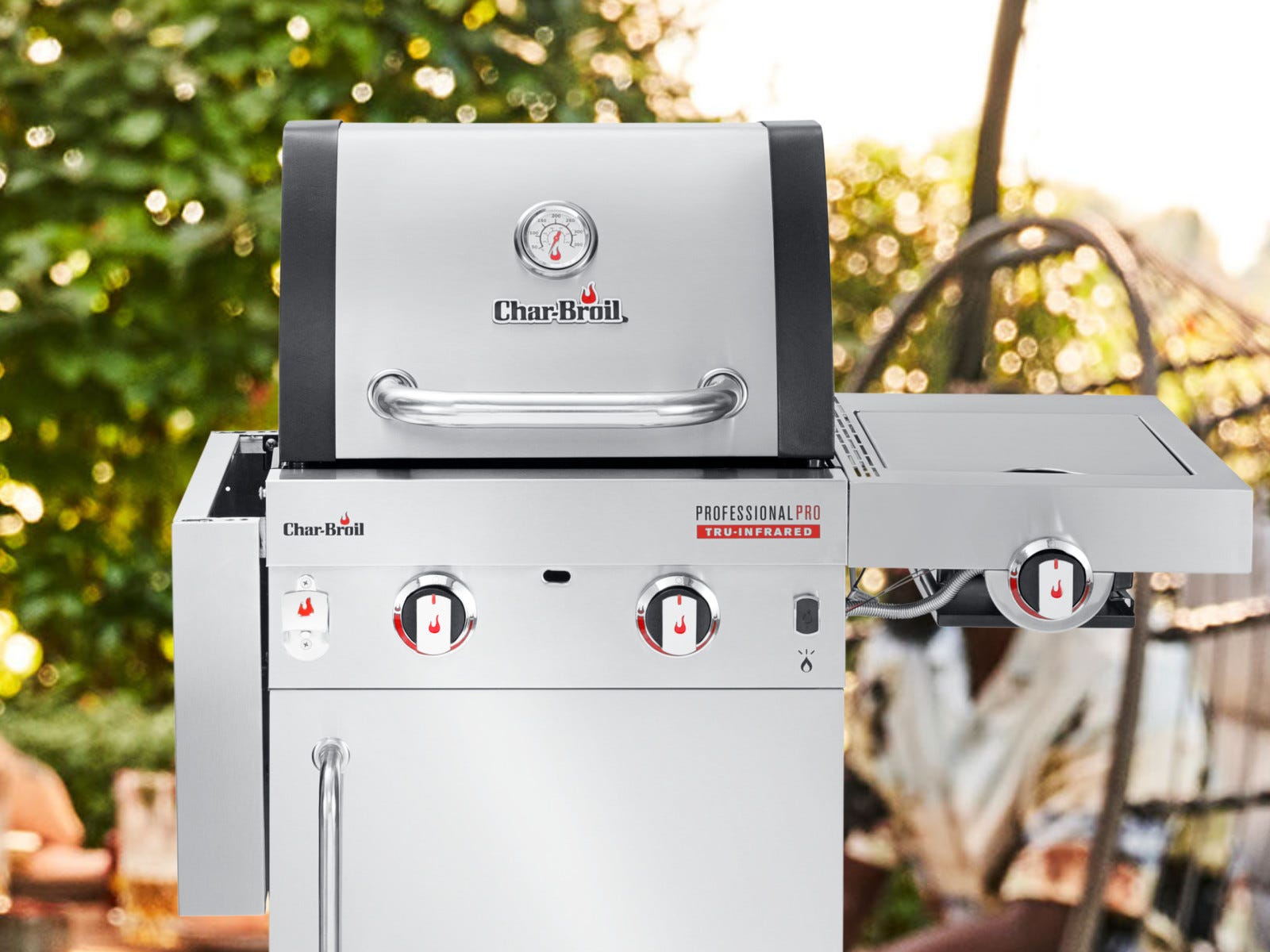 8.
MADE2MATCH compatibility
The grill can be extended with our MADE2MATCH storage system.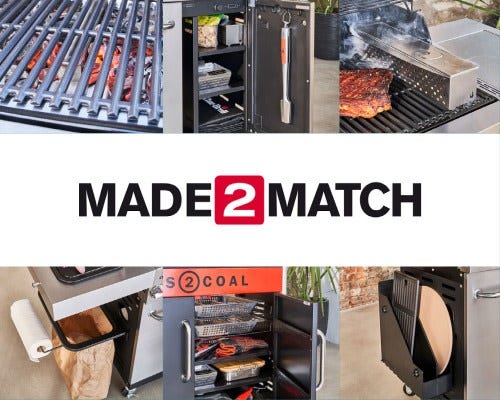 Warranty
Burner-Warranty Term (Years)
10
Grates-Warranty Term (Years)
3
Lid/Firebox-Warranty Term (Years)
2
Additional Specifications
Cooking system
TRU-Infrared™ Technology
Materials
Burner Material
Stainless Steel
Lid Material
Stainless Steel
Side Shelf Material
Stainless Steel
Grate Material
Porcelain Coated Cast Iron
Rated

5

out of

5
by
Sdavey
from
Amazing
So so so happy with this fantastic always used coal bbq before but this has changed me for good taste is great easy clean up and big enough to cook for whole family on can't wait for next bbq now roll on the sunshine
Date published: 2021-06-03
Rated

1

out of

5
by
Josea
from
Nightmare to put it together
The BBQ comes like an Ikea sofa. You have to put everything together, including gas hoses and adaptors that won't fit and electrical parts. If I knew I would have chosen something else
Date published: 2022-07-01
Rated

4

out of

5
by
DickC
from
Cooks very well
Saw two other reports between 5 hours and 1.25 hours to assemble. I would say I was about 2.5 hours in total and I have arthritis. Small error in screw naming in instructions but easily worked out. One cable to side burner is too short ( Charbroil support says this is not possible as there is only one cable - well actually there is another with a different connector that is too long for it's job - wonder what happened inmanufacture). The structure is very wobbly as pointed aout by another - could defintely do with a back cover or diagomal bracing bars.
Date published: 2023-05-21
Rated

5

out of

5
by
Anonymous
from
So far so good - not that hard to assemble
I mostly wanted to add this review to balance another that I have seen here about the BBQ taking 5 hours to assemble. It wasn't the case for me. It took me about 1 1/4 hours to assemble and 1/2 of that time I had a 3 year old "helping". Online assembly instructions are helpful but personally prefer a book so I can easily read ahead and use in a sunny location without screen glare. Also there is one mistake in the instructions where the working screws are referenced (V instead of C) but worked out in about 30 seconds and clearly a phonetic typo. I've used the BBQ once so far and I can comfortably say it meets expectations around heat distribution and the high heat side burner. One area to improve would be the overall stability of the trolley. I was surprised there is no back panel which would have sorted this.
Date published: 2022-07-30
Rated

5

out of

5
by
IOANNIS
from
SPECIAL BBQ
THE BBQ CAN DO EVERYTHING IT PROMISES.IT IS A PERFECT CHOICE FOR A SMALL AREA. THE QUALITY IS EXCELLENT.
Date published: 2021-04-29
Hi, 1) Can you please advise which model griddle is the exact fit for the PRO S 2 please? 2) Would it be suitable to use on the sear burner too? 3) Is there a link that details which accessories are suitable for this model?
Hi Jonesb73, for the Professional PRO S 2 we recommend the griddle for 2-burner grills 140012 (https://www.charbroil.co.uk/2-burner-grill-griddle-uk-140012). For the Sear Burner, you can use the cast iron griddle for side burner 140515 (https://www.charbroil.co.uk/cast-iron-griddle-uk-140515). Kind regards Your Char-Broil Team
Date published: 2023-08-20
What is the width of the bbq when sidetable(s) are folded down? Is this width different from the Pro 2 without side burner? I presume the side burner does not fold down? Thanks
Hi SimonY. On the Professional PRO S 2 model, only the left side tray can be folded down. When the left side shelf is folded down, the grill is approx. 94.3 cm wide. Many greetings Your Char-Broil Team
Date published: 2023-08-06
Can this Gas grill be plumbed to use LPG from Calor Gas? Can the side tables not be installed as it will be built into an outdoor kitchen?
Dear John, We do not recommend using our grills in an outdoor kitchen. If you do so you would loose your warranty. We do have an outdoor kitchen. Please see under the following link: https://www.charbroil.co.uk/ultimate-3200-uk-140906 All our grills are to be used with patio gas and do not work with natural gas from a gas pipe. We hope this information was helpful. Kind regards, Your Char- Broil Team UK
Date published: 2023-07-10
I've seen a statement before that the std charbroil rotisserie  does not fit this model. Can you please advise if this is the case? More importantly can you advise of a rotisserie that DOES fit this model.  Thanks, Dave
Hello Dave, We recommend the Premium rotisserie #140103 for your barbecue model. Best regards, Your Char-Broil Team
Date published: 2022-10-01
Hello, I want to ask if you can cook sauces and soups on "sear burner 900" or is it just for roasting meat model: PROFESSIONAL PRO S 2
Hello Stef66, yes you can. You can set it on the lowest position and then it is possible to use it as a kind of sideburner. But you need a high quality cooking pot, to ensure, that it can resist high temperatures. Enjoy a lovely dish your Char-Broil Team
Date published: 2022-05-21
What is the width of this bbq when the side tables are expanded out?  Thank you 
Hi ChristianHinch, The grill measures 120cm when the side tables are extended. Best regards, Your Char-Broil Team
Date published: 2022-02-07
Hi Just put my grill together but the ignitor isn't clicking or sparking. I've checked new batteries and reconnected wires multiple times, still nothing, does it need gas connected to spark?  Thanks
Hello Rossi Mac, the BBQ needs no gas to have a spark. Did you put in the batteries the right way? Are all wires connected to the right place? If so, and you still have no spark please get in touch with our consumer service. Best regards your Char-Broil Team
Date published: 2021-08-20
Can I use butane gas
Hi Grey back, yes you can use propane or butane gas for this BBQ. Enjoy you BBQ season your Char-Broil Team
Date published: 2021-08-07