Professional PRO S 3

Professional PRO S 3
Professional PRO S 3
is rated out of
5
by
3
.
3+1-Burner Gas Grill| For 4-6 People | TRU-Infrared™ Technology | 900 °C Sear Burner
Your premium professional gas grill with a 900° high-performance sear burner and special features will take your barbecuing to the next level
Do you want the full grilling package? Then the Professional PRO is the perfect grill for you! Extra hot, extra convenient, extra versatile... this grill has it all. When grilling, three fuel-efficient high-performance burners made of stainless steel provide maximum heat. Our innovative TRU-Infrared™ Technology evenly distributes this to keep your food up to 50% juicier. Are you looking for even more power? This is provided by the ceramic high-performance sear burner on the side, which can reach temperatures of up to 900°! This is where you perfect the crust and make it beautifully crispy with professional grill stripes. The Professional PRO is solid and made from high-quality stainless steel. The high quality of the materials means that it is resistant to rust and weathering. The spacious interior of the grill can hold an 11 kg gas bottle. For added safety and a great design touch, the LED lights on the temperature controllers glow red when the corresponding burner is switched on. A collapsible side table and the attached Gear Trax tool hooks provide an additional convenience factor when grilling by giving you more space for preparing food and ensuring that your tools are always to hand. The grill is packaged without polystyrene and in FSC-certified, environmentally friendly cardboard packaging. The charcoal tray and smoker box from our practical MADE2MATCH system can be used to easily convert the Professional PRO into a charcoal grill or to add a smoker function.
Read More
Read Less
---
1.
TRU-Infrared™ Technology
Our unique grill system with success guaranteed. Five key benefits (up to 50% juicier food, 100% even heat distribution, no flare-ups, easy cleaning, up to 30% more economical consumption) to ensure maximum grilling fun.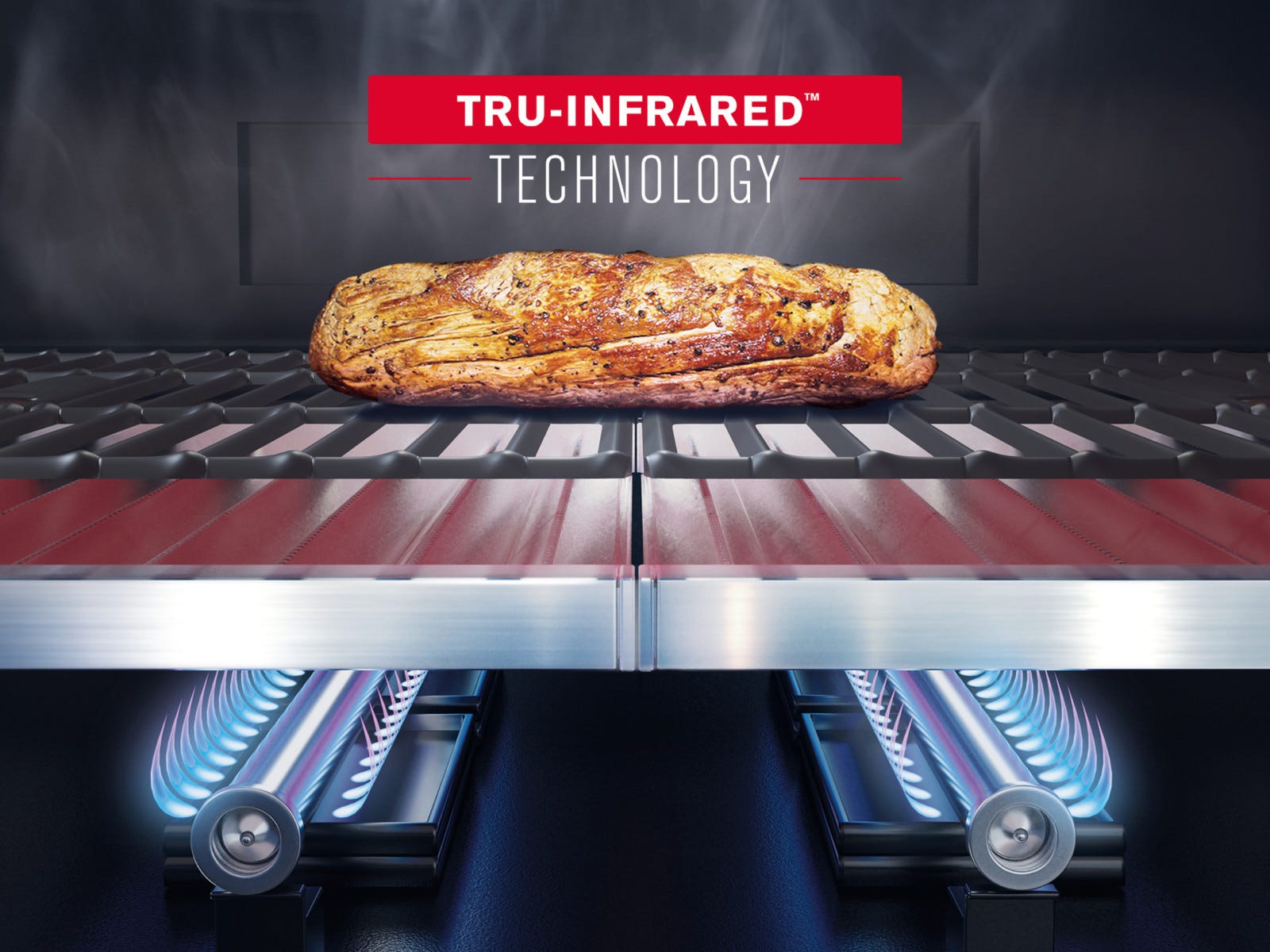 2.
Cast iron grates
Coated cast iron grates for greater heat retention and perfect sear strip marks. The grates are durable, rust-resistant and easy to clean.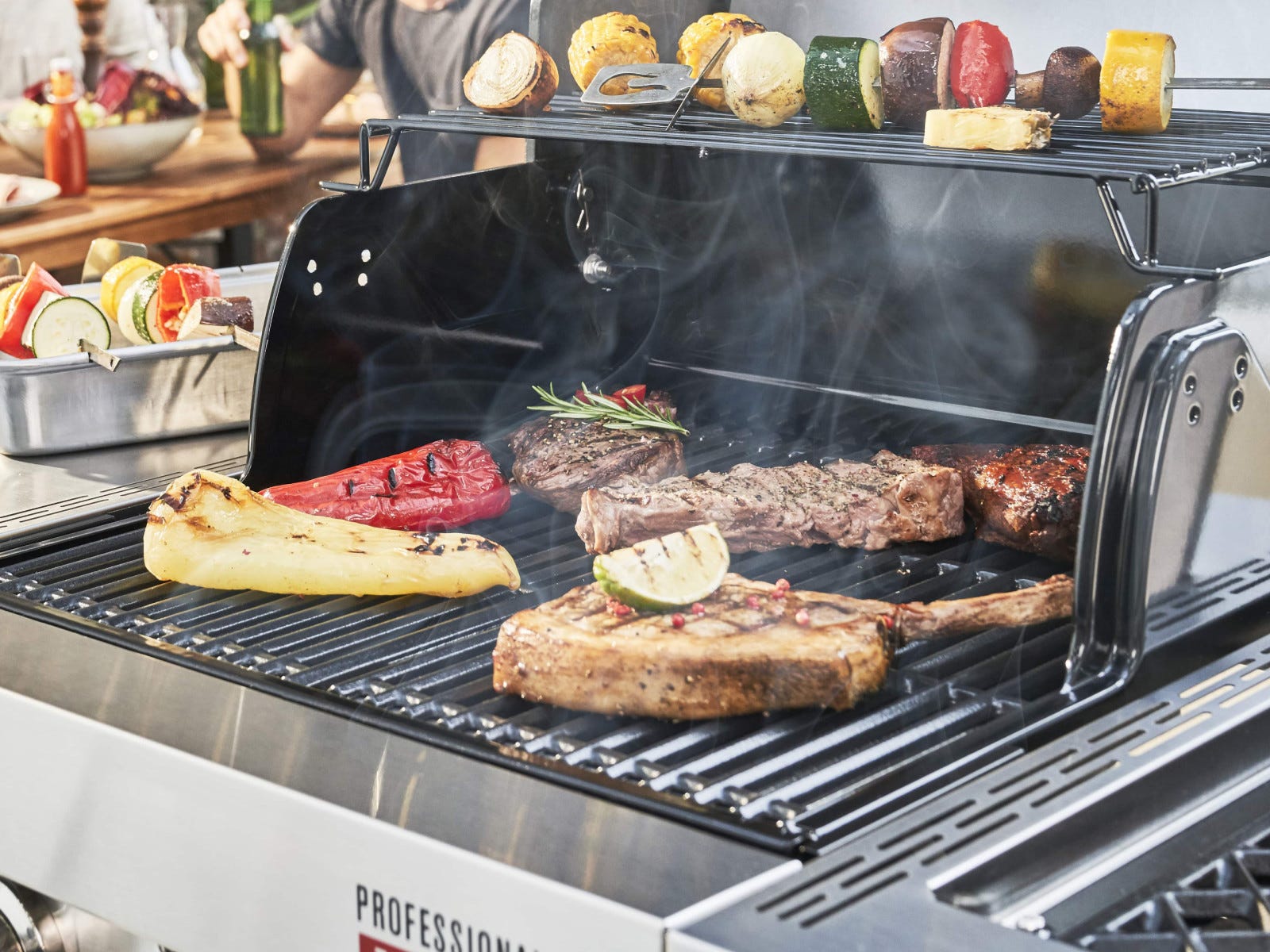 3.
Stainless steel burners
Three fuel-efficient, high-performance burners made of stainless steel for maximum heat with low gas consumption. The burners are heat-resistant and particularly durable.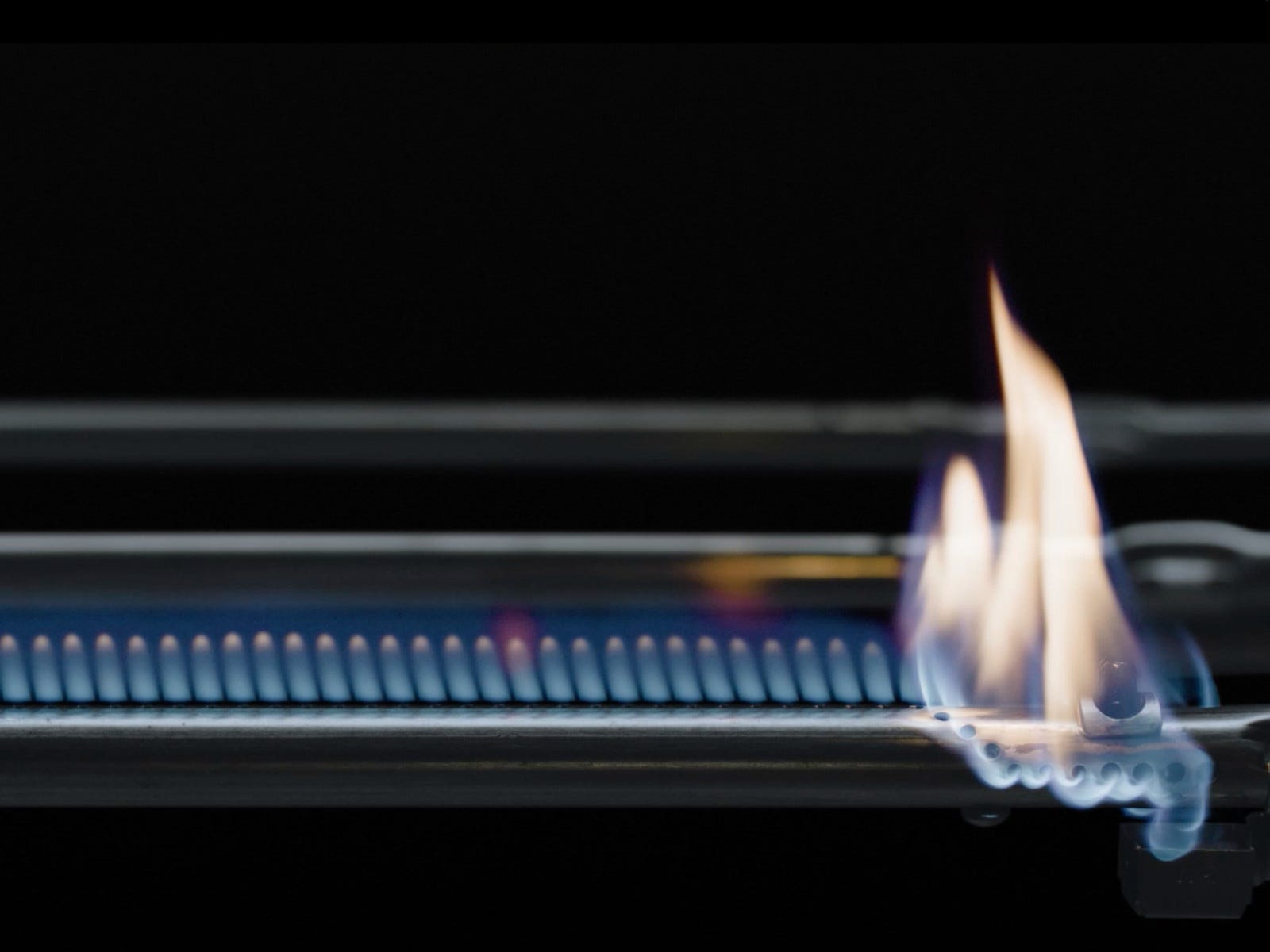 4.
High Performance Sear Burner
With the high-performance heat system, which reaches temperatures of up to 900° on the burner, a crispy crust and that perfect barbecue flavour are achieved. The solid cast iron grill grate ensures the optimal transfer of heat and helps to create those mouth-watering, professional grill stripes.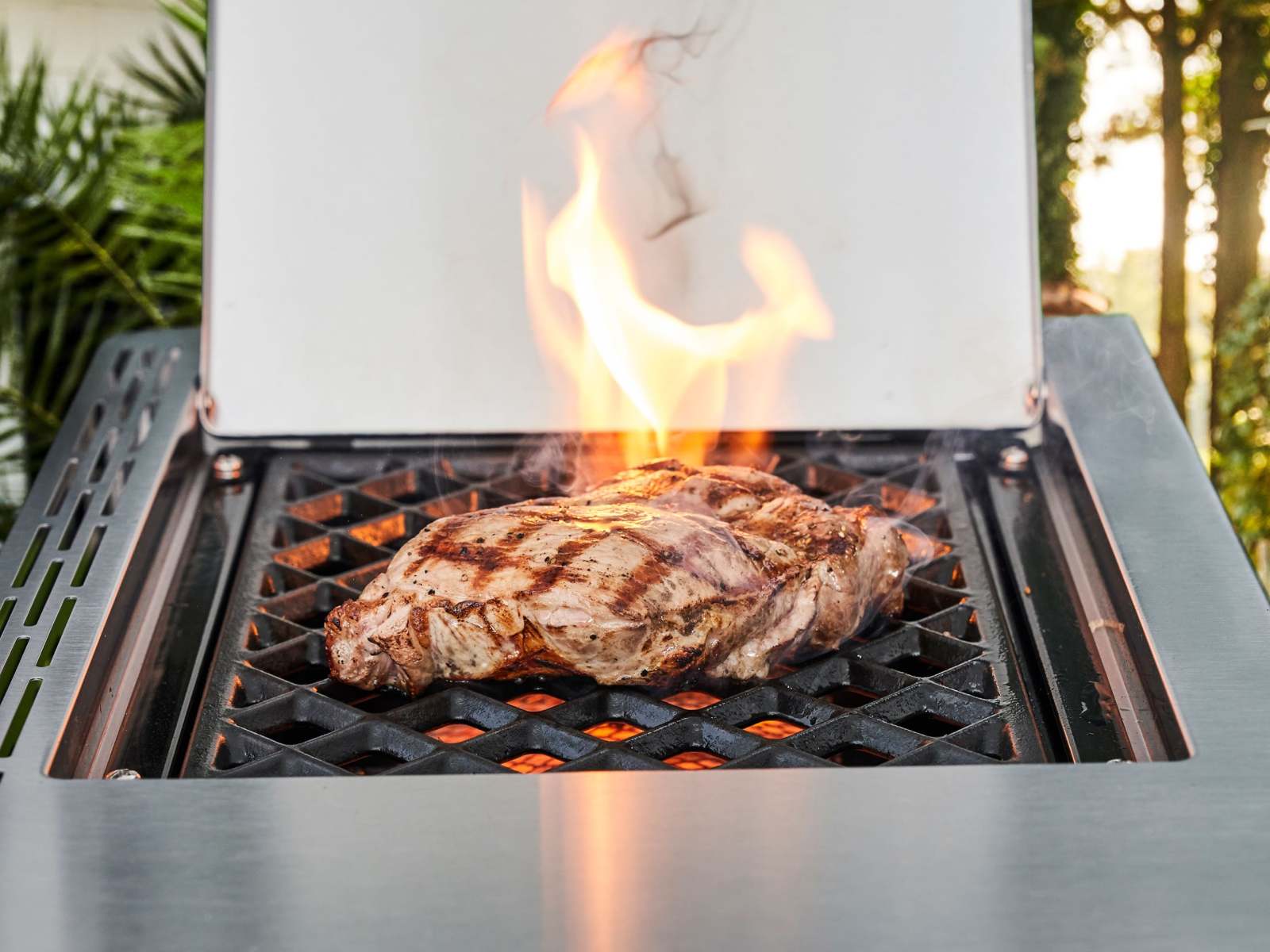 5.
LED illumination
A red LED illumination on the temperature controllers underscores the grill's modern look and helps to improve gas flow control.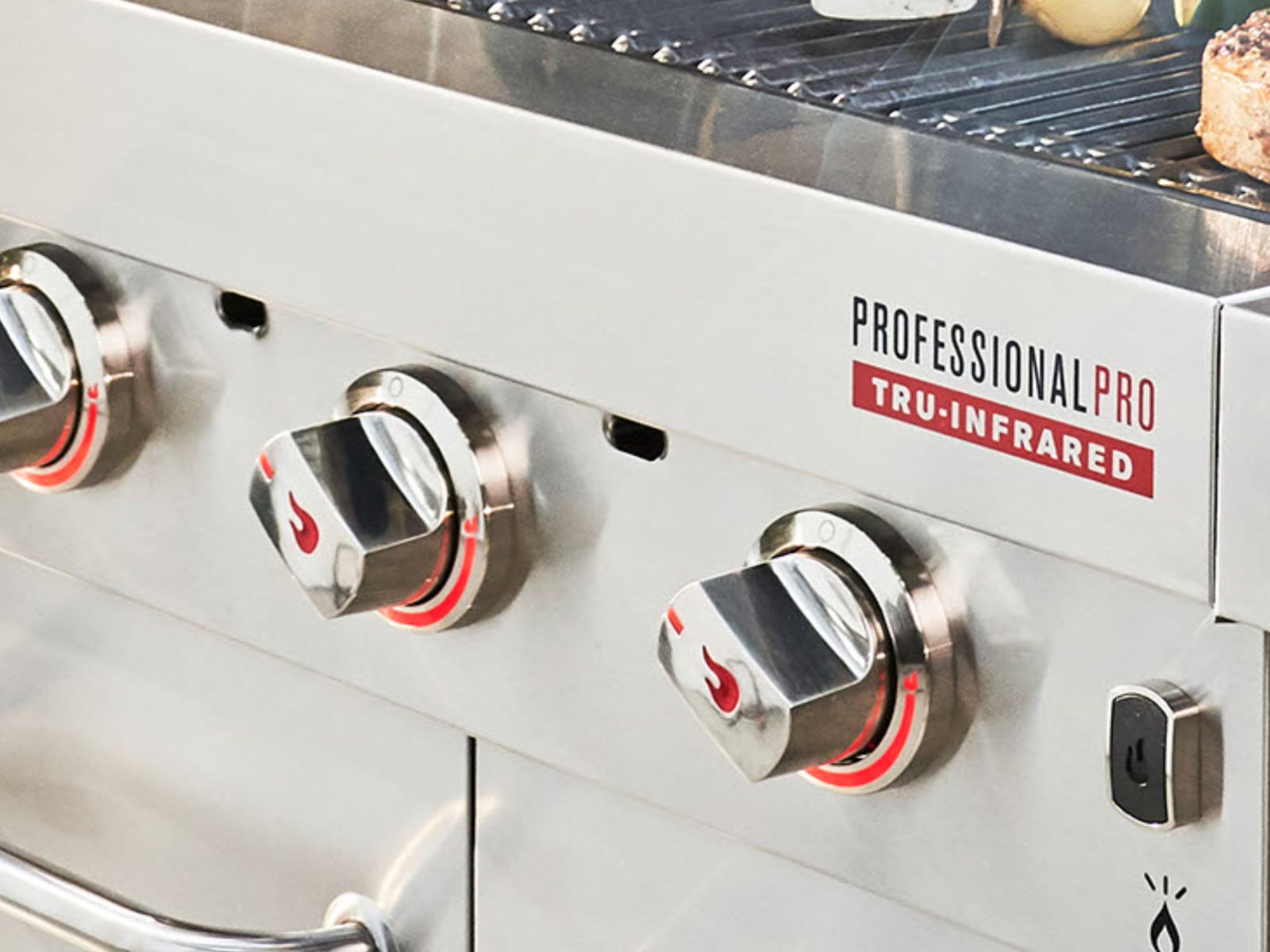 6.
11 kg gas bottle holder
The built-in, large, stable holder ensures the easy positioning of gas bottles weighing up to 11 kg.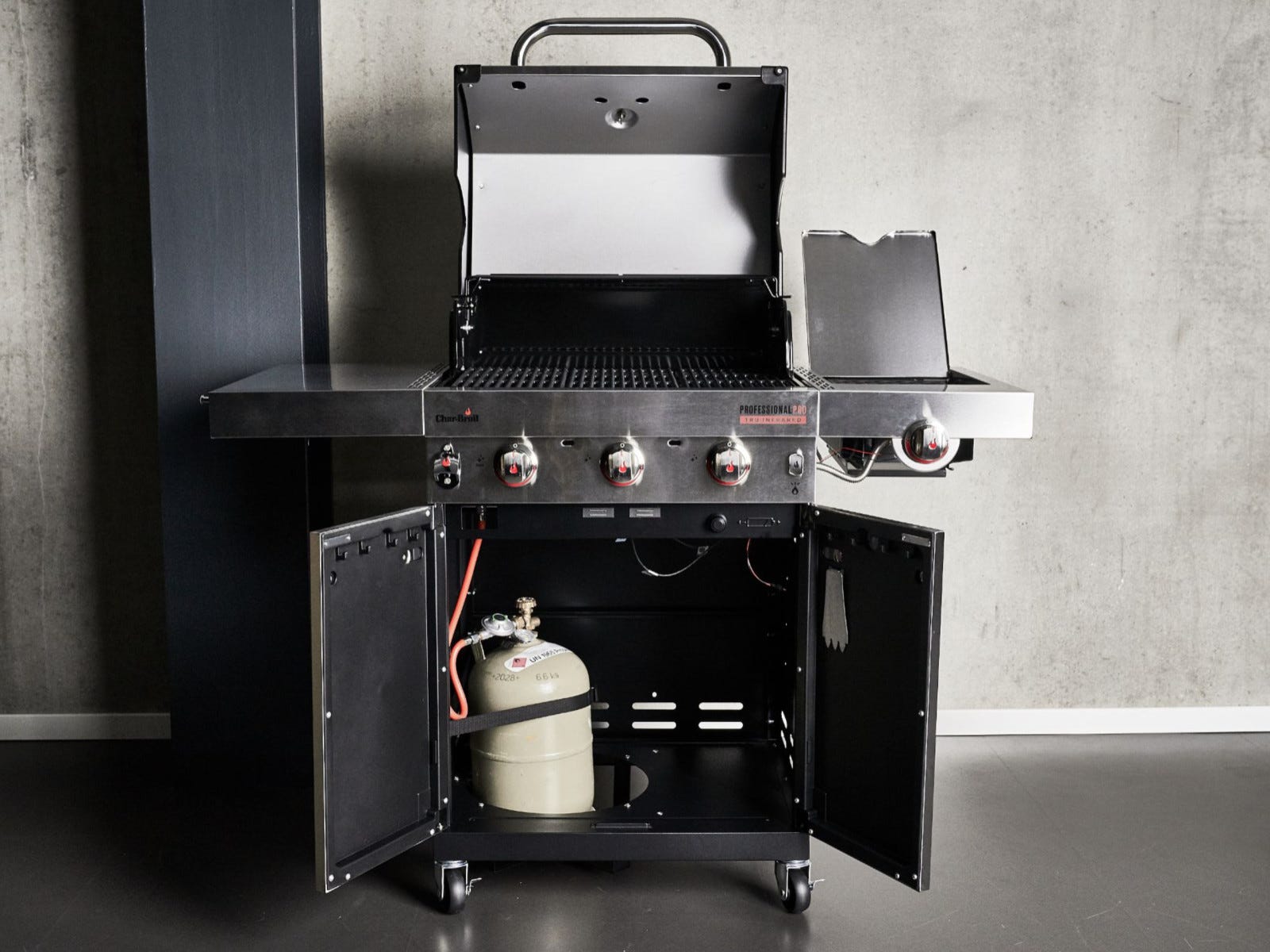 7.
Folding side shelf
A large, stainless steel side shelf provides an additional work surface and can be folded down for space-saving storage.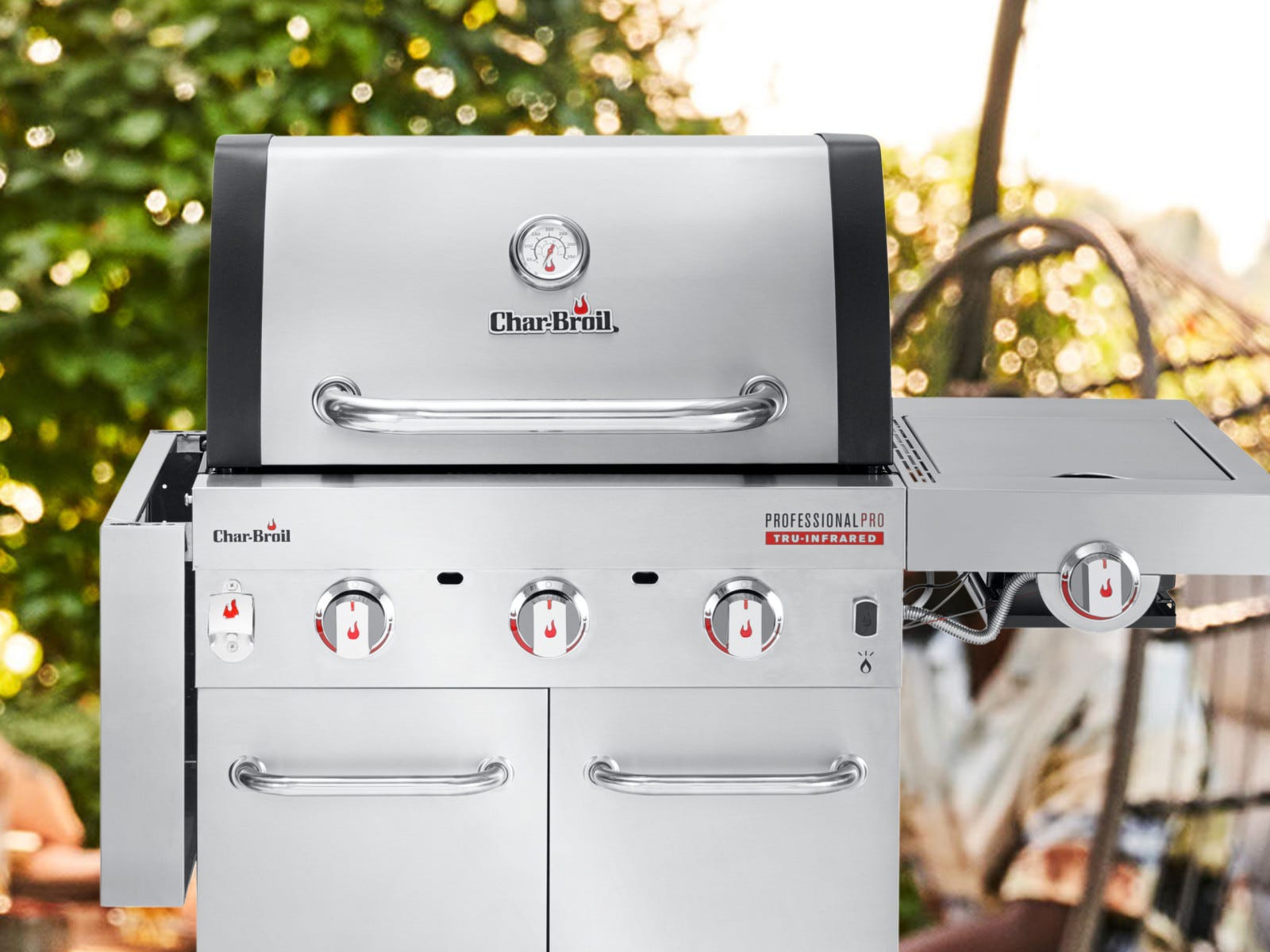 8.
MADE2MATCH compatibility
The grill can be extended with our MADE2MATCH storage system.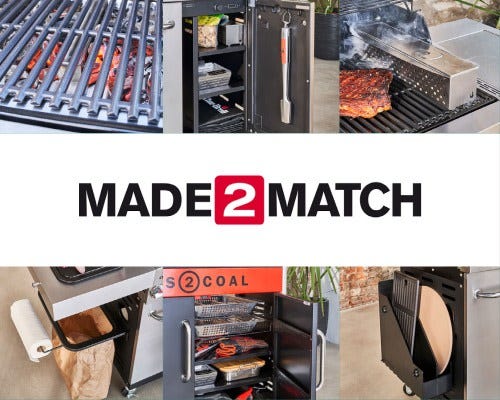 Warranty
Burner-Warranty Term (Years)
10
Grates-Warranty Term (Years)
3
Lid/Firebox-Warranty Term (Years)
2
Additional Specifications
Cooking system
TRU-Infrared™ Technology
Materials
Burner Material
Stainless Steel
Lid Material
Stainless Steel
Side Shelf Material
Stainless Steel
Grate Material
Porcelain Coated Cast Iron
Rated

4

out of

5
by
Rob_evo
from
Good but tough to put together
The instructions are clear ( visual images) but don't believe anyone who says you can put this together quickly. More like 5 hours and we have constructed loads of equipment, furniture and even built a house! What surprises me is that the protective blue film often used to protect stainless steel had been removed, although evidence of it remained in corners. That means you can't avoid scratching during construction. And then there was the warning label on the extension end. Why oh why does it not come off easily. Lots of white spirit, hot water and almost 1 hour of effort, marks still remain and further scratches. If it's not suppose to be removed then say so; if the warning it's only for outdoor use is important improve the label. All that said we enjoyed some juicy, well scored burgers last night and this is an sturdy, and sophisticated piece of kit.
Date published: 2021-06-23
Rated

5

out of

5
by
kowalski99
from
Fantastic BBQ with really great sear plate
This was bought for me as a birthday present- very nice!! The construction was actually quite easy- it took me and my partner about 1.5 hours to construct and we used the app instructions and the booklet to compare- this was really helpful. I can just about build a flatpack wardrobe so that's my usual level of competence. The BBQ itself is great, very high-quality construction, plenty of stainless steel and is still looking great 6 months after I built it- having been left outside every day. Cooking wise, I love it, it gives really even heat distribution, chicken wings are amazing ( I used the brining recipe in the accompanying booklet). The sear plate needs a mention- rather than a gas hob, this has a sear plate which gets very hot and makes for searing the perfect steak. It is also great for cooking veg- tenderstem broccoli, peppers etc- all amazing on this burner. If cooking for two, you can just use one of the burners which saves on gas too. I have not tried any of the Charbroil accessories, but I am sure they are of similar high quality. Overall, I completely love this product- cooking is great, food tastes good, is succulent and it also really easy to use. If I could improve it, I would have the whole thing made of stainless steel but that would add to the price, so I think this is the perfect cost/quality compromise.
Date published: 2022-10-22
Rated

1

out of

5
by
matt690_1
from
expensive and poor quality
first impressions were great but less than a year down the line and the true quality is now showing! control knobs are cheap and chrome is flaking off, enamel from the grill plates is also coming off and now the IR burner grill has cracked contacted customer service over a month ago, they replied and said they were sending out replacements but nothing yet. Despite being covered and stored correctly we still get these issues, I just want to throw the whole thing in the bin when look at it. My cousin bought one at the same time and he has the same issues so I'm not convinced its a one off!!!
Date published: 2023-05-17
I need know what is the length from front to back with open top lid, can you help me?
Dear Roman, For this model from front to back you have a the primary grate dimension of 44,5cm. From left to right the measurement is 61,5cm. Kind regards, Your Char Broil Team
Date published: 2022-11-12
Can this grill be installed into a outdoor concrete kitchen counter with free space on both sides? And how much space shouldthat be?
Hello Didier, We do not recommend installing our barbecues in confined spaces, but rather outside for better air circulation. Best regards, Your Char-Broil Team
Date published: 2022-08-22
can you buy a rotisserie extra to fit this?
Hello Hugh, thanks for your interest, yes the universal rotisserie 140102 will fit to the Professional Pro line. Best wishes your Char-Broil Team
Date published: 2021-10-25
Which gas does this use
Hi Tilly, this grill can be used with butane or propane gas. Best wishes, Your Char-Broil Team
Date published: 2021-05-25
Can I use the Professional line BBQ with Natural Gas?
Hi Dani, no the Professional Line can not be used with natural Gas. Our grills are designed for usage with Propane/Butane gas. Best wishes, Your Char-Broil Team
Date published: 2021-05-25
When is this going to be available to buy in the UK
Hi Brett, you can already order the Professional PRO S 3 in the UK. Please look at the right side of our product page. There you can type in your ZIP code to find a nearby store which sells the grill. Best wishes Your Char-Broil Team
Date published: 2021-06-18