Professional CORE B 3

Professional CORE B 3
Professional CORE B 3
is rated out of
5
by
4
.
3+1-Burner | For 4-6 People | TRU-Infrared™ Technology | Red LED-Control Knobs
The allrounder gas grill for maximum versatility and convenience
Your premium gasgrill, which offers plenty of space and convenience, so you can become a proBBQ chef. Do you expect a lot from your grill and value space and convenience? Then the Professional CORE is the perfect choice for you! Fire away: Three fuel-efficient, high-performance stainless-steel burners heat up the cast-iron grates and our unique TRU-Infrared™ cooking technology distributes the heat evenly so your food is up to 50% juicier and more tender. The solid lid with lid thermometer is extra high so that you can use a range of cooking methods. You can use the side burner to prepare homemade sauces or side dishes.
With its elegant all-black look, the Professional CORE is a real eye-catcher. The red LED lights on the chrome-plated control knobs add a special touch and make the grill safer to use. You can see exactly which burner is currently on when a light is on. The high-quality grill construction offers plenty of space inside. The Professional CORE is packaged in FSC-certified environmentally friendly cardboard, without any polystyrene.
Our MADE2MATCH system increases grill enjoyment even more: You can personalise your grill according to your needs by, for example, turning it into a charcoal grill with the MADE2MATCH charcoal tray made from stainless steel or adding a smoker function with the MADE2MATCH smoker box!
Read More
Read Less
---
1.
TRU-Infrared™ Technology
Our unique grill system with success guaranteed. Five key benefits (up to 50% juicier food, 100% even heat distribution, no flare-ups, easy cleaning, up to 30% more economical consumption) to ensure maximum grilling fun.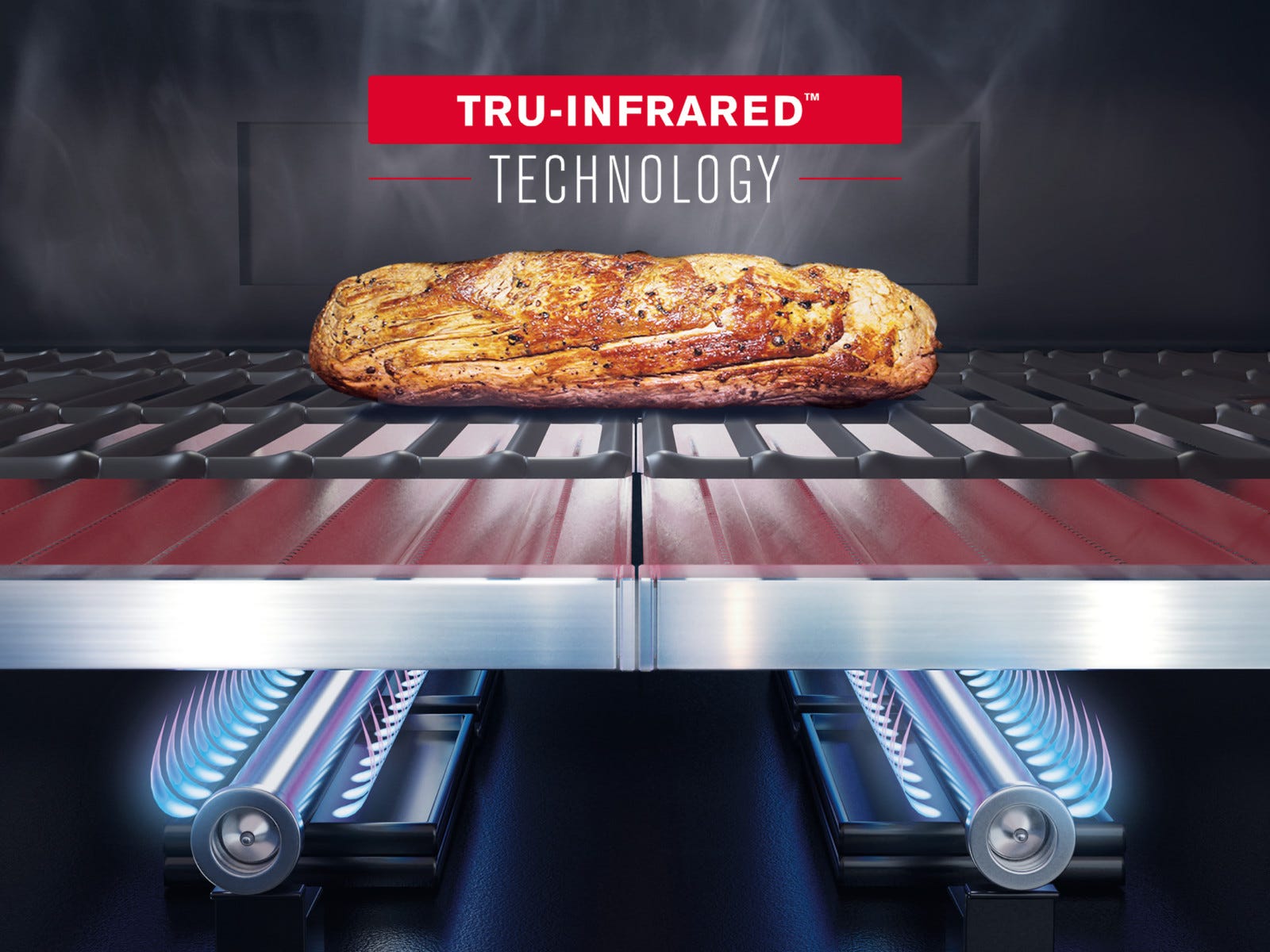 2.
Cast iron grates
Coated cast iron grates for greater heat retention and perfect sear strip marks. The grates are durable, rust-resistant and easy to clean.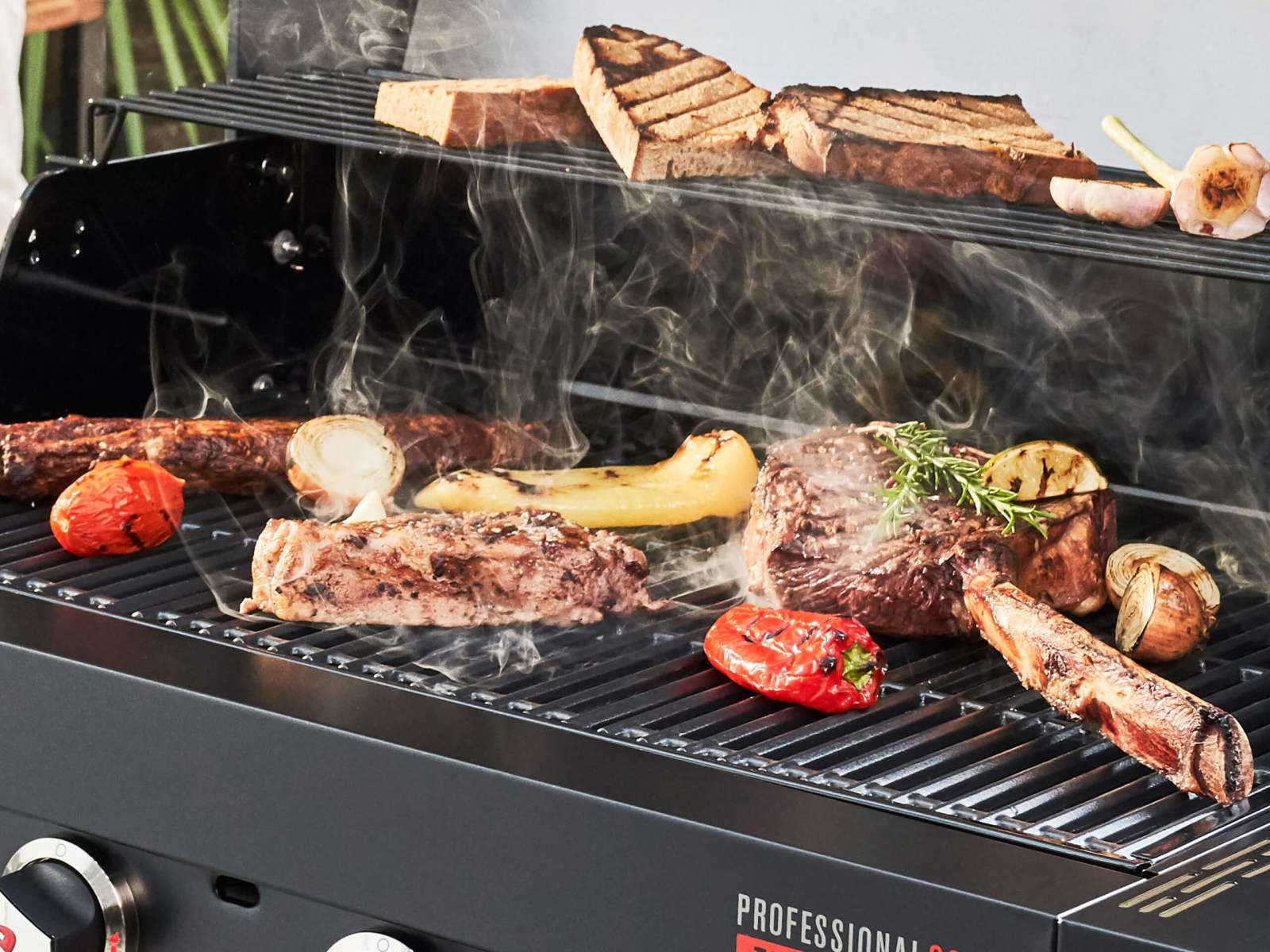 3.
Stainless steel burners
Three fuel-efficient, high-performance burners made of stainless steel for maximum heat with low gas consumption. The burners are heat-resistant and particularly durable.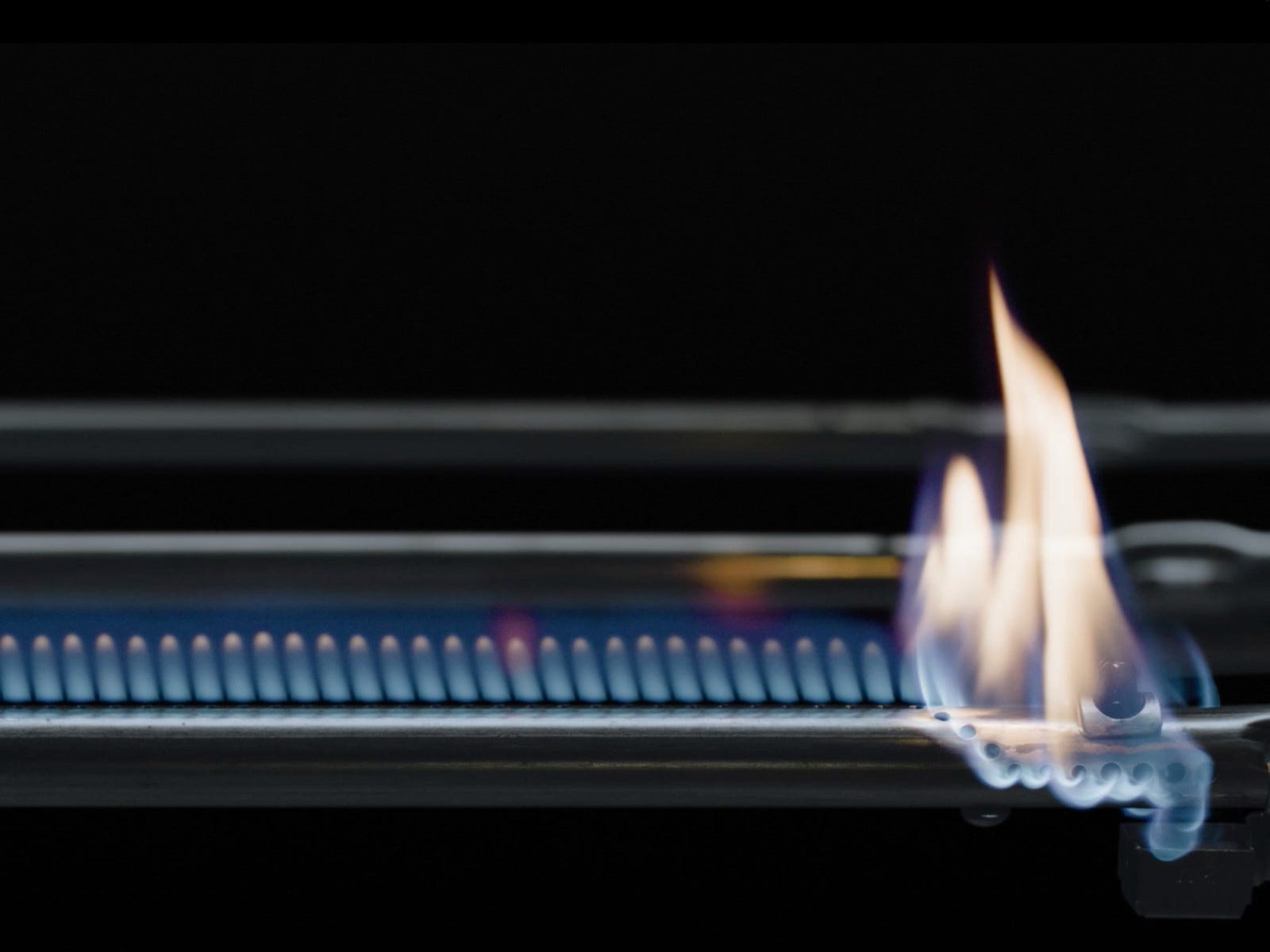 4.
Sideburner
Heats sauces and dishes that complement the food on the grill. When looking to create an additional work surface, the lid can also be closed.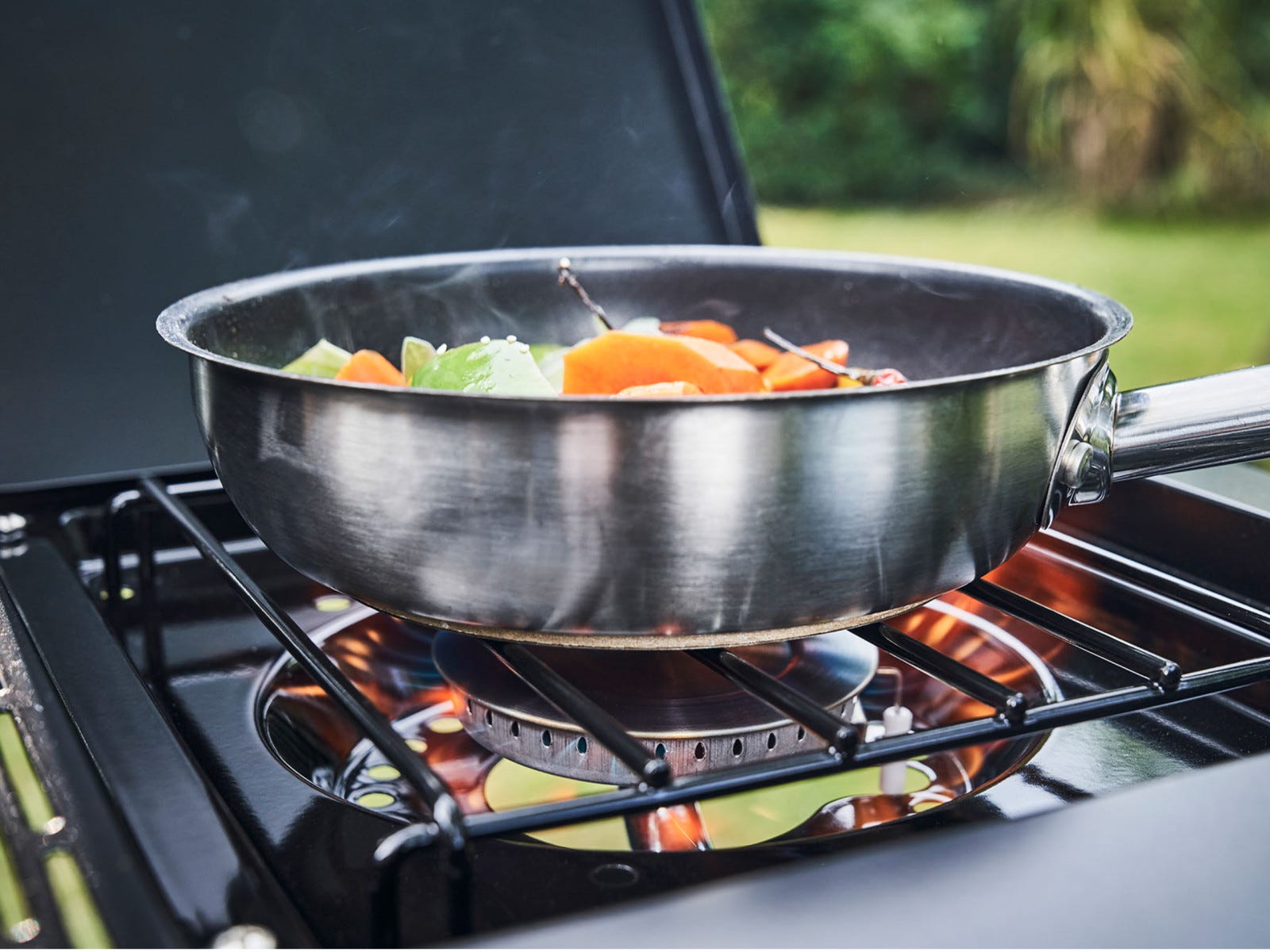 5.
LED illumination
A red LED illumination on the temperature controllers underscores the grill's modern look and helps to improve gas flow control.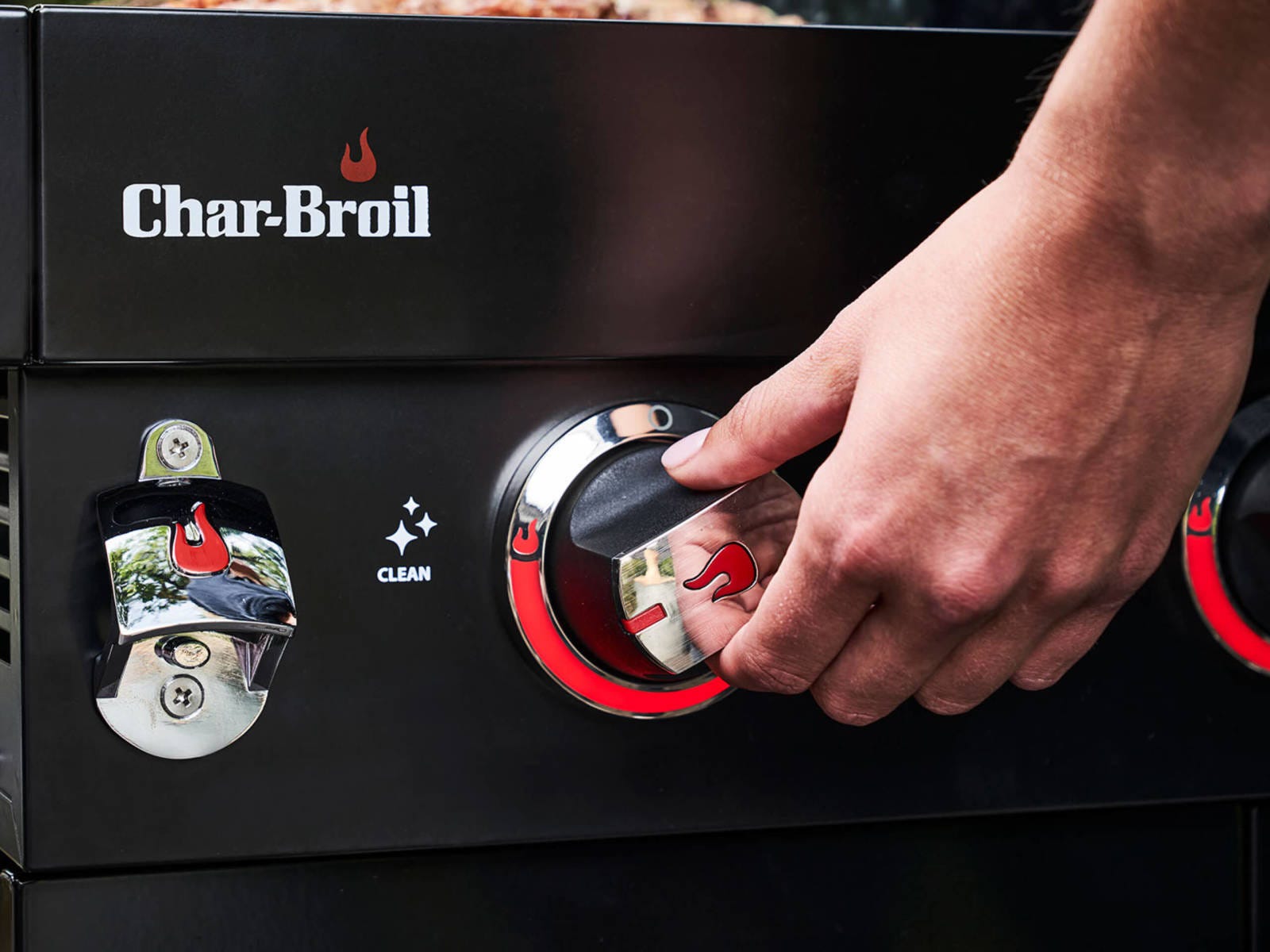 6.
11 kg gas bottle holder
The built-in, large, stable holder ensures the easy positioning of gas bottles weighing up to 11 kg.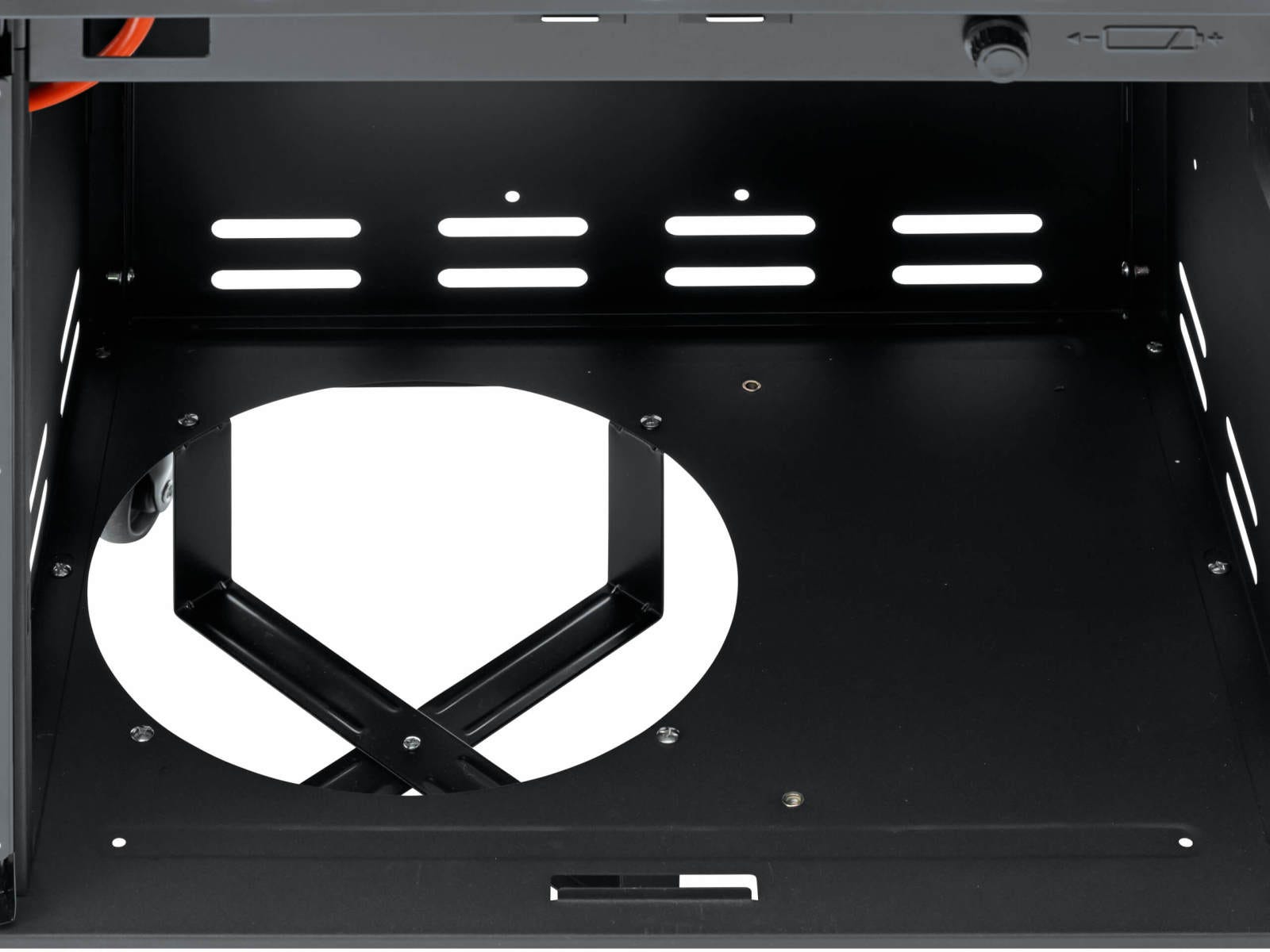 7.
Integrated bottle opener
An integrated die-cast zinc bottle opener with embossed logo is always to hand.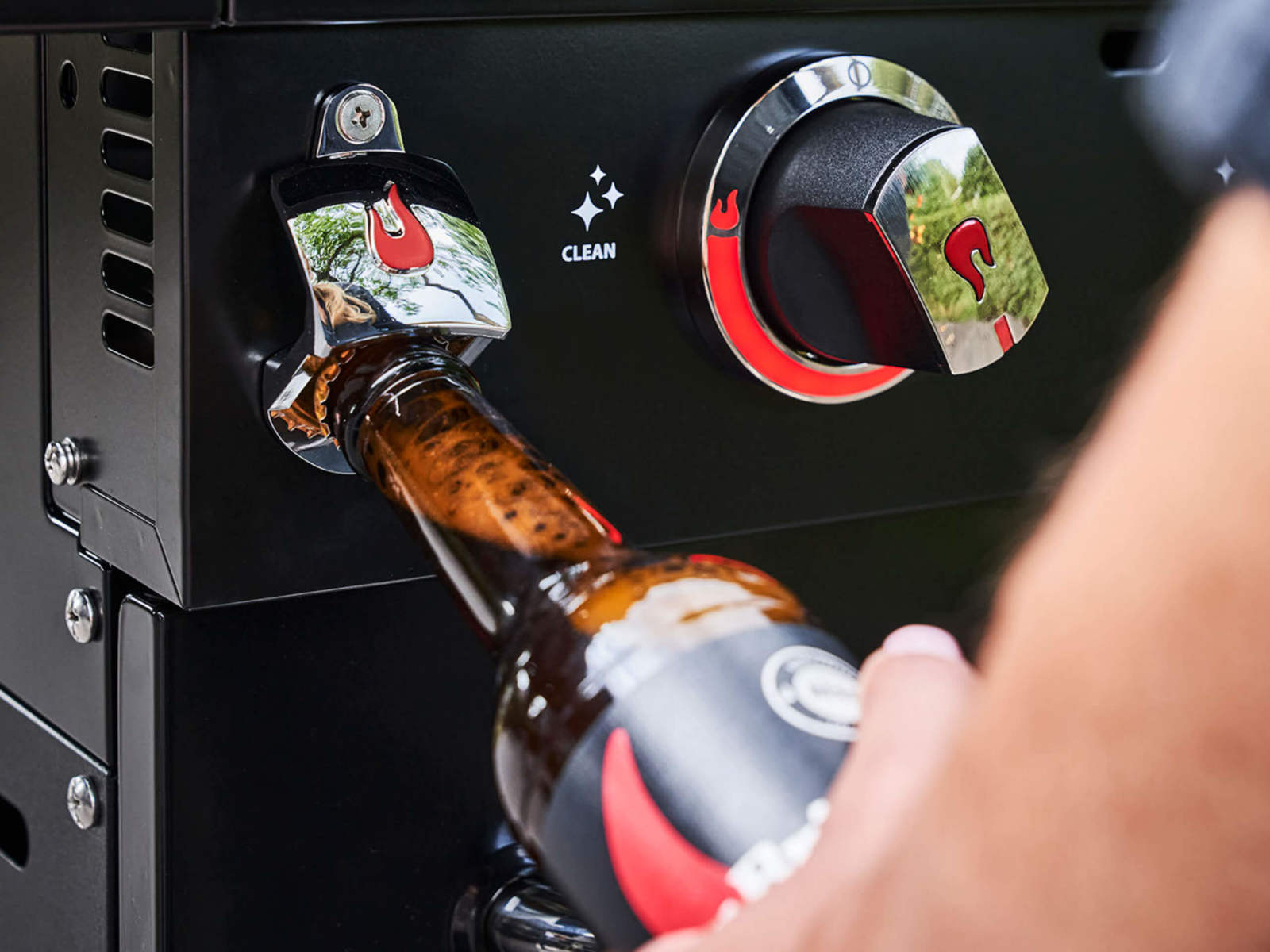 8.
4 wheels with 2 wheel stops
Two of the four wheels are lockable. This feature makes the grill mobile, on the one hand, but also ensures that it stands firmly in place when in use.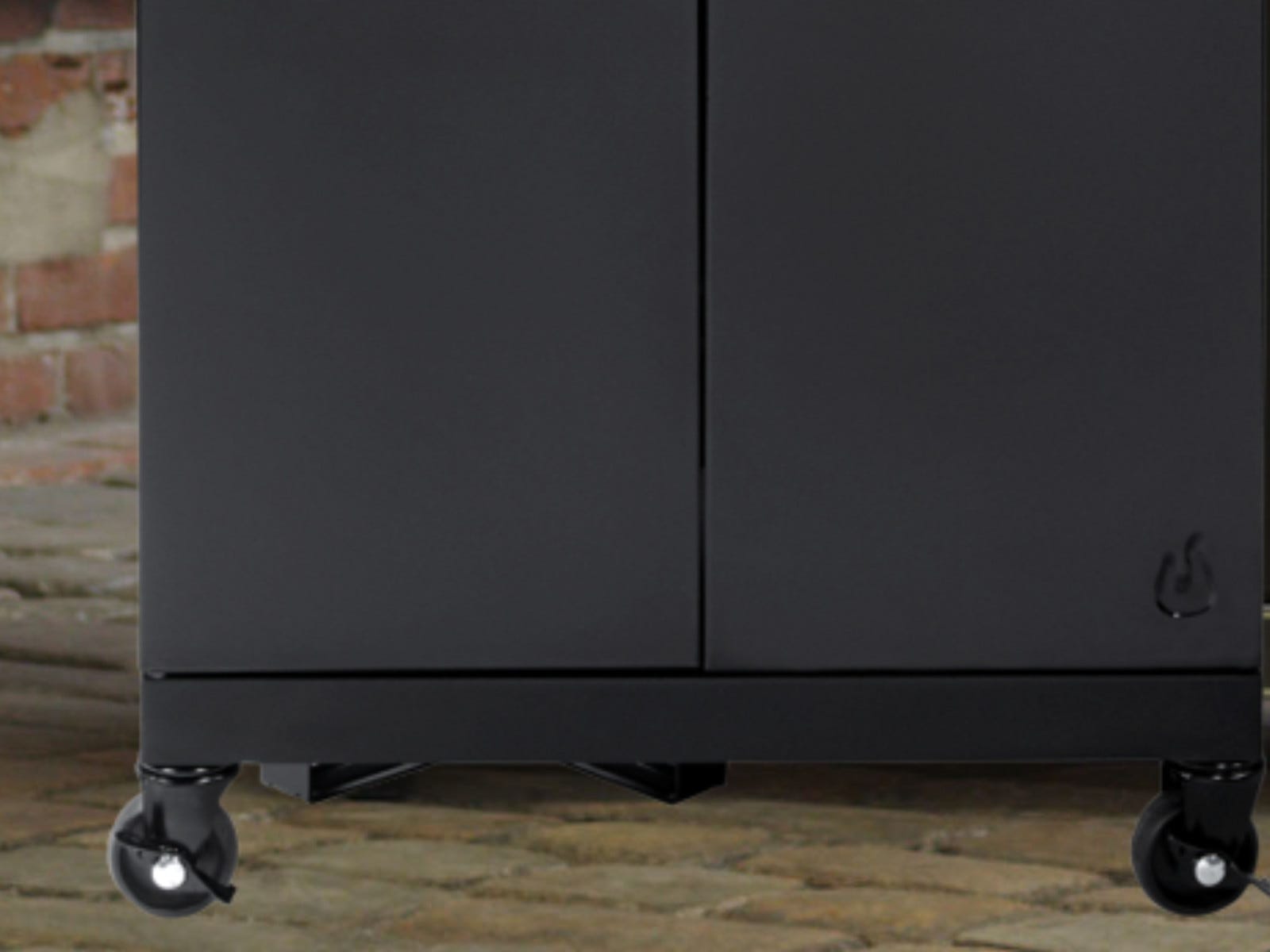 Warranty
Burner-Warranty Term (Years)
10
Grates-Warranty Term (Years)
3
Lid/Firebox-Warranty Term (Years)
2
Additional Specifications
Cooking system
TRU-Infrared™ Technology
Materials
Burner Material
Stainless Steel
Lid Material
Black Porcelain Coated Steel
Side Shelf Material
Black Painted Steel
Grate Material
Porcelain Coated Cast Iron
Rated

5

out of

5
by
Jwoody
from
Summer Lovin'
So finally some good weather turned up, this meant I could build my new Char-Broil B3 BBQ. There were quite a few boxes to unwrap but it went together fairly easily with all the screws and bits in a blister pack marked with each screw type and number of each. Once built and batteries inserted (4 AA for the controller knobs and 1 AA for the igniter) it was time to get cooking. A nice big grilling area and a burner to the side, lots of controllability plus a handy thermostat built in to the lid meant it was easy to cook to perfection and keep any eye on the temperatures. The lid on the burner means you have another handy shelf if you are not using it. The BBQ is good quality but fairly heavy so build it on a patio or concrete area if you can as it was hard to move. You get a handy tool for cleaning the plates above the burners and they come off easily enough for cleaning. Any excess fat will eventually go into the small drip tray which is underneath in the cupboard. You can purchase additional items like a rotisserie so might do that at some stage. Looking forward to better weather to get more use from my new toy.
Date published: 2021-06-02
Rated

5

out of

5
by
Face2901
from
Summer Time
Just when the weather has changed and the sun is out, the perfect time to light up the CORE B3. Firstly it looks great with a high-quality design and very easy to use with a touch of a button. Having used this now a few times the BBQ has come out tender with evenly distributed heat. Absolutely love this, would I recommended it - 100%
Date published: 2021-06-02
Rated

5

out of

5
by
Anonymous
from
Wow! What a BBQ
Wow, what a BBQ. I cooked different meats on it and all of them came out nice and juicy. Took a little while to build it initially, but once it was built, we were away - so easy to use. Works definitely recommend.
Date published: 2021-06-02
Is there a solid/griddle plate available to use on this model?
Hi bbqman, you can use the grill griddle for 3-burner grills 140008 (https://www.charbroil.co.uk/3-burner-grill-griddle-uk-140008) on the Professional CORE B 3. This can be ordered separately. Best regards Your Char-Broil Team
Date published: 2023-04-12
Is the side burner powerful enough to boil water for pasta?
Hello KimS, Yes it is! On this burner you can prepare all the meals you usually make in your kitchen. Best regards, Your Char-Broil Team
Date published: 2022-07-24
Is the cover included? 
Hello Mikejc, The cover is not included, it is available separately. Best regards, Your Char-Broil Team
Date published: 2022-07-19
What type of gas canister do you use
Hello Hips, the regulator that we supply is a clip on regulator that only works with Patio Gas. The size of the gas bottle can be choosen, a 5 kg or 11kg bottle will fit (a maximum diameter of 340mm and maximum height, including regulator, of 580mm can be stored inside). Best wishes your Char-Broil Team
Date published: 2021-11-21
Can I use butane with this bbq instead of propane if I change the regulator.
Hello Thomaso, you can use propane or butane gas, there is no need to change the regulator. Enjoy you BBQ your Char-Broil Team
Date published: 2021-08-09
What's the difference between professional core and professional pro s please? Thanks Alex
Hello Cooker44, the black version is made of painted steel, the Pro S version is made of stainless steel. Best regards your Char-Broil Team
Date published: 2021-07-31
Hi, if I want to cook without the Tru Infrared is this ok? Hence does this grill come with diffuser covers for the gas pilots? I believe for roasting it's better to not have the Tru Infrared installed and therefore I would like the flexibility? Thanks
Hello, this grill is specifically designed to be used with our TRU infrared technology. We do not recommend grilling without the emitter plates. Best wishes, Your Char-Broil Team
Date published: 2021-06-09