Ultimate 3200

Ultimate 3200
3-Burner | For 4-6 People | TRU-Infrared™ Technology | Interior Lid Lights & LED-Control Knobs
Forms with Ultimate Entertainment and Ultimate Corner Module the perfect outdoor kitchen
With the Ultimate Modular Outdoor Kitchen, the family meeting point can be easily moved outdoors. The line combines durable quality, comfort and flexibility. The 3-burner grill, the Ultimate 3200, has high quality stainless-steel body (Type 304) and can withstand yearlong usage. It is equipped with our TRU-Infrared™ cooking technology, which ensures impressive barbecuing results. Halogen interior ceiling lights and additional storgare space through two pull-out drawer ensure high user-friendliness.The different modules of the outdoor kitchen can be installed flexibly.
Read More
Read Less
---
1.
TRU-Infrared™ Technology
TRU-Infrared™ Technology for simpler grilling and easier cleaning. Cooks food evenly, with less flare-ups to give up to 50% juicier food and uses up to 30% less gas.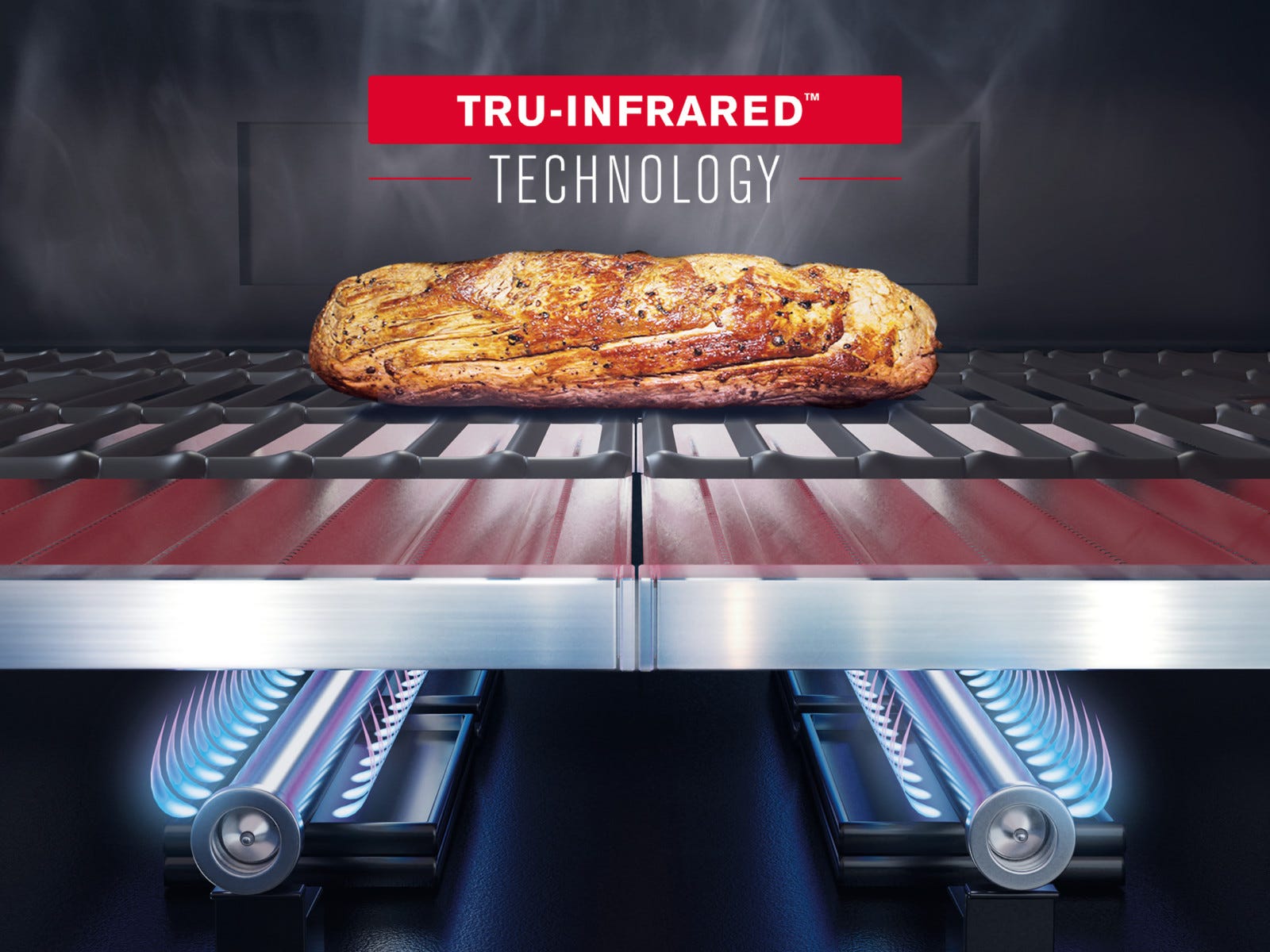 2.
Flexible combinability
Can be flexibly combined with the Ultimate Entertainment and the Corner module.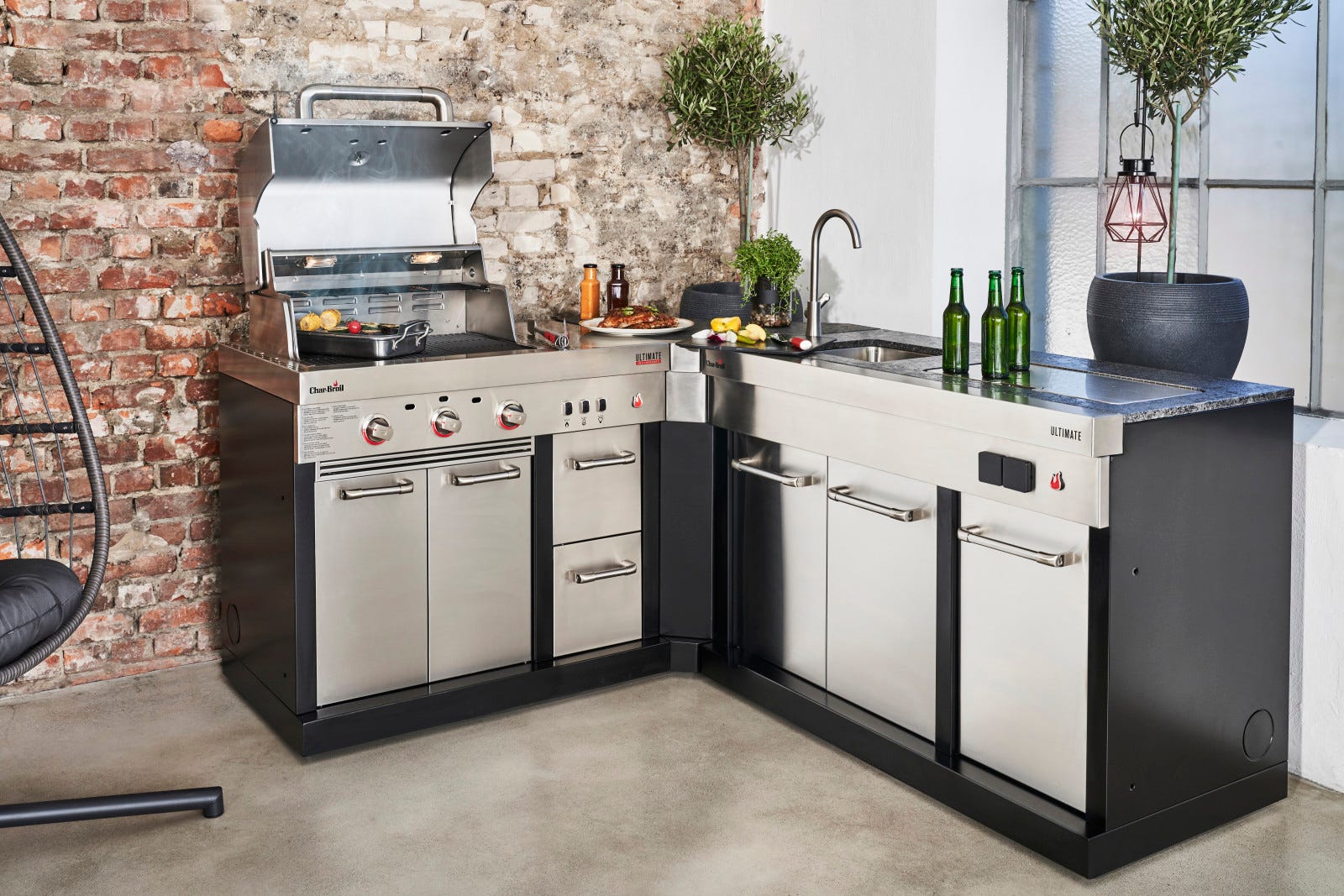 3.
Stainless Steel burners
Three low-consumption high-performance burners made of stainless steel for maximum heat with low gas consumption. Those durable burners can take the heat and are built to last.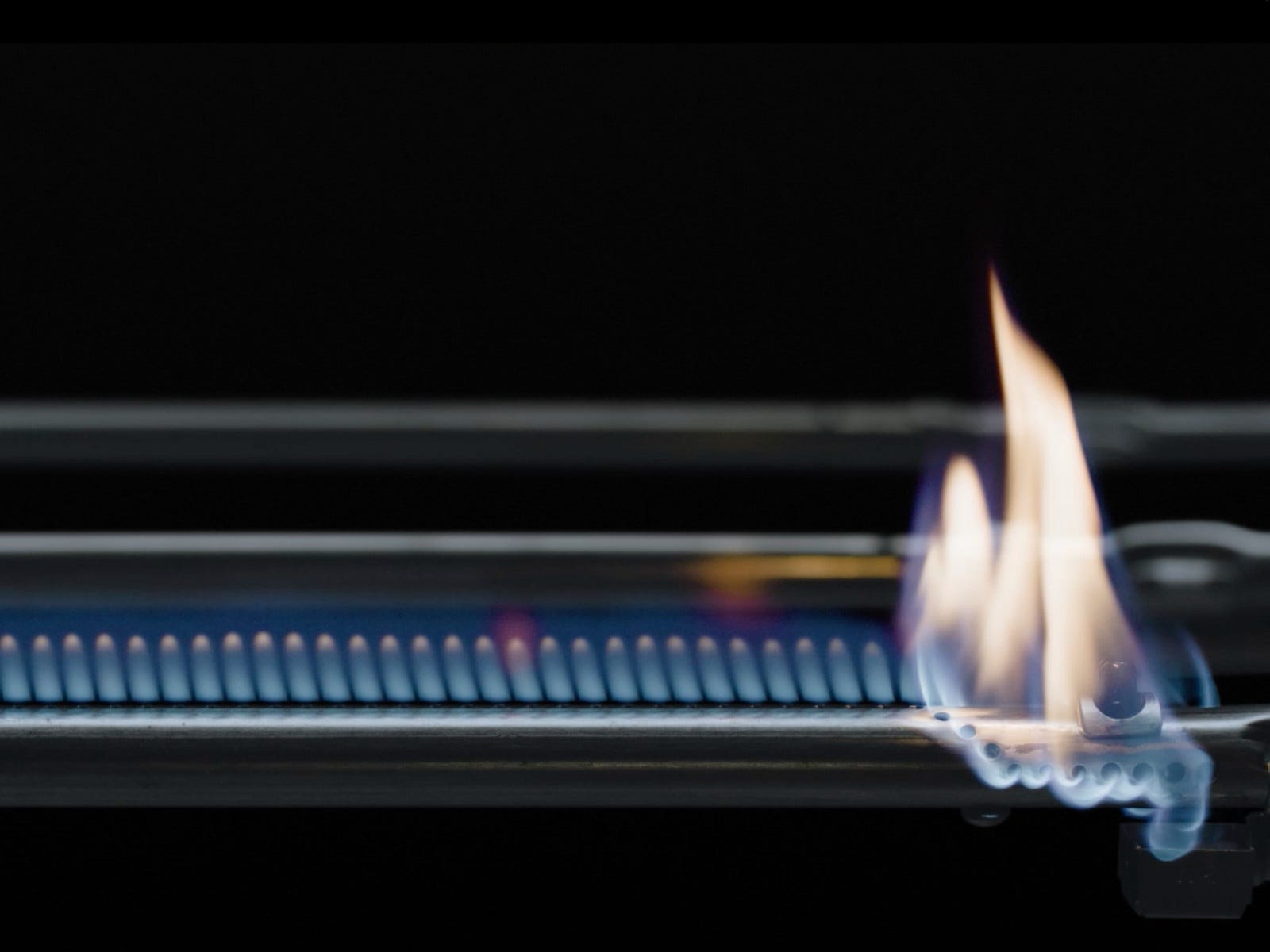 4.
Cast Iron Grates
Cast iron grates for stronger heat storage and perfect sear marks. They are durable, rust-resistant and easy-to-clean.
5.
Storage Space
Two pull-out drawers provide storage space for ingredients and accessories.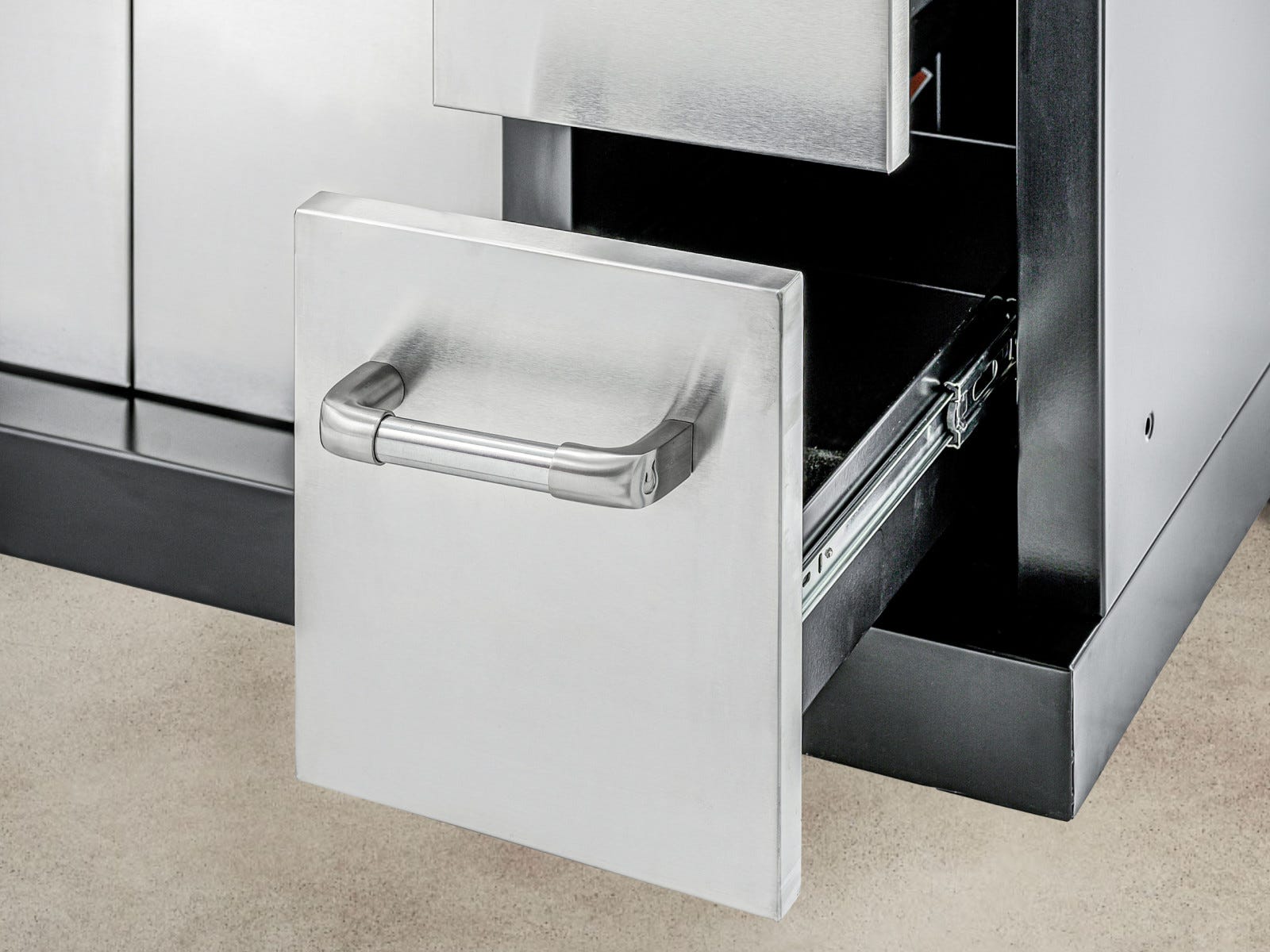 6.
Interior Lights
Halogen interior lights to enable precise observation of the cooking process even in poor light.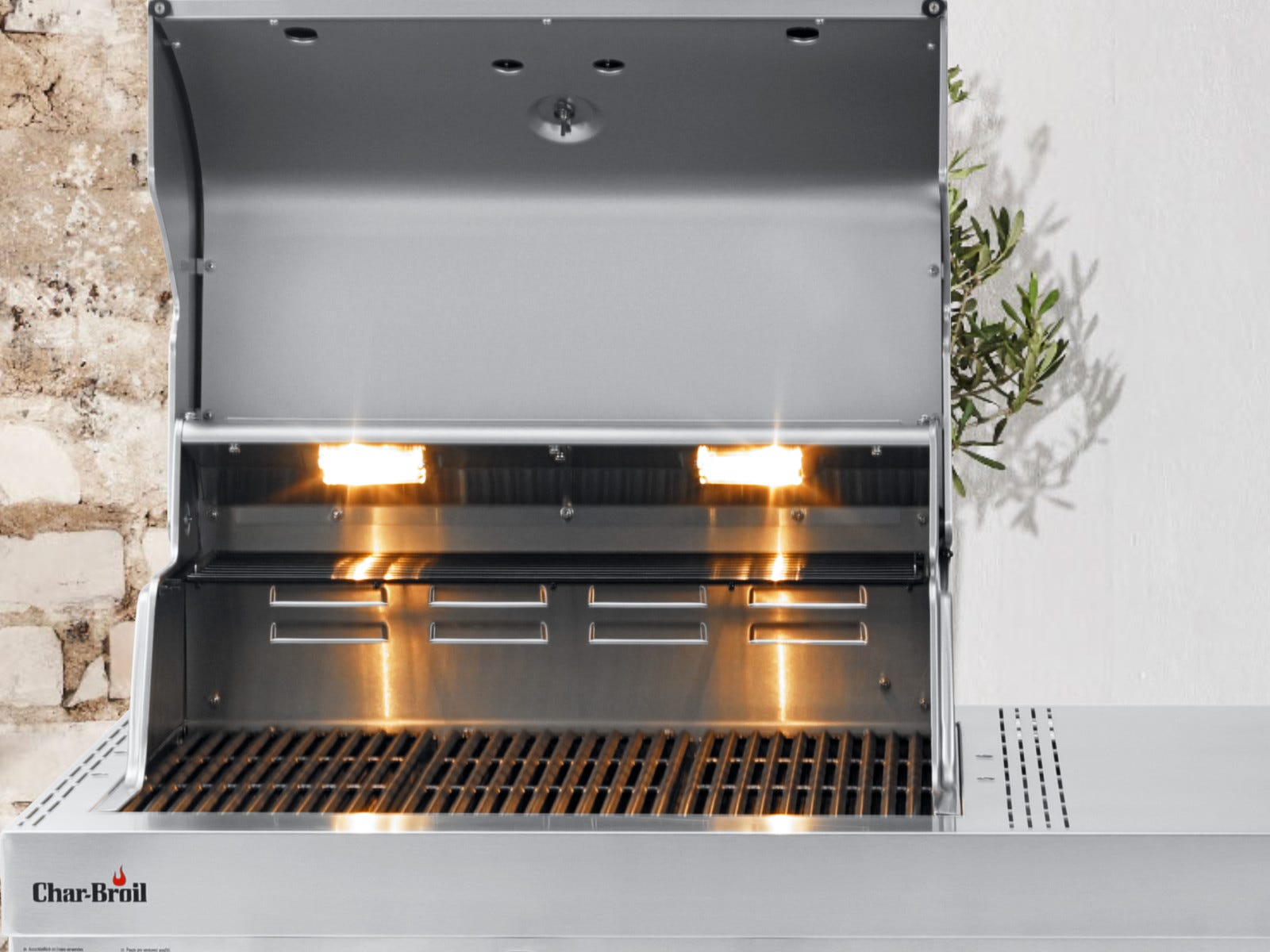 7.
LED Illumination
Red LED illumination on temperature controllers for modern design.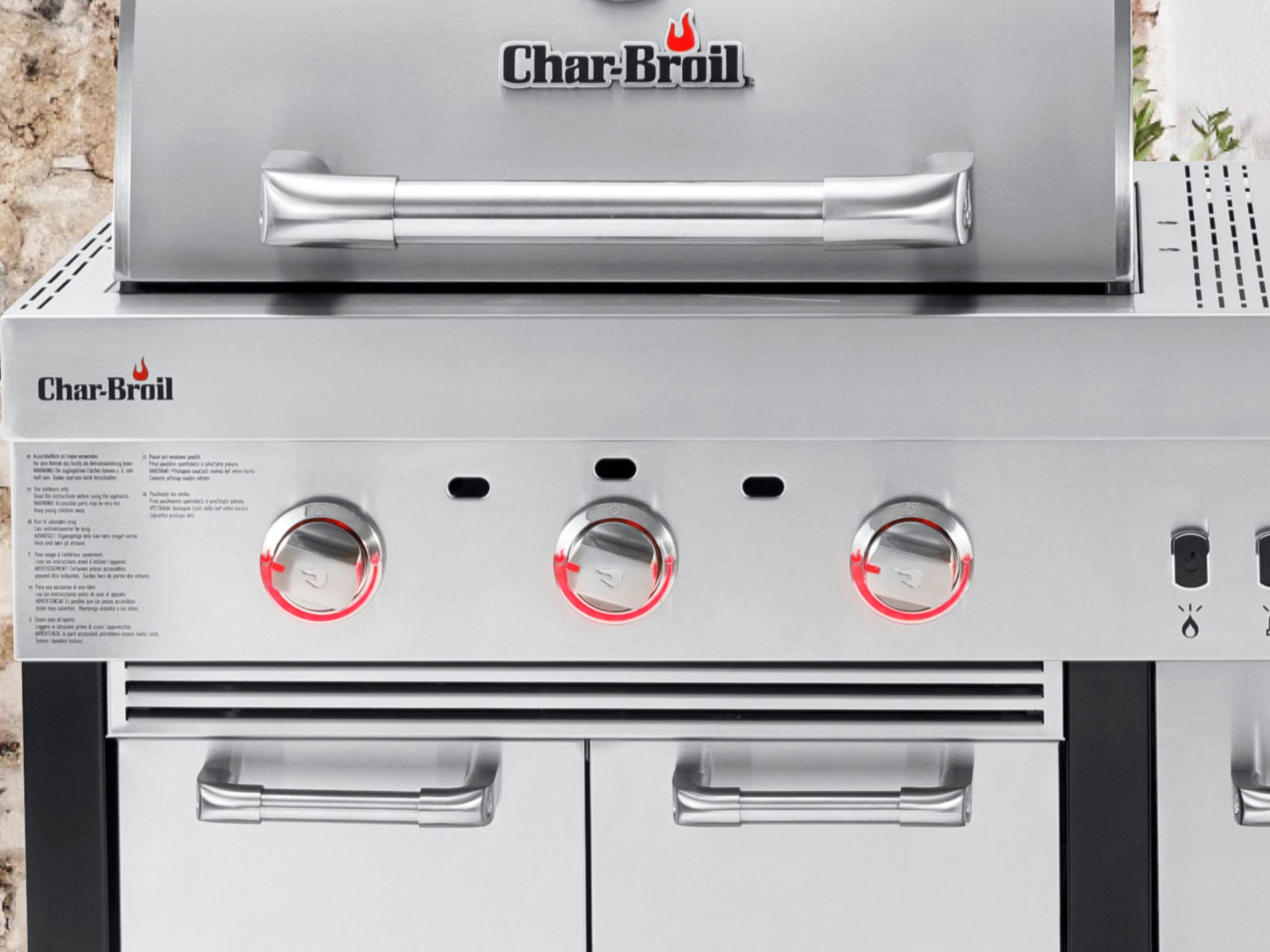 8.
Warming Rack
Use this removeable shelf to keep cooked foods warm, to toast bread or as an indirect cooking surface.
Warranty
Burner-Warranty Term (Years)
10
Lid/Firebox-Warranty Term (Years)
2
Additional Specifications
Cooking system
TRU-Infrared™ Technology
Materials
Burner Material
Stainless Steel
Heat Tent Material
Stainless Steel
Lid Material
Stainless Steel
Grate Material
Porcelain Coated Cast Iron
Hello, will this hold a 13kg propane gas bottle in the slide-out drawer under the burner? Thanks
Hello Dan W. The Ultimate 3200 Outdoor Kitchen can accommodate a gas bottle with a maximum diameter of a maximum diameter of 320 mm and a maximum height of 480 mm, including the regulator. The larger gas cylinders, for safety reasons, would need to be placed outside the base cabinet. Many greetings Your Char-Broil Team
Date published: 2023-10-21
What type of electrical connector do i need to connect this to the mains
I ordered this from appliances direct and it comes with an American 2 pin plug
Date published: 2022-08-17
Hi, Could I get the dimensions of the Ultimate 3200 BBQ, I cant seem to find them on your website. Kind regards Sinead
Hello Sinead, the measurements are: Height 120cm, width 100,3 cm, length 67,3 cm And the cooking area measures: 61 x 43,5 cm Best regards your Char-Broil Team
Date published: 2022-04-17
I've just ordered one to be delivered. What is the largest Gas Bottle it will hold?
Hi Ernest, congrats to your great choice. The maximum cylinder diameter shall be 320mm and 480mm in height. Best regards your Char-Broil Team
Date published: 2021-10-11
Hi, Can you let me know if this BBQ will withstand UK/Irish weather ? I really want to build an outdoor kitchen, but can't find any product that you can actually leave outside all year. Can your BBQ connect to natural gas ? Thanks, Helen
Hi Helen, our outdoor kitchen can be left outside all year. Please make sure to use an appropriate cover (for example https://www.charbroil.co.uk/cover-for-mok-3-burner-grill-140383) to minimize any weather effects on the material. If you live close to the sea, even stainless steel may be in danger of rusting. Please have a look at our help page where we have written down some information on the formation of rust and some easy ways to fight rusts spots when they occur: https://www.charbroil.co.uk/tips/stainless-steel-grill-rusting/ https://www.charbroil.co.uk/tips/removing-rust-common-household-items/ Our grills only use propane and butane, so natural gas is unfortunately not an option. If you have any more questions, feel free to contact us. Best wishes, Your Char-Broil Team
Date published: 2021-06-07