Pros and Cons of Electric Grills
Pros and Cons of Electric Grills
Pros and Cons of Electric Grills
Many professionals and grill enthusiasts do not yet pay much attention to electric grills. This is for a variety of reasons, including a range of preconceptions that they have about electrically powered barbecues: The meat tastes different! That's nothing for professionals! And most of all: That's not a proper grill! Is there any truth to these statements? We will shortly take a closer look at these supposed disadvantages and will weigh out the pros and cons of electric grills. But first, let's look at the advantages.
Grilling with electricity: 9 advantages at a glance
The top features of electric grills are their speed, safety and cleanliness. It doesn't matter whether you're totally new to grill or are at the top of your game - electric grills offer advantages for everyone.
Before we get to the pros and cons of electric grills, we have summarised the key advantages of electric grills for you:
Grill 365 days a year: An electric grill can be used more easily when the weather is bad. The low amount of smoke produced means that they are suitable for spontaneous barbecuing on balconies or covered patios.
Full power, guaranteed: Contrary to some preconceptions, a good electric grill can perform just as well as a gas or charcoal grill. The SMART-E from Char-Broil reaches temperatures of up to 370 °C.
Easy to use: While gas and charcoal grills require a certain amount of experience and skill to get the best results, using an electric grill is no more difficult than a standard kitchen hob.
It couldn't be faster: Plug in - and just a few minutes later you can start grilling at maximum temperature. When it comes to speed, electric grills have a distinctive advantage over gas and charcoal - something that your hungry guests are sure to appreciate. Electric grills also cool down much faster after use.
Environmental-friendly: If your household is powered by green electricity, electric grills perform much better when it comes to CO2 emissions compared to fossil fuels - i.e. gas and charcoal.
It couldn't be more precise: You set the temperature and the grill does the rest. The ability to precisely control the temperature is yet another advantage of electric grills.
Worry-free enjoyment: When you grill with electricity, there's no need to lug around heavy gas canisters or bags of charcoal. But more importantly: You don't need to worry about whether or not there's enough gas left in the canister or charcoal in the shed. This means that a spontaneous decision to have a barbecue is never a problem.
High level of safety: As an (experienced) grill enthusiast, you are of course always attentive to the risks, however: An open fire is always dangerous. This risk is gone entirely with electric grills. Even the risks to your own health are minimised since there is less smoke to breathe in.
Easy cleaning: Electric grills don't leave behind any glowing embers and ash. This alone makes cleaning so much easier. If your grill has an AUTO CLEAN function, then it will even clean itself: Similar to modern ovens, the system burns off dirt and residues via pyrolysis, after which it automatically shuts itself off.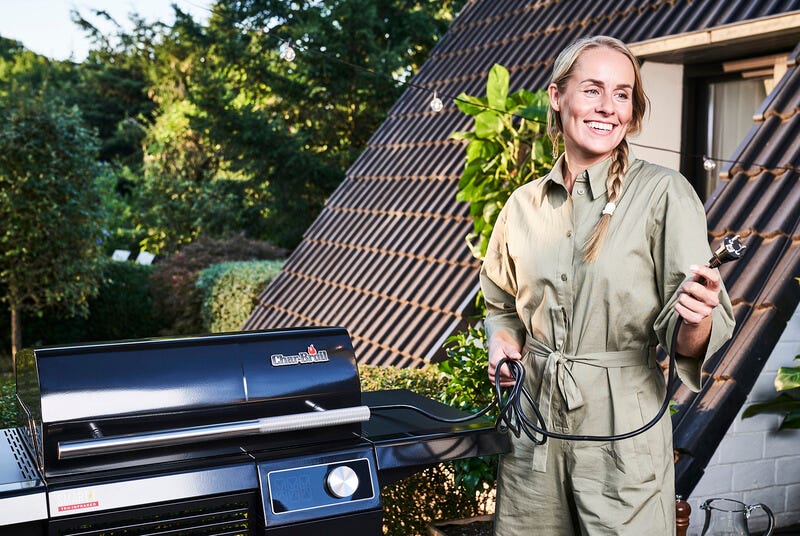 ---
Electric grills –pros now completed by the cons
Wherever the sun is shining you will also find shadows - and electric grills indeed have their disadvantages too. But we'd like to clear up one preconception right away: Meat and other grilled food items are not any less juicy nor any less delicious when cooked on an electric grill. Thanks to the high temperatures possible with a high-performance electric barbecue, you can cook your steak just as precisely as on an open fire. There are a few limitations when it comes to flavour: The meat will not automatically get the typical smoked flavour as with a charcoal grill. But here too there is a solution: Smoker chips! You put these into a smoker box or simply place them directly onto the grill to add the flavour. There are several options:
It might seem somewhat trivial, but perhaps the biggest disadvantage of electric grills is: You need a plug socket nearby, otherwise your steak stays raw and the sausages cold. If you always grill in the garden at home, then this will hardly bother you. However, if every now and then you enjoy taking your grill with you camping or to festivals, an electric grill is a poor choice. A gas grill might be more suitable in these situations.
We must of course mention that the lack of an open fire with electric grills is something that many enthusiasts would miss. If lighting the barbecue, sparking embars, the smell of burning charcoal or just having an open fire are essentials of the grill experience for you, then an electric grill is not for you.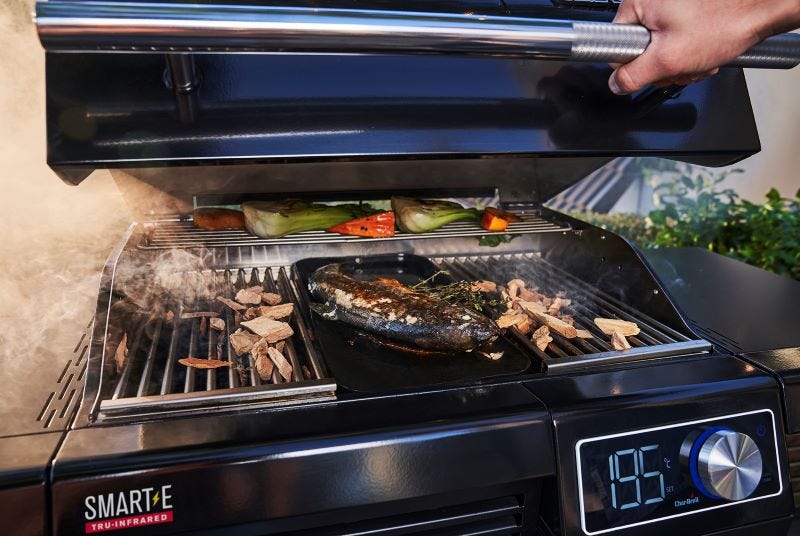 ---
Buying an electric grill: What to consider
Congratulations! After comparing the pros and cons of an electric grill, you have decided to buy one and enjoy their many advantages. But before simply grabbing the first great offer you see, there are a few things you should think about:
Power is everything when barbecuing with electricity! In order to get high enough temperatures for grilling meat without it drying out, and to ensure the grill heats up quickly, you need a device with a power rating of at least 2000 Watts and a maximum temperature of at least 200 °C.
A higher temperature gives you more options. If the grill heats up to 300 °C and higher, you can also use it to bake pizza and many other things.
Ensure that the model you choose enables an even heat distribution - either using a grill plate or a heating coil with temperature distribution. Our tip: Choose TRU-Infrared™ technology! This patented heat technology from Char-Broil delivers even heating and protects the food from drying out.
Depending on your needs, side shelves and storage space should be featured.
Char-Broil has the right electric grill for your needs:
SMART-E: The future of the electric BBQ! Thanks to TRU‑Infrared™ Technology, your meat will come out juicier than ever. Rotary knob for precise temperature control from 90 °C to 370 °C. Cleaning with AUTO CLEAN.
ALL-STAR 120 ELECTRIC: Portable electric grill with folding side shelves. Easy separation of grill from the cart.
ALL-STAR 125 S-ELECTRIC: Universal grill with integrated bottle holder. Easy separation of grill from the cart for travel or use at home.
---
Summary of the pros and cons of an electric grill: Advantages outweigh the disadvantages
Speed, cleanliness and safety are just three of the many advantages offered by electric grills. Furthermore, the common preconception that meat from an electric grill doesn't taste as good as meat cooked over gas or coal is simply not true. However, this type of grill is not for everyone - the fire, glowing embers and typical smells of a coal grill are missing.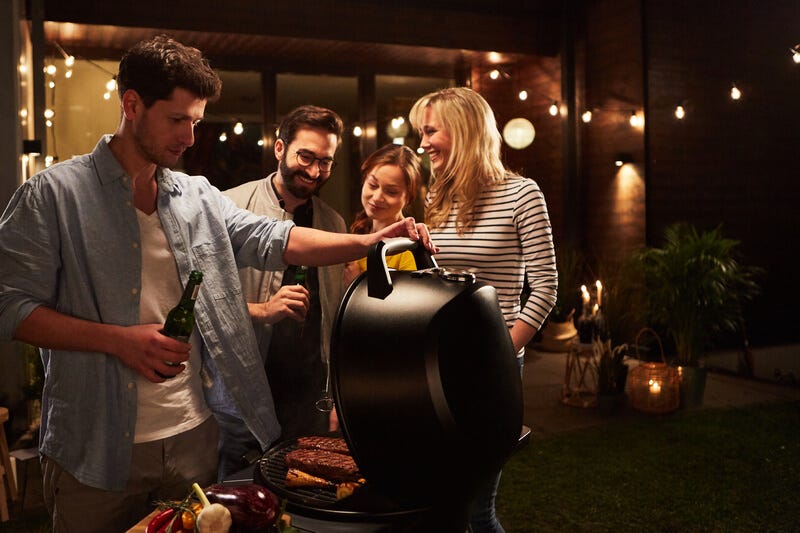 Suggested for this How-to